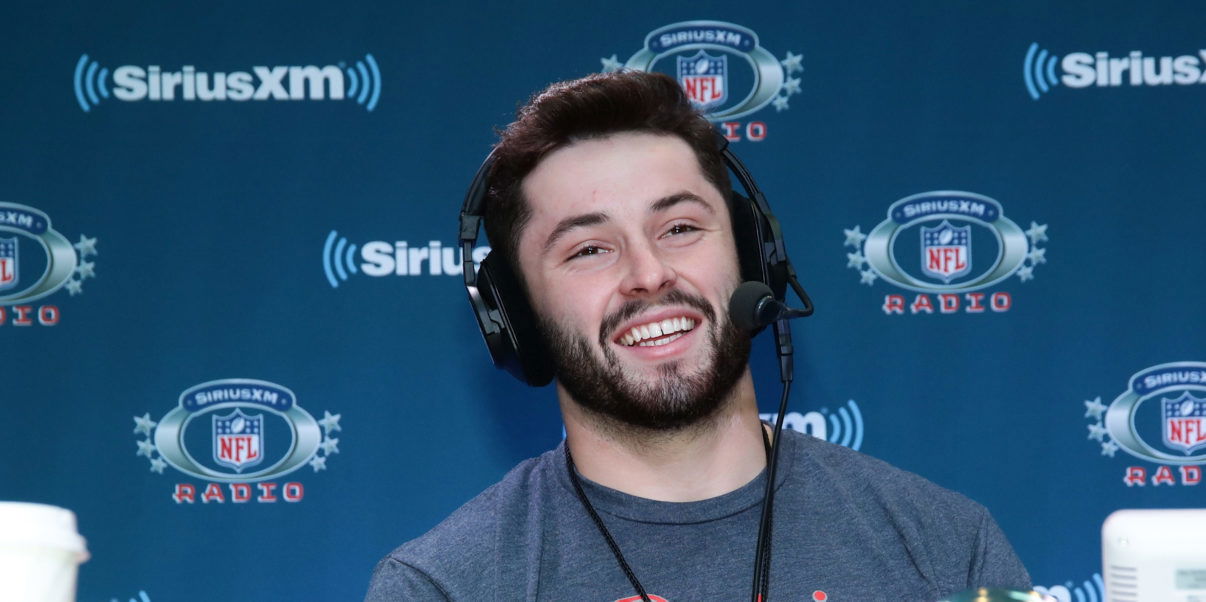 2018 NFL Draft: RAF's Top 50 Prospects
The NFL Draft is now edging ever closer, and we at Read American Football have a treat for you!
Since the Super Bowl, I have spent a ridiculous amount of time watching the draft tape of over 300 prospects, in order to try and broaden my knowledge, and make myself a draft expert.
This list doesn't take into account injury problems, but any knocks on certain players such as lack of effort, or poor competition, have been taken into account.
The main method for deciding this order was simply watching tape, but through reading other analysis, and looking at certain analytics, players have gradually moved up and down on my board.
It is important to note that this is not a mock draft, this is simply my ranking of the top 50 prospects available in the draft this year.
Individual draft profiles will be written as we draw ever closer to draft day, and you can use this list as a way to navigate to all of them!
---
1. Quenton Nelson, G, Notre Dame
2. Minkah Fitzpatrick, CB/S, Alabama
Twitter: on the RAF Top 50 Prospects | Minkah Fitzpatrick, DB, Alabama | Disagreement on what he is schematically, but he… https://t.co/g6rjQ4aig4 (@ReadAmFootball)
3. Roquan Smith, LB, Georgia
Twitter: on the RAF Top 50 Prospects | Roquan Smith, LB, Georgia | Formerly a WR, has incredible athletic traits to accom… https://t.co/3KNL5bQNpv (@ReadAmFootball)
4. Baker Mayfield, QB, Oklahoma
Twitter: on the RAF Top 50 Prospects | Baker Mayfield, QB, Oklahoma | Video game numbers in his last two college seasons,… https://t.co/S21AjnpEup (@ReadAmFootball)
5. Bradley Chubb, EDGE, N.C State
Twitter: on the RAF Top 50 Prospects | Bradley Chubb, EDGE, NC State | Will be in the backfield. A lot. He'll use his per… https://t.co/R3gKIoeImk (@ReadAmFootball)
6. Derrius Guice, RB, LSU
Twitter: on the RAF Top 50 Prospects | Derrius Guice, RB, LSU | If you like a no-nonsense back who'll take what's blocke… https://t.co/KIBEga7ge3 (@ReadAmFootball)
7. Saquon Barkley, RB, Penn State
Twitter: on the RAF Top 50 Prospects | Saquon Barkley, RB, Penn State | Built like a linebacker, plays like a scatback.… https://t.co/9DLhJ4rAvU (@ReadAmFootball)
8. Sam Darnold, QB, USC
Twitter: on the RAF Top 50 Prospects | Sam Darnold, QB, USC | Conventional NFL QB build. Showed good form working through… https://t.co/ym4EulAzqH (@ReadAmFootball)
9. Derwin James, S, Florida State
Twitter: on the RAF Top Fifty Prospects | Derwin James, S, FSU | Versatile, rangy, and can track the ball in centre-field… https://t.co/M9ywLiAMoy (@ReadAmFootball)
10. Maurice Hurst, DT, Michigan
Twitter: on the RAF Top 50 Prospects | Maurice Hurst, DT, Michigan | Devastatingly quick at getting out of his stance a… https://t.co/hifBCLvibP (@ReadAmFootball)
11. Denzel Ward, CB, Ohio State
Twitter: on the RAF Top 50 Prospects | Denzel Ward, CB, Ohio State | Can keep sticky coverage with anyone thanks to 4.3… https://t.co/U40SHOSbgt (@ReadAmFootball)
12. Jaire Alexander, CB, Louisville
Twitter: on the RAF Top 50 Prospects | Jaire Alexander, CB, Louisville | Nimble feet, and moves instinctively to the ba… https://t.co/iyJ3wQvdtd (@ReadAmFootball)
Twitter: on the RAF Top 50 Prospects | James Daniels, C, Iowa | Daniels is the best centre in this draft class and a da… https://t.co/FEqpa2Ip4n (@ReadAmFootball)
Twitter: on the RAF Top 50 Prospects | Josh Rosen, QB, UCLA | A young QB who plays like an old one. Textbook technique… https://t.co/o9GE9RRCzx (@ReadAmFootball)
15. Harold Landry, EDGE, Boston College
Twitter: on the RAF Top 50 Prospects | Harold Landry, EDGE, Boston | No defensive player can change games quicker than… https://t.co/7wAqNwUwXb (@ReadAmFootball)
16. Lamar Jackson, QB, Louisville
Twitter: on the RAF Top 50 Prospects | Lamar Jackson, QB, Louisville | Putting the "threat" in "dual-threat QB" with hi… https://t.co/Y0mgxmagtX (@ReadAmFootball)
17. Courtland Sutton, WR, SMU
Twitter: on the RAF Top 50 Prospects | Courtland Sutton, WR, SMU | Sutton's toughness and contested-catch skills could… https://t.co/TBYovzkjgX (@ReadAmFootball)
18. Isaiah Wynn, OL, Georgia
Twitter: on the RAF Top 50 Prospects | Isaiah Wynn, OL, Georgia | The latest addition to the club of prospects who exce… https://t.co/uMZKrrodoo (@ReadAmFootball)
19. Mike McGlinchey, T, Notre Dame
Twitter: on the RAF Top 50 Prospects | Mike McGlinchey, OT, Notre Dame | One of the safest prospects in the draft, McGl… https://t.co/cIgO0ihwdF (@ReadAmFootball)
Twitter: on the RAF Top 50 Prospects | Taven Bryan, DT, Florida | Tons of raw talent there, but he lacks football sense… https://t.co/CNUH1FQKDd (@ReadAmFootball)
21. Jamarco Jones, T, Ohio State
Twitter: on the RAF Top 50 Prospects | Jamarco Jones, OL, Ohio State | Good balance in pass block, and can engage early… https://t.co/YX18ZWyY0I (@ReadAmFootball)
22. Connor Williams, OL, Texas
Twitter: on the RAF Top 50 Prospects | Connor Williams, OL, Texas | Excellent hand placement, does a good job of mirror… https://t.co/VSslBcrqo7 (@ReadAmFootball)
23. Ronald Jones III, RB, USC
Twitter: on the RAF Top 50 Prospects | Ronald Jones, RB, USC | Agile, very quick feet to dance out of trouble whenever… https://t.co/ukLj2MynIK (@ReadAmFootball)
24. Frank Ragnow, C, Arkansas
Twitter: on the RAF Top 50 Prospects | Frank Ragnow, C, Arkansas | Great transitional blocker, finds second assignment… https://t.co/Jae9SdCDnQ (@ReadAmFootball)
25. Tremaine Edmunds, LB, Virginia Tech
Twitter: on the RAF Top 50 Prospects | Tremaine Edmunds, LB, Virginia Tech | A frighteningly fast and athletic LB in a… https://t.co/qvaqtoRFTQ (@ReadAmFootball)
26. Marcus Davenport, EDGE, UTSA
Twitter: on the RAF Top 50 Prospects | Marcus Davenport, EDGE, UTSA | Growing up fast, literally and metaphorically, he… https://t.co/REK0TUAS7c (@ReadAmFootball)
27. Calvin Ridley, WR, Alabama
Twitter: on the RAF Top 50 Prospects | Calvin Ridley, WR, Alabama | Wins with route-running, something that translates… https://t.co/X4c2eP0Qnz (@ReadAmFootball)
28. Mike Hughes, CB, UCF
Twitter: on the RAF Top 50 Prospects | Mike Hughes, CB, UCF | Perhaps undersized for most teams' liking, Hughes will pl… https://t.co/aPaAe3tw5m (@ReadAmFootball)
29. Vita Vea, DT, Washington
Twitter: on the RAF Top 50 Prospects | Vita Vea, DT, Washington | Enormous human being who can still move. Physical cha… https://t.co/rMyQ1kcIII (@ReadAmFootball)
30. Will Hernandez, G, UTEP
Twitter: on the RAF Top 50 Prospects | Will Hernandez, G, UTEP | Ideal frame, great knee bend to go along with it too.… https://t.co/LvSja5kIWE (@ReadAmFootball)
31. Rashaan Evans, LB, Alabama
Twitter: on the RAF Top Fifty Prospects | Rashaan Evans, LB, Alabama | Superb athlete. Combined with his 6'3 frame, inc… https://t.co/lMPGb6sDME (@ReadAmFootball)
32. Josh Allen, QB, Wyoming
Twitter: on the RAF Top 50 Prospects | Josh Allen, QB, Wyoming | His rocket arm is almost as powerful as the nuclear mi… https://t.co/3ihz6di6zS (@ReadAmFootball)
33. Billy Price, OL, Ohio State
Twitter: on the RAF Top 50 Prospects | Billy Price, OL, Ohio State | Are you scared of your QB or RB getting run over b… https://t.co/FigUgtklUY (@ReadAmFootball)
34. Nick Chubb, RB, Georgia
Twitter: on the RAF Top 50 Prospects | Nick Chubb, RB, Georgia | Terrific cutting ability goes well with low-centre of… https://t.co/5EqQ0HnaXL (@ReadAmFootball)
35. Ronnie Harrison, S, Alabama
Twitter: on the RAF Top 50 Prospects | Ronnie Harrison, S, Alabama | When you make it onto the field for the Alabama D… https://t.co/s2ZPzLEwNp (@ReadAmFootball)
36. Leighton Vander Esch, LB, Boise State
Twitter: on the RAF Top 50 Prospects | Leighton Vander Esch | His times in the Combine agility drills would have ranked… https://t.co/1b4zgf0ALU (@ReadAmFootball)
37. Quenton Meeks, CB, Stanford
Twitter: on the RAF Top 50 Prospects | Quenton Meeks, CB, Stanford | Plays to his size, but doesn't get overly handsy.… https://t.co/f6AkpmJ2P4 (@ReadAmFootball)
38. DJ Moore, WR, Maryland
Twitter: 3️⃣8️⃣ on the RAF Top 50 Prospects | DJ Moore, WR, Maryland | Size and speed, and a seriously dangerous slippery ru… https://t.co/mNAO3vjUsh (@ReadAmFootball)
39. Jessie Bates III, S, Wake Forest
Twitter: on the RAF Top 50 Prospects | Jessie Bates III, S, Wake Forest |
Instinctive player, and should show good rang… https://t.co/j3JS5euHdb (@ReadAmFootball)
40. Dante Pettis, WR, Washington
Twitter: 4️⃣0️⃣ on the RAF Top 50 Prospects | Dante Pettis, WR, Washington | Incredible body control to manipulate himself i… https://t.co/Ql3EnRlZDw (@ReadAmFootball)
41. Fred Warner, LB, BYU
Twitter: on the RAF Top 50 Prospects | Fred Warner, LB, BYU | Athletic ability goes very nicely with 6'3 frame, and spe… https://t.co/STC8FJHF49 (@ReadAmFootball)
42. Anthony Miller, WR, Memphis
Twitter: on the RAF Top 50 Prospects | Anthony Miller, WR, Memphis | Great burst out of route cuts gives space to throw… https://t.co/HsvIaiHIDV (@ReadAmFootball)
43. Justin Reid, S, Stanford
Twitter: on the RAF Top 50 Prospects | Justin Reid, S, Stanford | Versatility, intelligene, ball-tracking skills, relia… https://t.co/CzVRHfkQuF (@ReadAmFootball)
44. Martinas Rankin, OL, Mississippi State
Twitter: on the RAF Top 50 prospects | Martinas Rankin, OL, Mississippi St | Able to play at any of the offensive line… https://t.co/aHZhlmc4BL (@ReadAmFootball)
45. Dallas Goedert, TE, South Dakota State
Twitter: on the RAF Top 50 Prospects | Dallas Goedert, TE, South Dakota | Versatile with regards to deployment, due to… https://t.co/Ac9gLT8DOa (@ReadAmFootball)
46. Jordan Whitehead, S, Pittsburgh
Twitter: on the RAF Top 50 Prospects – Jordan Whitehead, S, Pitt – Lights-out hitter. Has speed, and he knows it. Makes… https://t.co/bjMpPKCcVD (@ReadAmFootball)
47. Lorenzo Carter, OLB, Georgia
Twitter: on the RAF Top 50 Prospects – Lorenzo Carter, LB, Georgia – Uses enormous 6'6 size to his advantage at every o… https://t.co/Q6XR9LprK5 (@ReadAmFootball)
48. Nathan Shepherd, DT, Fort Hays State
Twitter: on the RAF Top 50 Prospects – Nathan Shepherd, DT, Fort Hays State – Raw, but a huge frame accompanying great… https://t.co/Xyaj8RdO3n (@ReadAmFootball)
49. Sony Michel, RB, Georgia
Twitter: on the RAF Top 50 Prospects – Sony Michel, RB, Georgia – Ideal running back build (5'10, 220 lbs). Disciplined… https://t.co/1ruc6aKyf0 (@ReadAmFootball)
50. Shaun Dion-Hamilton, LB, Alabama
Twitter: on the RAF Top 50 Prospects – Shaun Dion-Hamilton, LB, Alabama – Size the immediate question mark, but suppose… https://t.co/H4GzZ1oHry (@ReadAmFootball)
---