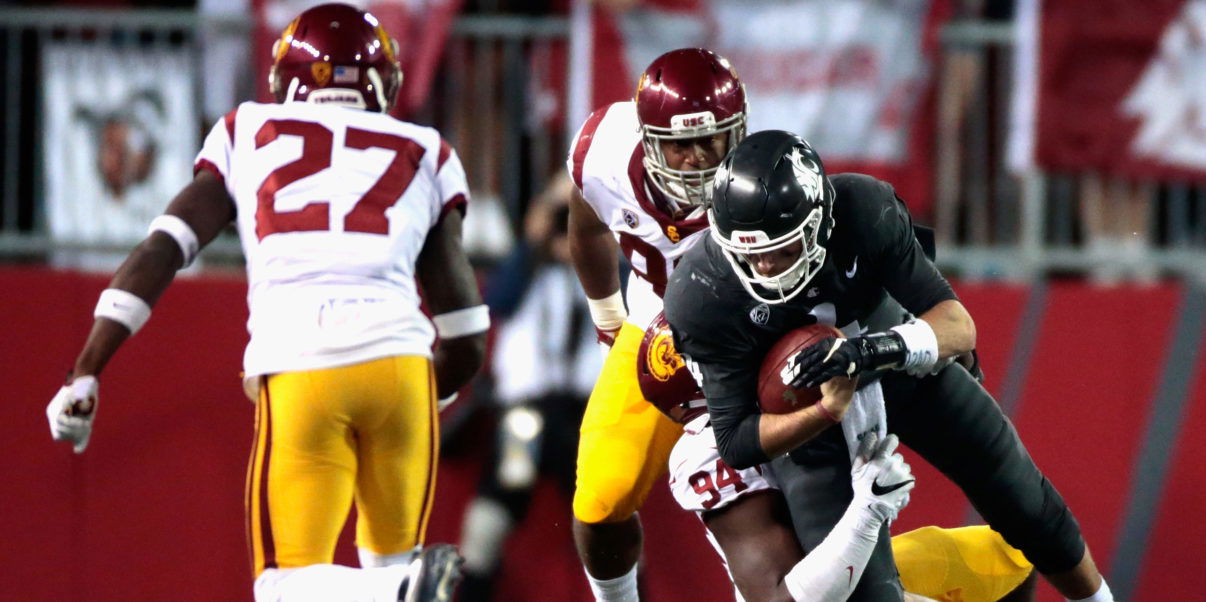 Sam Darnold vs. Luke Falk: Tape Study
Come April, we'll be seeing a whole new crop of franchise-changing players enter the NFL from the ranks of college football. The quarterback class for the 2018 NFL Draft is absolutely loaded. Some scouts have as many as five different signal callers going in the first round.
Two of those first-round talents were USC's Sam Darnold, who many see as the likely #1 overall pick, and Washington State gunslinger Luke Falk. Their teams were both 4-0 entering their Friday night showdown in Pullman, with critical College Football Playoff positioning being jockeyed for.
Falk's Cougars came out with a 30-27 win, a program-defining win for his long-suffering Cougars over a USC team ranked #4 in the country.
The story, though, came from the men under center.
I charted every time the ball went in the air in this game. Even the passes that didn't end up counting because of penalties negating the plays, I documented. Darnold ended up with 32 tosses, while Falk had a whopping 54 attempts. I made notes about the good, bad, and horrible aspects of the throws.
Here's what I took from the clash of the titans at Martin Stadium.
---
The Stats: The USC star officially ended 15/29 passing (he had three passes chalked off for flags) for just 164 yards, with two rushing touchdowns, an interception, and a fumble.
Falk closed up completing exactly two-thirds of his documented passes, going 34/51 for 340 yards, with two touchdowns and one pick.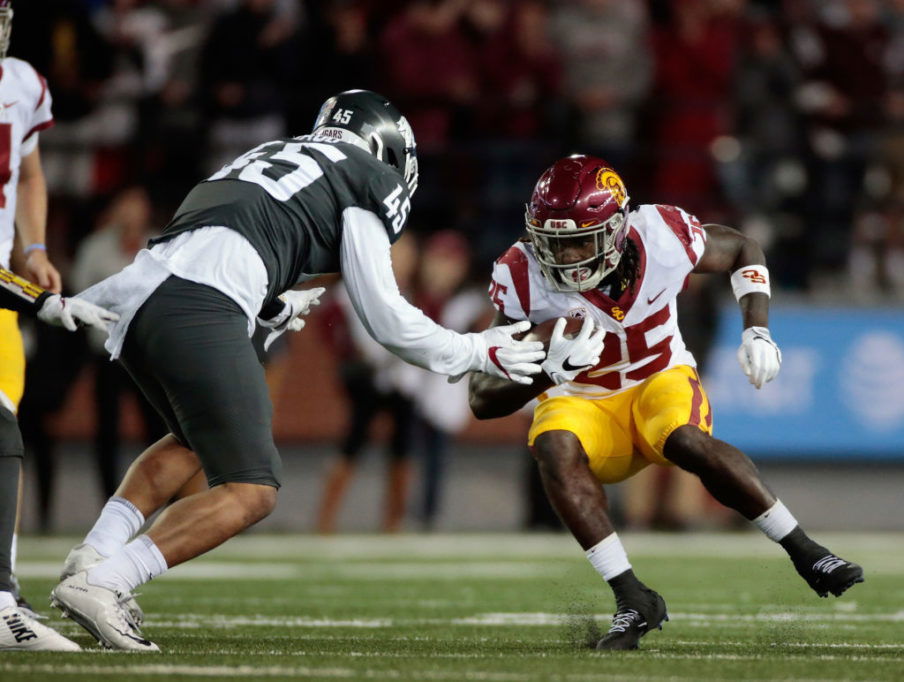 What I liked about Darnold: I loved how calm he was all the way. He did a fantastic job of recognizing blitzes when they were coming, and either escaping them for positive plays or throwing the ball away. Despite two starting offensive linemen going off injured, he managed to escape pressure, only taking two sacks.
The arm strength was obviously there, and I counted him making four very good throws on the run for completions (numbers four, eight, 24, and 28 of the night). All of them were designed plays to get him outside the pocket and let him use his athleticism.
And of course, the "it" factor, while not really a conventional stat, was there tonight. He had two running touchdowns on the goal line; both times were zone reads where he had the option to hand it off or call his own number, and he made the right decision on both occasions.
The two money plays of the night came on back-to-back snaps deep into the final frame. On 4th-and-13 at the WSU 42, Darnold escaped two Washington State pass rushers, stepped up, was hit as he threw, and still managed to complete a 14-yard pass for a mammoth first down. A few seconds later, he found a soft spot in the Washington State defense and threw a beautiful ball across the field to Tyler Vaughns to set up first-and-goal, and eventually USC's game tying touchdown.
He made a lot of huge plays when he needed to.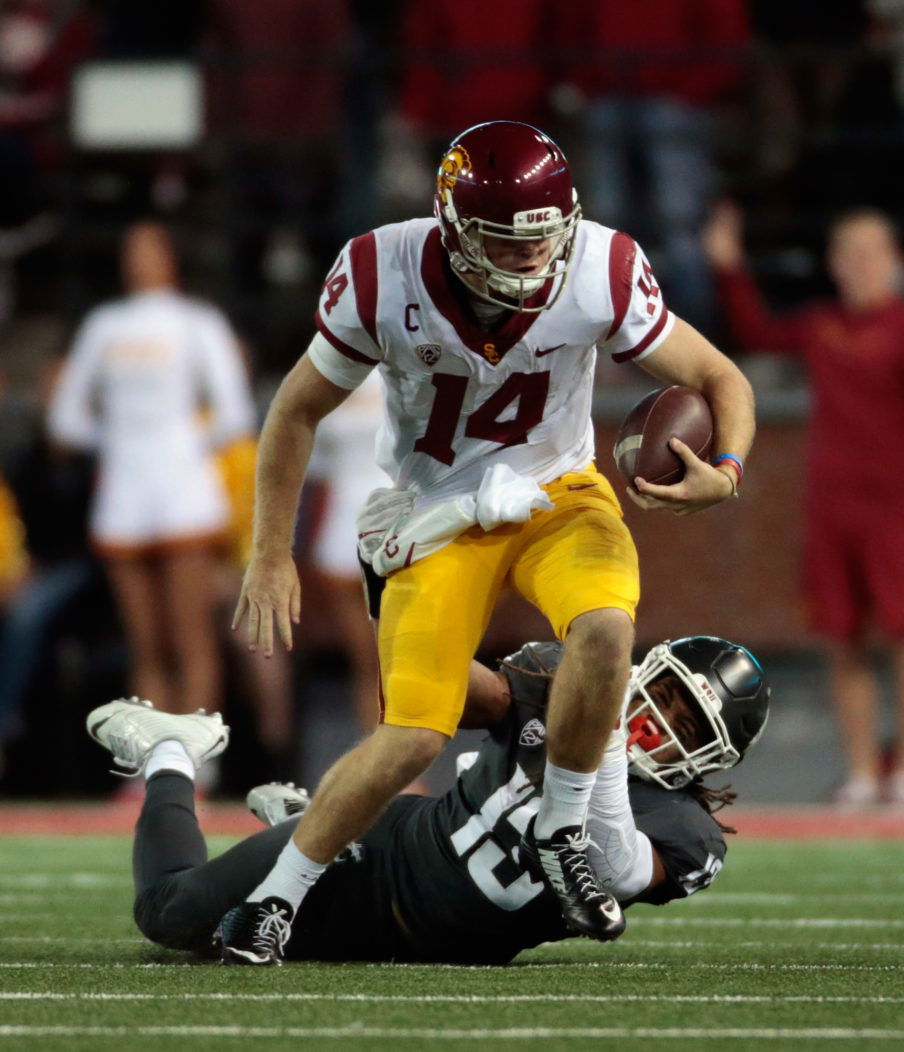 What I liked about Falk: The best part of his game tonight was his situational offense. Late in the second quarter, his Cougars got the ball back at their own six-yard line, trailing by a touchdown.
Falk led a perfect drive, not taking sacks and checking the ball down well to keep positive plays going. He even had a 10-yard scramble of his own for a first down under pressure. Falk went 5/5 passing for 41 total yards on that drive, and the game-tying touchdown his team scored came with just 13 seconds left in the half after perfect clock management.
On Washington State's final possession at a 27-27 score, he did the same thing. The drive went eight plays for 60 yards, resulting in the go-ahead field goal and leaving USC just 1:40 to respond.
There weren't a lot of bad decisions either. His throws that looked risky were more a result of a strong arm that led him to overthrowing receivers, but you could see the intent. There were a lot of screens, shovel passes, and checkdowns, 19 completed ones by my count.
He did a nice job getting the ball to fast players on low-risk, high-reward plays.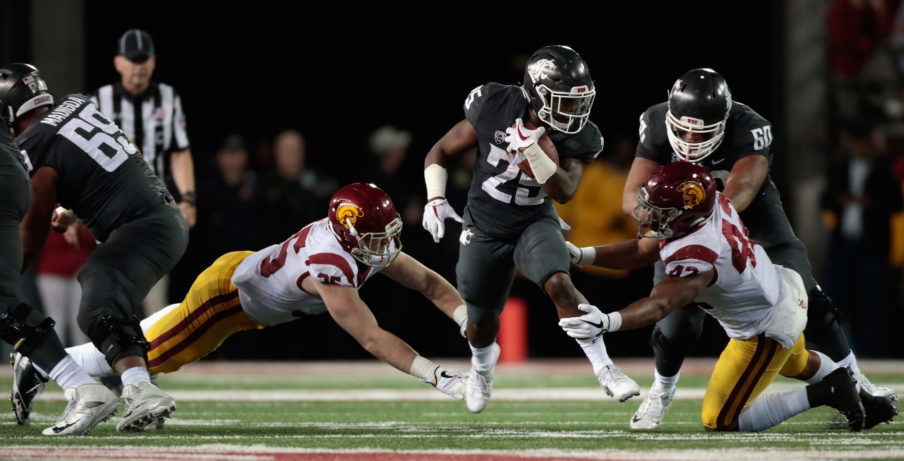 What I didn't like about Darnold: For starters, the interception was very bad. Darnold eyed up his intended receiver the entire way, never turning his head to another target to go through his progressions. He had one receiver in mind, and then the ball for him was badly underthrown. In total, it made a very easy interception for Sean Harper Jr. on Darnold's tenth throw of the night.
He showed some very shaky decision making at other points in the night. Two passes later, with the Trojans knocking on the end zone door, he made a very ill-advised throw to the corner that should have been intercepted, but somehow fell incomplete.
The redshirt sophomore also got in trouble with overthrowing the ball, notably on his 19th and 22nd throws of the evening, both of which were possible completions where he sailed the ball. His 23rd pass was also very questionable, as he just shoveled the ball into no man's land to avoid a sack. It ended up falling incomplete, but that was a scenario where he should have just taken a sack instead of risking a potentially disastrous play.
The end of the game of course has to be discussed, where Washington State's Jahad Woods had a strip sack on Darnold to end the game with the fumble. It was only 2nd-and-10 in that scenario, so Darnold had to find a way to get rid of that ball and live to fight at least two more downs to keep the game alive.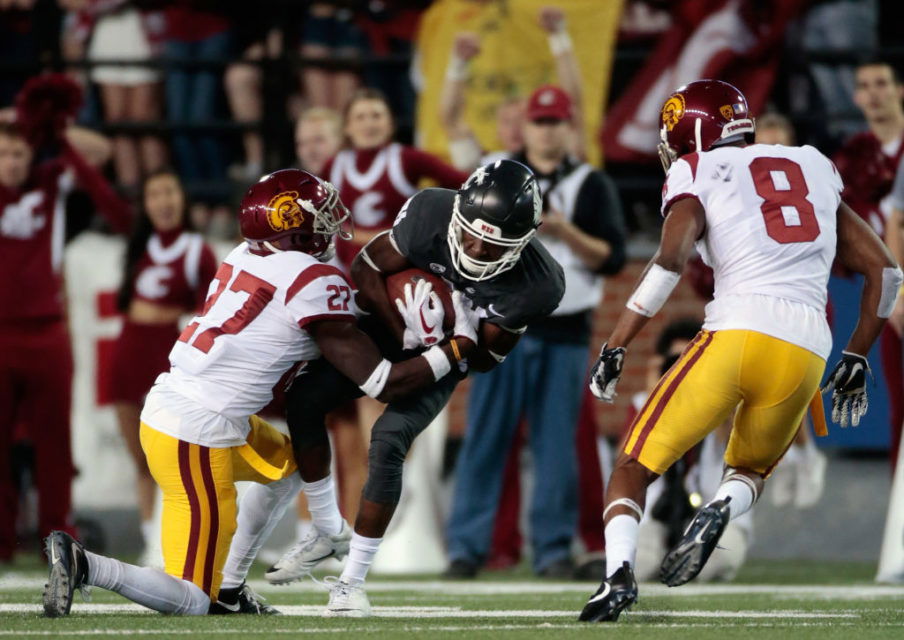 What I didn't like about Falk: Way too much arm.
If Darnold had a few problems with his arm strength, Falk had a lot. He just put way too much air under the ball all too often. He made six throws that I deemed "overthrows", including four in quick succession in the second quarter. He was zipping balls high and over the middle, which as we all know is tailor-made for interceptions.
He also held the ball a little too long. He was sacked five times in total tonight, unwilling to just throw the ball away. It's important for young quarterbacks to scan the field and look through options, but Falk spends too much time going through his progressions at points. The internal clock about when to get rid of the ball most quarterbacks have just hasn't developed for him yet. The senior took five sacks tonight and was under pressure more than that even.
Darnold's best and worst throws: These were both easy. That 4th-and-13 conversion, his 30th pass attempt of the night total, was what NFL teams dream of. Avoiding rushers, stepping up, taking a lot of punishment, and making a money play on the biggest play of the game to that point.
The interception though was awful, and him eyeing up receivers will be an obvious point of concern moving forward.
Falk's best and worst throws: Narrowing down these two was a little tougher. I'm going to give his best one to a 3rd-and-14 dart early in the third quarter, mainly because of the entire play. He recognized a free safety blitz from USC's Marvell Tell III, who got a free run at the quarterback. In just seconds, Falk managed to understand that there was open space in the secondary because of Tell's absence, and put the ball in the gap for a 25-yard completion to move the chains.
His lowlight, I think, was a first-down pass at the USC 45 in the second quarter. Coming off of a 3rd-and-10 conversion, Falk completely airmailed a throw off the hands of the defensive back. With his team already trailing 17-10, an interception there could have been fatal. He's lucky he got off with an incomplete pass.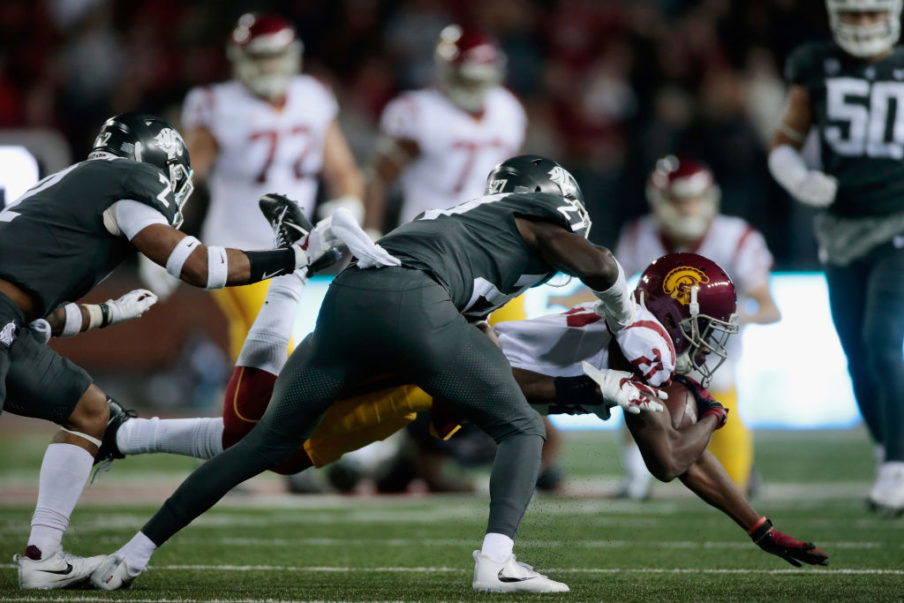 Game Verdict: Ultimately one game can't move the needle too much in either direction of a draft stock, but two highly rated quarterbacks facing off in a game like this is as good a chance as any to evaluate them.
Darnold showed why he gets so much praise with nice touch on his passes and great awareness of the game situation for most of the night. His decision making was spotty at points, but that's part of the growing process.
Falk lived up to his gun-slinging mentality, in good and bad ways. The arm strength helped him in spots, but could have brought up some interceptions. If he works on some touch passing and can fix his timing on taking sacks and going through progressions, he'll has a chance to ignite an NFL offense.
---