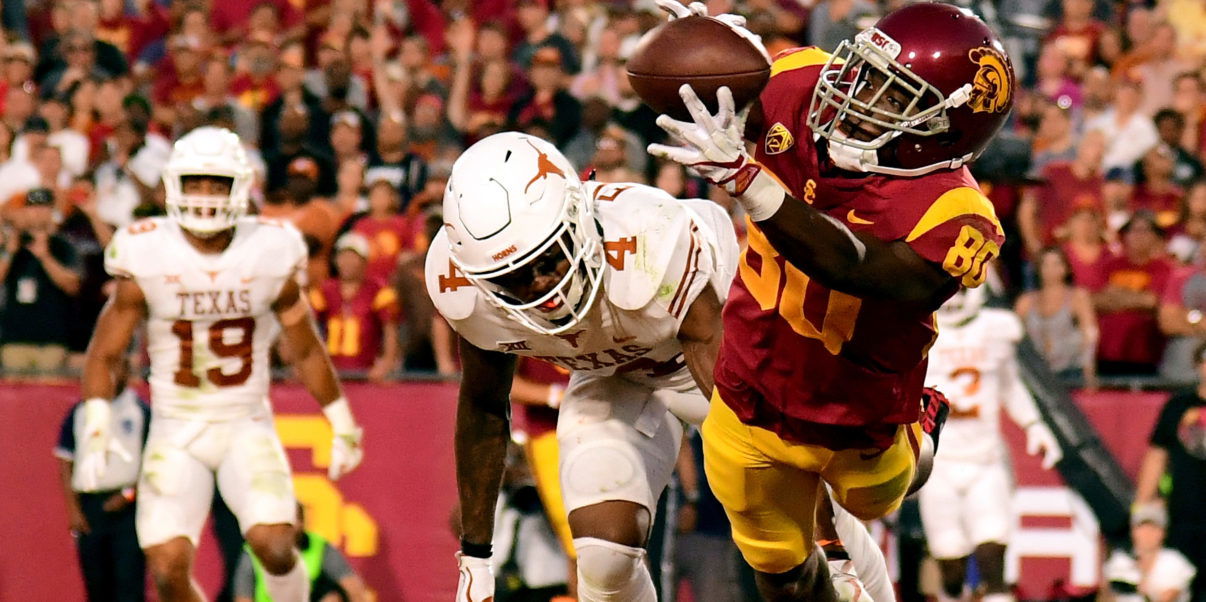 The Rematch Lived Up – And Then Some
"4th and 5, the National Championship on the line right here"
You probably heard that iconic line of commentary from Keith Jackson a lot this week. You've seen the clip of Vince Young going for the corner of the end zone and scoring to win Texas the 2006 National Championship vs. USC.
Some of the most enduring images in all of college football history emerged from that fateful night at the Rose Bowl, the snapshots of USC's 34-game winning streak coming to an end as a heavy favorite against Texas burned into the heads of all of us like raging fires. The snaps of a dynasty going up in smoke before our very eyes.
But almost a dozen years later, USC finally extinguished the flames. And they did it with a thrilling 27-24 double overtime to run their record to 3-0.
It wasn't a National Championship Game. It far from in fact, nothing more than a September game between two teams hoping to get back there in the near future.
But when freshman kicker Chase McGrath nailed a walk-off field goal, the Trojans put some of the ghosts of 2006 to bed. And in a lot of ways, they did it in a game very similar to the one they were bested in by Vince Young's Longhorns.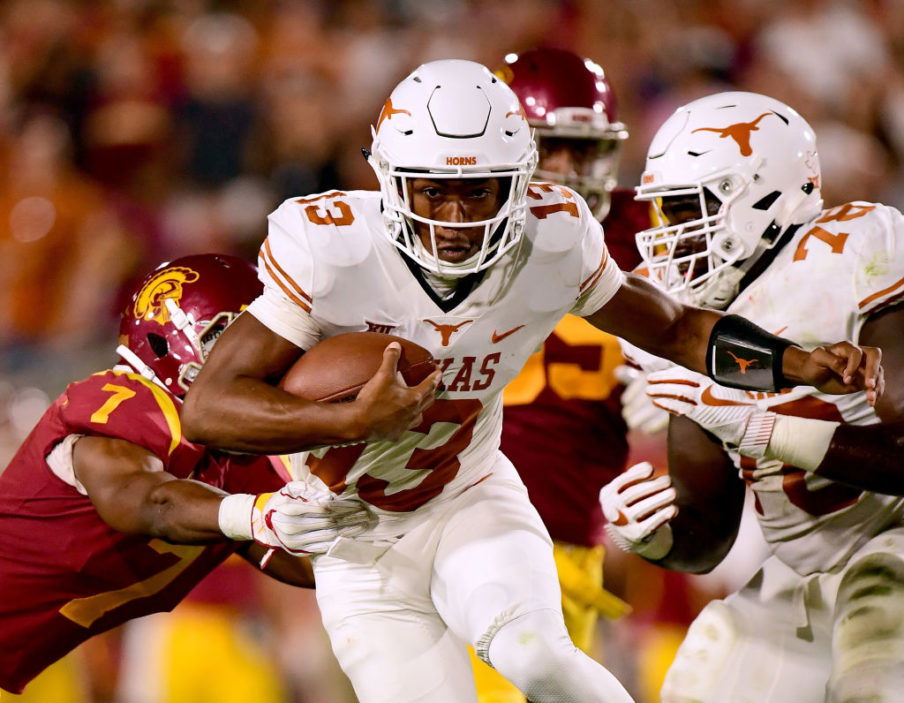 Just like in the original meeting, USC struck first. Tonight it was a 15-yard touchdown pass from Sam Darnold to Deontay Brown. Then Texas came back and shell-shocked the heavily favored Trojans. In 2006 it was 16 unanswered points in a little over eight minutes. The 2017 edition of a Texas spark came when DeShon Elliot picked off Darnold and took it back to the end zone for a game tying pick six deep into the second quarter.
USC scored points on their last play of the first half in both games. Texas came back and scored with their first possession of the third quarter in the pair of matchups.
But the damning thing about this contest that must have made it feel eerily similar for USC fans was the knack Texas had to hang around. In 2006 it was with a shootout, with Vince Young's Longhorns just trying to keep up. Tonight, the Texas defense did everything they could to give the offense a chance.
The Horns forced two timely turnovers, benefited from a missed field goal, and almost exactly like 2006, stuffed USC on a critical 4th and 1 play in the second half. It gave Texas a chance to take the lead with a touchdown late in the game, and Sam Ehlinger channeled his inner Vince Young.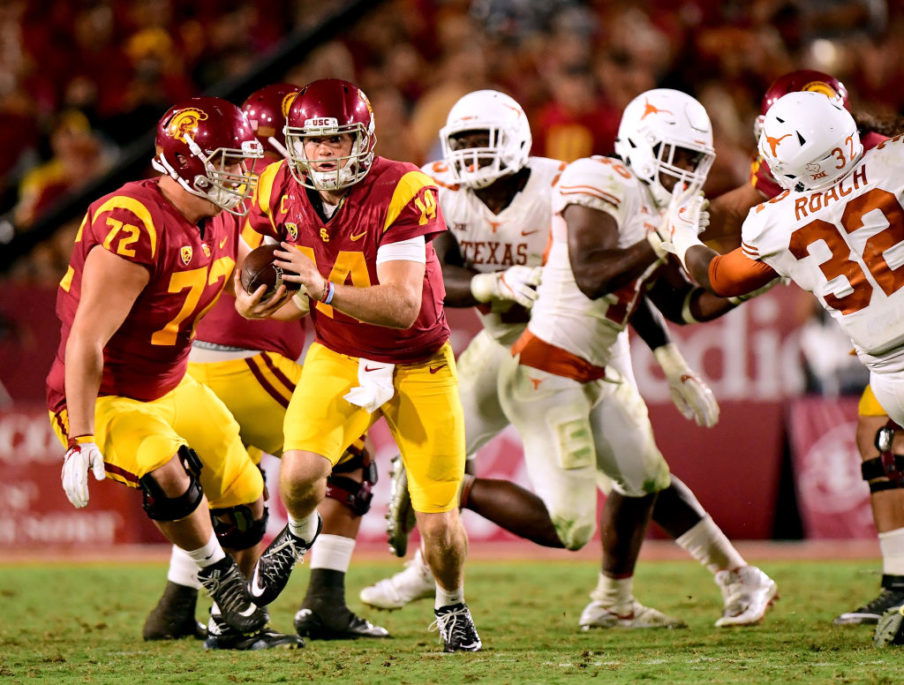 After being pushed back as far as their own two-yard line, Texas got in the end zone with 45 seconds left, converting two fourth downs on the drive. The Trojans had the ball down three points with under a minute to go and a chance to force overtime in the 2006 National Title Game, but Matt Leinart and company couldn't get it done. Déjà vu all over again.
Unfortunately for Texas, that's where the similarities between the greatest game ever played and tonight end though. Darnold led USC on a very professional scoring drive that culminated in a game-tying field goal as time expired to send the contest into an extra session.
The powerhouses traded touchdowns in the first overtime frame, and Texas looked poise to hold serve when they drove inside the USC five-yard line leading off the 6th period of the evening.
Christian Rector had other ideas.
The Economics major from Pasadena made a big money to save the game for the Trojans, stripping the ball from the grasp of Ehlinger as he was grinding towards the end zone. All USC needed from that point was a field goal, and Chase McGrath made no mistake when he got his opportunity to be the hero.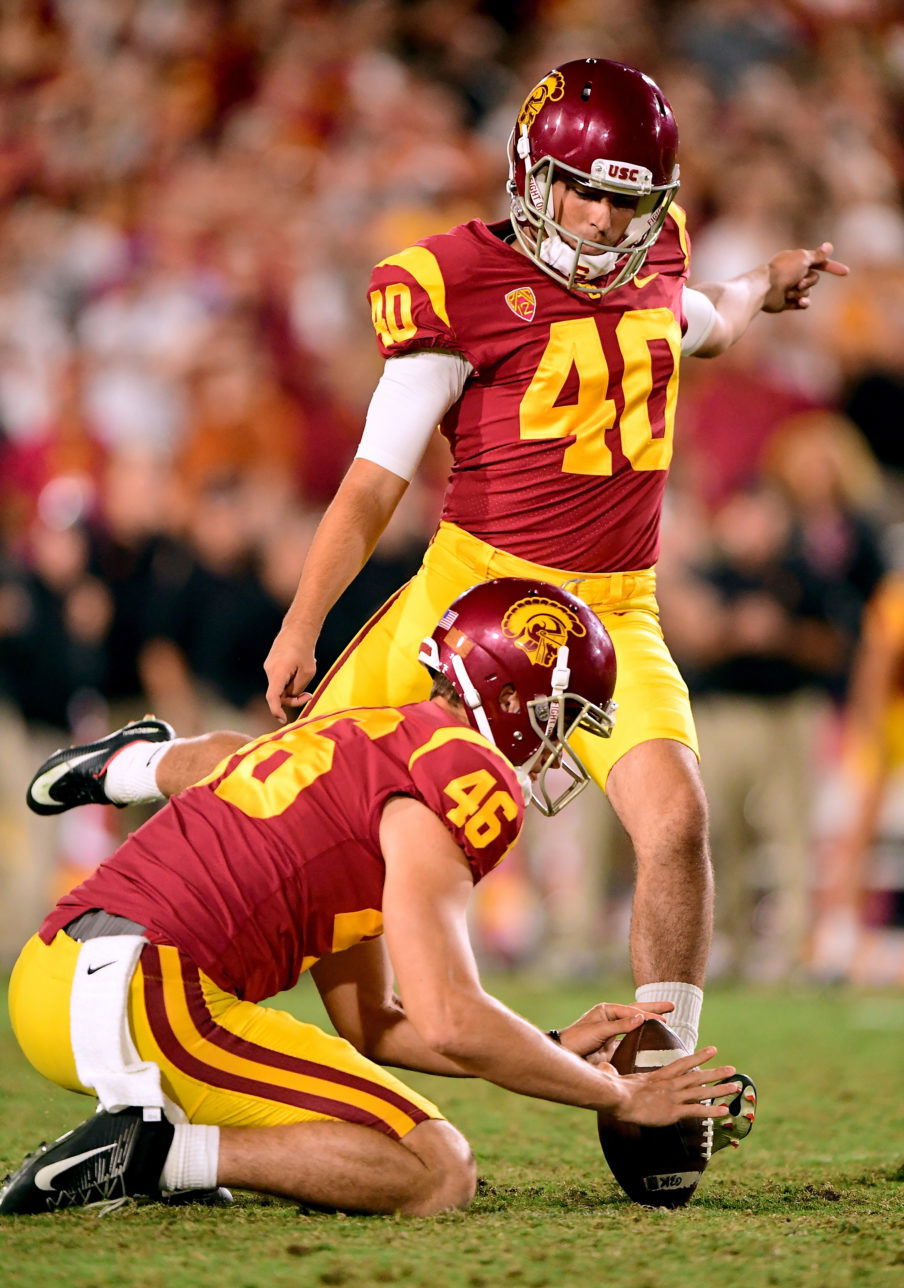 It's a pretty rare to see a sloppy football game that you just can't get enough of. Very few games that feature two interceptions, two fumbles, four turnovers on downs, and a missed field goal have you begging to watch more of it when it finishes. But somehow, USC and Texas managed to turn a mess like that into a beautiful masterpiece.
Whether this ends up being a season defining win for USC in their hunt for a National Championship or just an isolated moment of magic remains to be seen, but one thing is for certain.
This game lived up to all of the hype, and then some.
And I can't wait for them to play the second half of their home and home in Austin 364 days from now.
---