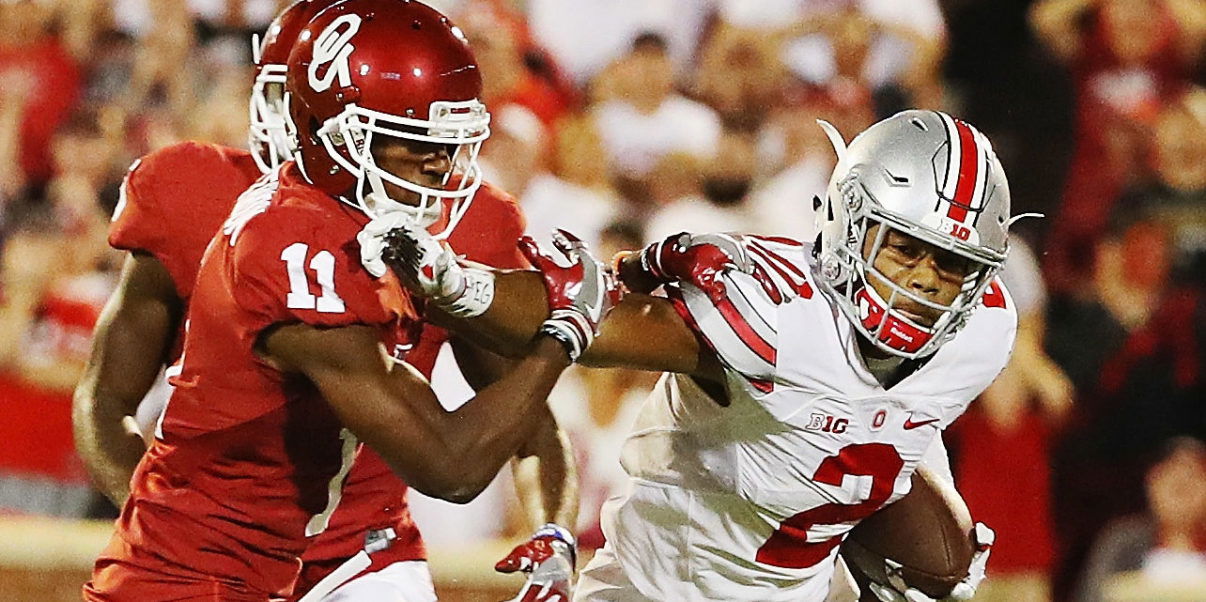 Keys To the Weekend – Week Two
After an entertaining but mostly upset free week 1 of college football, we are ready to go in week two.
A handful of games with teams from Florida have been cancelled due to Hurricane Irma, and we certainly extend our deepest sympathies to those impacted.
But we still have some big games to cover. The Georgia Bulldogs will make their first ever trip to historic South Bend to play Notre Dame in a top-25 matchup. Auburn and Clemson will complete the second half of their home and home in Clemson Saturday night. USC and Stanford will renew their California hostilities at the LA Coliseum, the first big test for Sam Darnold's Trojans.
And of course, we have the top five showdown at the Horseshoe between #2 Ohio State and #5 Oklahoma. With that in mind, here is how some teams can win their big matchups this weekend.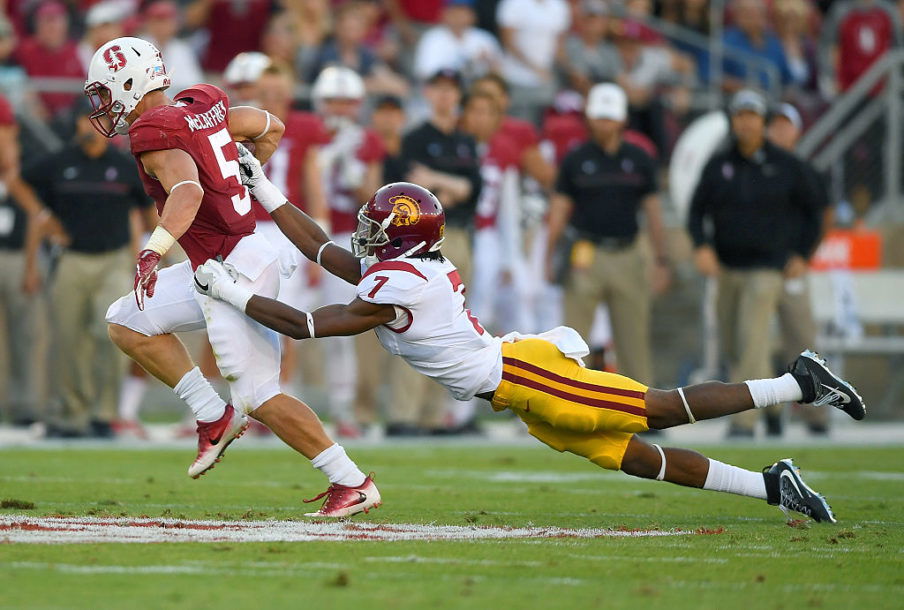 #15 Georgia @ #24 Notre Dame:
Georgia Will Win If:
Jake Fromm can handle the stage. One of the biggest variables in college football is how true freshman quarterbacks handle their first road games. Fromm looked solid at home against Appalachian State last week, but this is a different animal. Everybody knows about their two potent running backs, and their defense has gobs of talent. But eventually, they'll need Fromm to make some big throws. Can he do it?
Notre Dame Will Win If:
They load the box to stop Georgia's running backs. Nick Chubb and Sony Michel are elite running backs who have to preform to take the pressure off their aforementioned freshman quarterback. I think Notre Dame should put eight or nine players in the box on every play, sell out to stop the run, and force Fromm to beat them. If Notre Dame can cut down Chubb and Michel, they have as good of a chance as anyone to swipe this game.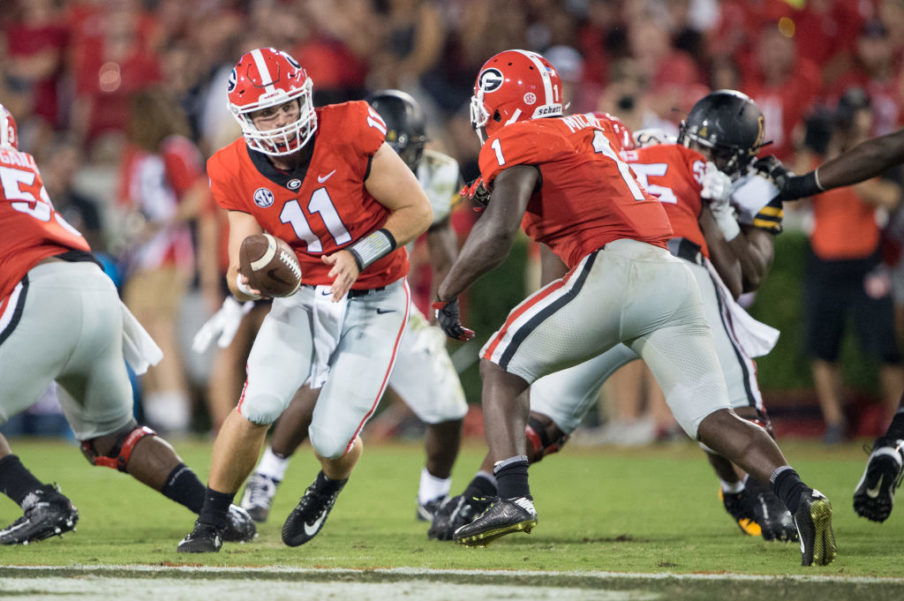 #13 Auburn @ #3 Clemson:
Auburn Will Win If:
They can slow down Clemson's speed. Not only do they like to play a fast offense, but they have the fast players to execute it. Kelly Bryant looked good as the heir to Deshaun Watson's throne last week, and a host of running backs looked good. Clemson had seven different runners eclipse 20 rushing yards last week, and four of them hit 50. Auburn has enough bodies on their defensive line to rotate enough to always have fresh matchups. If they can keep Clemson's tempo of balanced and get their matchups, they'll slow down Clemson.
Clemson Will Win If:
If they can get open space. Even with Deshaun Watson, the offense was predicated on giving skill players the ball outside the numbers, and running concepts to open holes. Quarterback Kelly Bryant needs to get the ball to Deon Cain and Ray-Ray McCloud outside. There's a chance that the line of scrimmage could end up being a stalemate between these two strong teams, so the WR vs. CB battles might decide this one.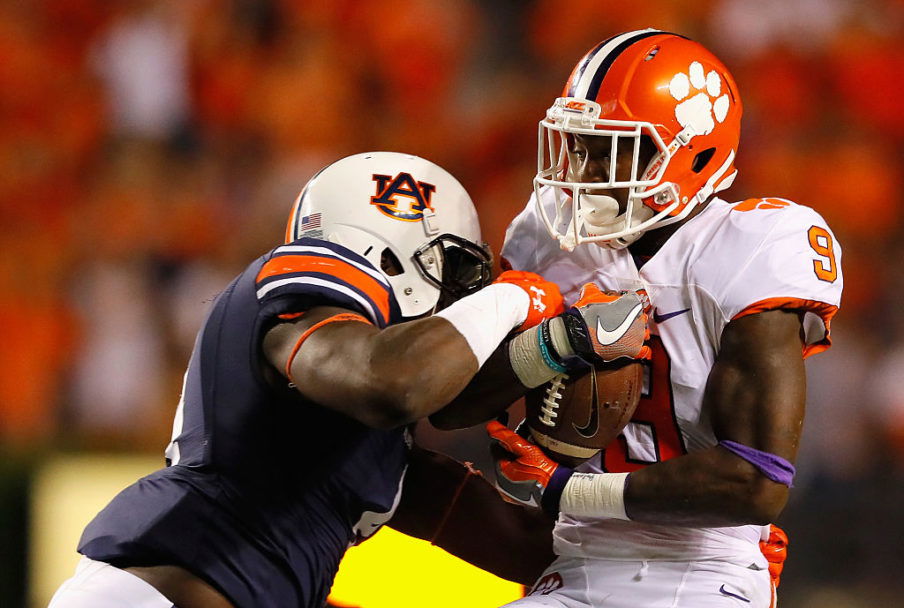 #14 Stanford @ #6 USC
Stanford Will Win If:
They forget their blitzes and drop eight guys back in coverage. USC quarterback Sam Darnold is one of the best prospects in the 2018 NFL Draft. Last week vs. Western Michigan, the plays he was successful on were all quick releases. USC's plays largely consisted of bubble screens and swing passes to a running back out of the backfield.
Darnold gets the ball out of his hands quick enough to render most blitzes irrelevant. Stanford would be better off dropping guys back in coverage, with linebackers trying to cut down those short routes.
USC Will Win If:
Their running game is anywhere near as productive as it was last week. Against Western Michigan, the Trojans registered 232 rushing yards, with 159 of them coming via Ronald Jones II. Darnold was a solid 23/33 passing for 289 yards, but if there is a running game on top of it that can keep the pressure off of the quarterback, Stanford could have a long night in the Coliseum.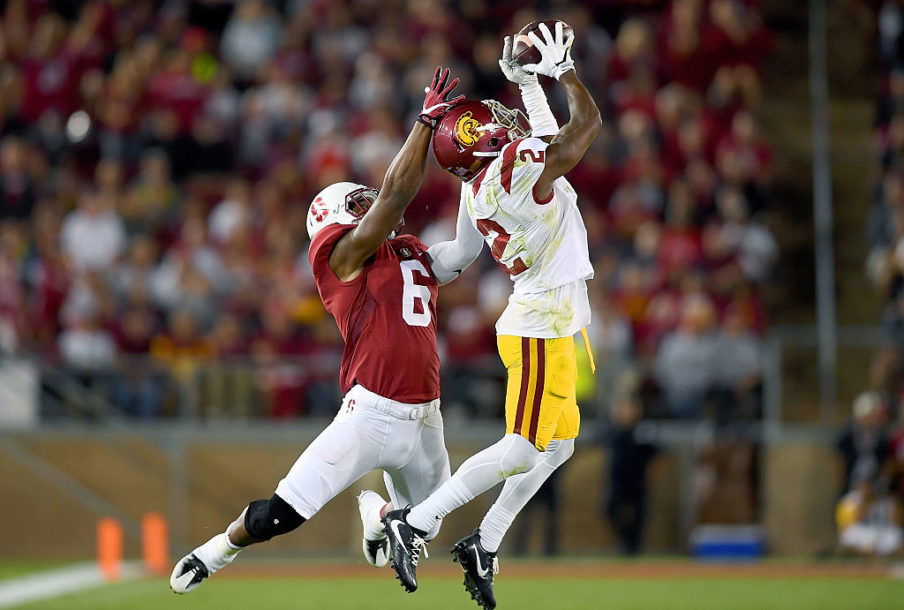 #5 Oklahoma vs. #2 Ohio State:
Oklahoma Will Win If:
Baker Mayfield has the game of his life. Seriously. These teams met last season in Norman, but the titanic matchup failed to live up to its hype as Ohio State run out with a comfortable 45-24 win. Oklahoma's star quarterback Baker Mayfield was a mediocre 17/32 passing for just 226 yards, and he threw two interceptions including a pick six. Saturday night, he gets another shot at the defense that shut him down.
He has to run the ball well and hit his receivers. Last season he had Joe Mixon to lean on as a running back and Dede Westbrook at wide receiver. This time around, both of them are playing in the NFL. Mayfield has to put the Sooners on his back big time.
Ohio State Will Win If:
They stay with the simple concepts. In the first half last week vs. Indiana, the offense was too complicated. J.T. Barrett was trying to do too much, and they sputtered to a 14-13 halftime deficit. But they got back to basics in the second half. Off tackle handoffs, modest slants, and feeding their best receiver Parris Campbell the ball. With these easier plays, Ohio State scored touchdowns on five out of seven second half possessions vs. Indiana. If they keep doing that, there's no reason to think they won't pick up a statement win Saturday.
---