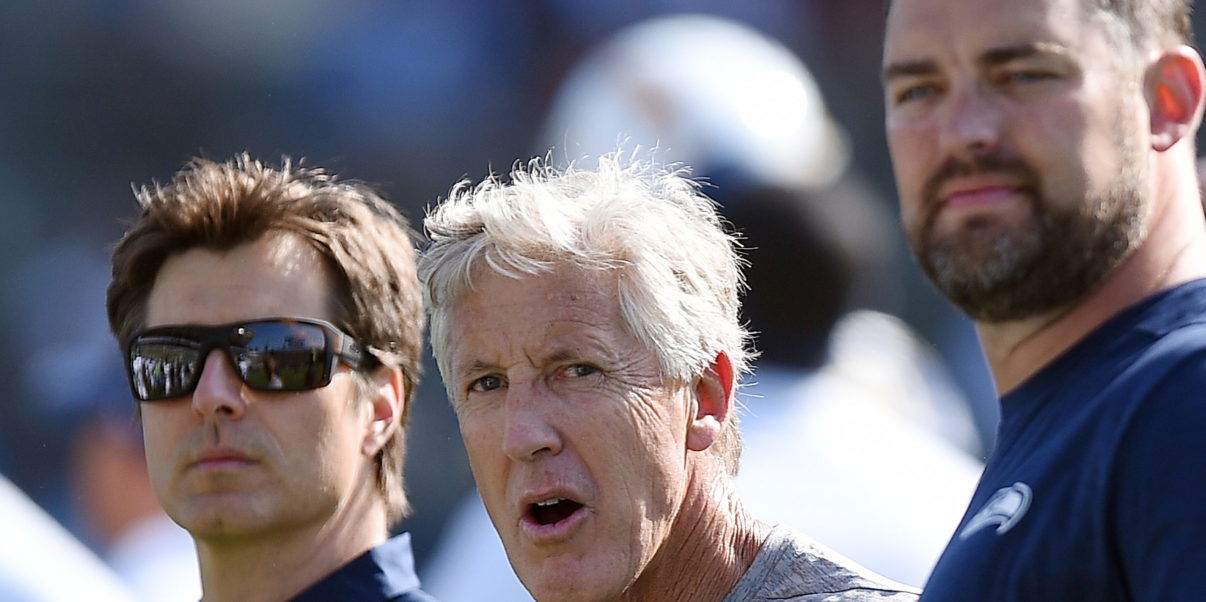 A Schematic question surrounding every NFL Team- Part One
The long wait is over, and the 2017 NFL season is almost upon us, with the Chiefs and the Patriots set to kick off the new season next Thursday. Many teams improved their roster over the summer, but most teams still have questions that need answering going into the new season. Below is a schematic question that every team will have to tackle going into the new year.
---
Arizona Cardinals- Less five step drops?- 
Carson Palmer is still one of the better QBs in the NFL as far as I'm concerned, but he struggled last year in a season where he was projected as an MVP candidate. One of the reasons he struggled, was because despite the struggles of new right tackle DJ Humphries, coach Bruce Arians continued to persist with deep drops, which puts more pressure on the offensive line. The Cardinals have switched their tackles around, but I struggle to see what this will do, and they perhaps need to enforce more quick release plays. Carson Palmer can still get the job done, but putting this much pressure on a young offensive line and a 37 year old QB makes little sense. Another reason Arians might slightly edit his scheme, is because of the play of his receivers. Arians was critical of all but two of his receivers, with Larry Fitzgerald and Jaron Brown being the only receivers who appear to meet Arians' standards.
Atlanta Falcons- More Force Feeding of Julio Jones?-
Julio Jones is the best receiver in football, and he reached over 1400 yards last year, but he went for long stretches without touching the ball in the redzone, which was highly confusing. After he baptised the Carolina Panthers in week four, he only had two touchdowns in his remaining nine games, and he was held to under 100 yards on multiple occasions. This was largely because Kyle Shanahan targeted the best matchup as opposed to the best receiver, but this could be soon to change. The Falcons were ninth in redzone efficiency, and new offensive coordinator Steve Sarkisian believes they can improve on this by finding Julio Jones. The fact Jones could be even more productive than he already is, is a scary thought, but whether to force feed him as an intriguing discussion point.
Baltimore Ravens- How to improve and utilise the run game
The Baltimore Ravens have the toughest tactical question facing them, as they really need to revert to their old identity on offence. The Ravens have generally played smash mouth football under coach John Harbaugh, but last year they led the league in pass attempts as both Marc Trestman and Marty Mornwinheg implemented a short pass game. The offence wasn't awful, but it was bland and having Joe Flacco running a short pass game was a waste of the extraordinary amount of money they are paying him. The Ravens need to move back to a run game, but on paper this is going to be difficult because Kenneth Dixon is out for the year, and Terrance West simply isn't very good. Danny Woodhead only reinforces the short pass game they are currently running, so Baltimore need to somehow find some offensive balance, despite not having the personnel to do so.
Buffalo Bills- A Slot based offensive system?
The Bills offence is going to be an absolute mess this year, as they currently have no outside threat. Zay Jones and Jordan Matthews are both receivers who are at their best in the slot, and the box will be stacked for LeSean McCoy and the majority of plays. There is nothing wrong with running an offence that does most of its work in the slot, as Chip Kelly found success in Philadelphia and San Francisco, but Tyrod Taylor has shown thus far that he is a QB who prefers to rely on slower developing plays. This does not mean to say that Taylor CANNOT use the middle of the field as Kyle Posey outlined in his detailed piece, but the Bills entire passing offence has a huge shroud of mystery surrounding it going into the 2017 season. The Bills clearly want to be bad at this point, but LeSean McCoy could quickly become disgruntled if they do not move the chains regularly.
Carolina Panthers- Less deep throws?
The Carolina Panthers have ran a vertical offence in recent years, but they lost their main threat this off-season, as Ted Ginn joined the New Orleans Saints. Ginn is a player who receives a lot of criticism, but he is a top five deep threat football, and his speed still scares the hell out of defensive coordinators, even if he did often drop what came his way. The Panthers have replaced him in their 2-WR sets with Devin Funchess, and although I still hold hope for Funchess, it is a clear downgrade. The Panthers have a weird situation, as they have two receivers who really need time to get open, but they offloaded their deep threat , who created extra space for them, and they signed Christian McCaffrey and Curtis Samuel, who both look like more natural fits in a spread offence. This offence will be good purely because they have an elite QB and an elite tight end, but the identity will take some time to figure itself out.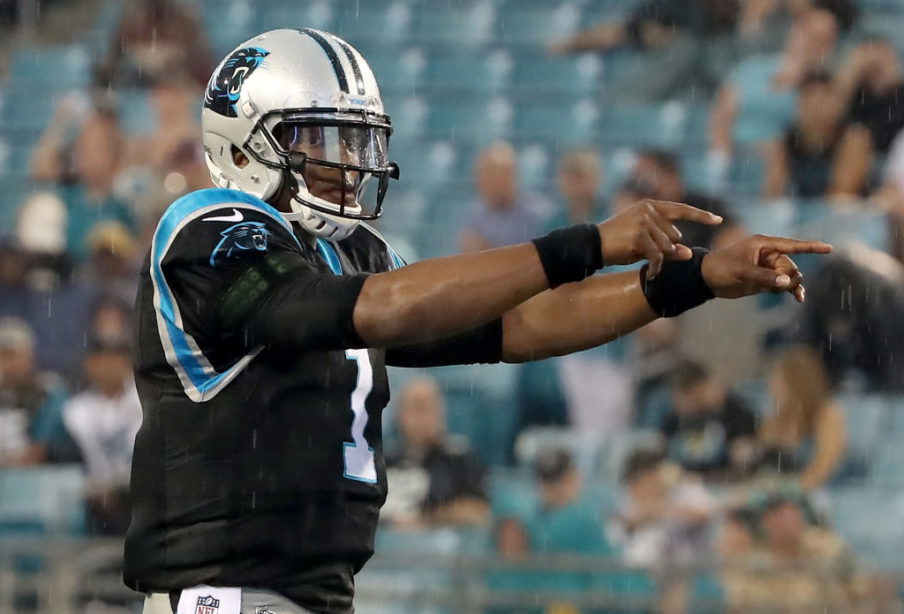 Chicago Bears- Who gets the bulk of targets?
The Chicago Bears were entering the season with a very unpredictable wide receiving corps, and it just became even more hard to read because Cameron Meredith was ruled out for the entire year. This leaves the Bears with Kendall Wright, Adam Shaheen, Dion Sims,  Kevin White, Markus Wheaton and Tanner Gentry to fight for the targets on offer from Mike Glennon and Mitchell Trubisky. Kendall Wright is likely the favourite to get the majority of the open-field work, but he has proven throughout his career that he is not a redzone guy. Mike Glennon has a very limited body of work to base a prediction on, but in Tampa Bay his top target in the redzone was Tim Wright, a big bodied tight end. This could in theory mean that Dion Sims gets the bulk of the work in the Bears red-zone offence outside of Jordan Howard, so he is currently a good player to take late in fantasy football.  My prediction is that Kendall Wright finishes with over 1000 yards but under three touchdowns, and Tanner Gentry becomes a sleeper with value later on in the season. Markus Wheaton was relatively useless in Pittsburgh, and Kevin White is reportedly running like a full back in camp, which is not good.
Cincinnati Bengals- More Blitzing?
Under Marvin Lewis, the Bengals really have become a vanilla team as they blitz less than any other team, and also run a very conservative offence without deep passes or adventurous play calls. The lack of blitzing has often worked for Cincinnati as they have generally had a good four man rush, but they struggled to generate pressure last year due to the struggles of starters Michael Johnson and Domata Peko, and will be relying on rookie production this season. Carl Lawson has looked good in pre-season, but expecting a mid rounder to make up for a coordinators lack of aggression is unrealistic, and the Bengals need to bring more pressure if they are to make the playoffs this season.
Cleveland Browns- Who steps up as Kizer's Safety Blanket?
The Cleveland Browns appear to have struck gold with DeShone Kizer, as he has looked like a player with a lot of talent throughout the pre-season. Because of these great performances, he has been named as the week one starter, and if he can be even slightly good, the Browns might manage to win themselves between six and eight games. The most interesting question surrounding the Browns offence, is with regards to who becomes the top target for their new Franchise QB. The Browns paid Kenny Britt in the summer, but they have previously used high picks on both David Njoku and Corey Coleman, so they may want to divert as many targets their way as humanly possible. The Kizer-Coleman connection has looked great in pre-season, and it would not be surprising to see Coleman emerge as the Browns WR1, despite the contract they gave Kenny Britt.
Dallas Cowboys- How to generate pressure?
The Cowboys have the most worrying schematic question, as their pass rush looks to be the worst in the NFL. Rod Marinelli's scheme is relatively basic as he runs a lot of zone coverage, but for this to work, the front seven needs to generate a lot of pressure. The Cowboys attempted to address this in the draft as they selected Taco Charlton, but he has looked mediocre in training camp, and has only really generated pressure against backup players. Even if Charlton becomes good, the Cowboys still lack an efficient pass rush , and Marinelli may have to mix things up more than he likes to. Marinelli has often utilised a 3-2-6 formation in Dallas, but he may have to add more bodies at the front simply to make up for the lack of overall talent on the defensive line. Marinelli is not a coordinator who blitzes as he prefers to use stunts up front, but he may have to change his strategy this year, as Dallas' defence cannot survive without good pressure generation for two years in a row.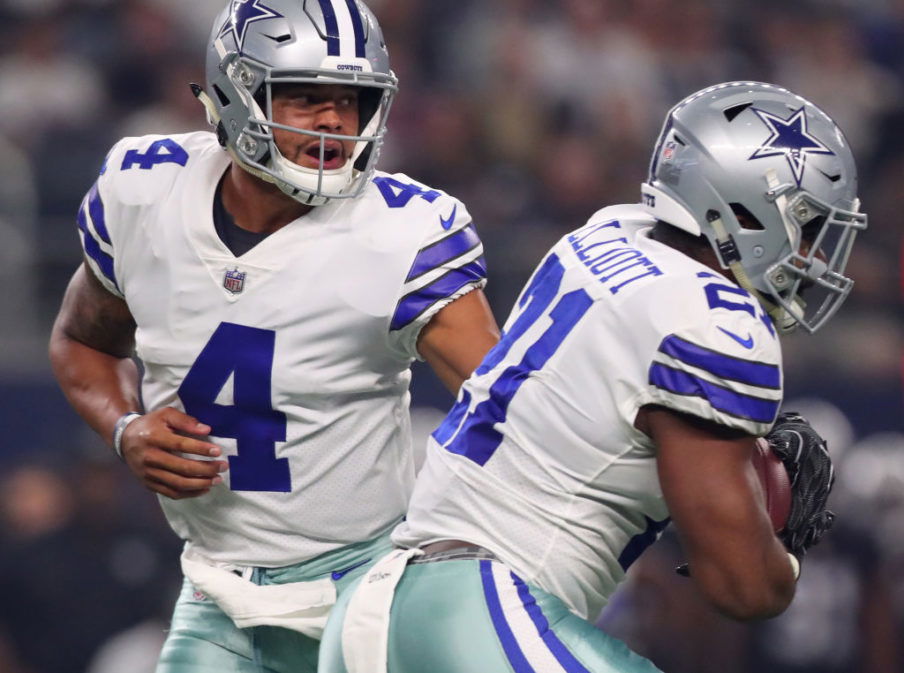 Denver Broncos- 4-3 Zone or 3-4 Man?
The Broncos are a fascinating watch this year, as they have an entirely new coaching staff, and they have an interesting dilemma in their defence. Denver's defence has been the best in the AFC for the last two years, and they ran an attacking defence with an odd front, and a lot of man coverage in the defence. Their new Head Coach Vance Joseph is almost the complete opposite, as he ran a 4-3 defence with a lot of zone coverage in Miami and Cincinnati, and it will be interesting to see if he tries to put his own stamp on the Broncos defence. Most people who inherit a defence like that would likely keep things the same, but Vance Joseph is young and ambitious, and may want to mix some zone concepts into the pure man defence that Wade Phillips ran.
Detroit Lions- More Aggressive Playcalling on both sides?
The Lions made the playoffs last year so it does feel harsh to criticise them, but they were one of the most bland teams in the NFL last year. The Lions ran a dink and dunk offence designed to play slowly and hide their awful defence, and their defence barely blitzed, and relied heavily on deep coverage. The issue with the Lions defensive philosophy, is that a zone heavy defence needs a good four man rush, and the Detroit Lions do not have this. Ezekiel Ansah is a great player, but the injury to Kerry Hyder and the decline of Haloti Ngata means that the Lions will not consistently pressure the quarterback in a four-man rush. Teryl Austin is one of the best defensive coordinators, but he prefers to drop bodies, and line his players up rigidly, and the Lions do not have the players to run his scheme. The Lions are simply going to have to be more blitz happy than they were last year, and they have a secondary who could likely cope with more man coverage. On the offensive side, the Lions need to air it out and go deep more often, as their offence was simply too vanilla at times in 2016. They paid Ricky Wagner who is the best right tackle in the game, and this surely means that the Lions are going to move away from screen passes and slants on every play.
Green Bay Packers- Should the defence be simplified?
No coordinator is less deserving of his current job than Dom Capers, as he has consistently failed to deliver a playoff defence despite being handed first round talent on a platter year after year. Capers' system is extremely complicated, and systems that are that complex need a lot of veterans. This does not fit with the Packers' draft and develop philosophy, so it is baffling that Capers still has a job in Green Bay. Capers' system struggled towards the back end of the season, purely because the Packers inexperienced players struggled with his coverages. The Packers' injury problems no doubt contributed to this, but even before the injuries happened, the Packers secondary looked vulnerable, and Capers need to simplify his coverages, and make things easier for his young players to make a smooth transition into the NFL. If the Packers continue with Capers' nonsensical concepts, then the likes of Kevin King will struggle to adapt.
Houston Texans- The Delegation of running back carries
The Texans spent big last summer to sign Lamar Miller from the Miami Dolphins, but he failed to live up to expectations, and proved that he was not a workhorse back. The Texans could not lean on him for long spells, and the result was that they struggled for efficiency in the run game, and he also struggled to score in the redzone. Lamar Miller will likely see his carries reduced this year, and Bill O'Brien has a dilemma on his hands, as Houston's current backups are a bunch of unknowns. Alfred Blue has good size, but he has been a relatively average performer for Houston, and he hasn't proven to be a reliable redzone option as he only has five touchdowns in three years. Donta Foreman seems like the obvious candidate to get goal-line work, even with his off-field issues. Essentially, Bill O'Brien needs to work out which part of the game Lamar Miller would be most useful in, as he has proven he isn't someone who should touch the ball more than 20 times a game.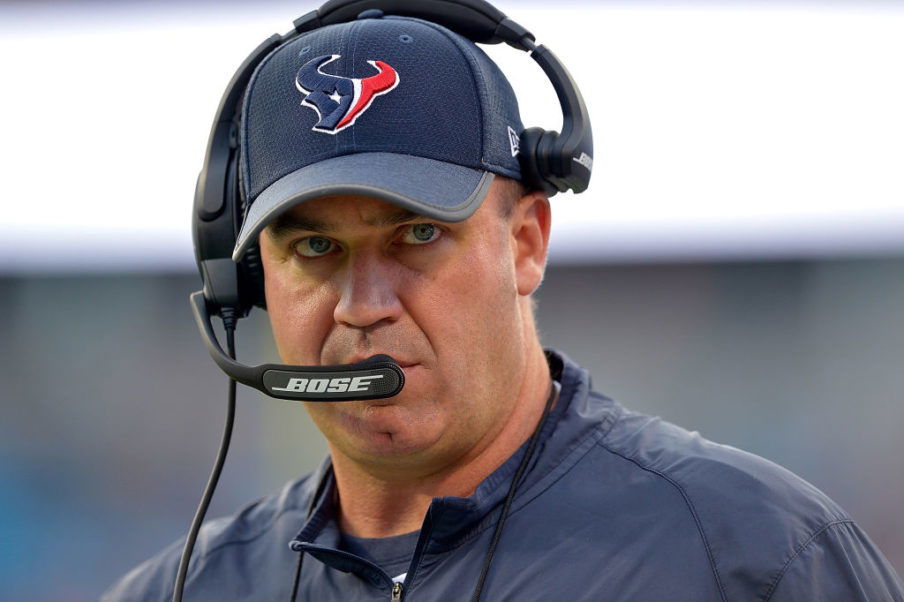 Indianapolis Colts- A move to a spread-based running game/offence ?
The Indianapolis Colts are a team who receive a lot of negative attention on the defensive side of the ball, but the offensive side of the ball is actually where their biggest question mark lies. The Colts run a power running game based on the skills of Frank Gore, but it is clear that Gore is no longer fit for purpose in the NFL, and they may want to change their running style. Gore's decline is real, as he was 50th in PFF's elusive rating last year, and he really only got the yards that the Colts offensive line generated for him. Marlon Mack has looked incredible in pre-season for the Colts, and it won't be long before he becomes the RB1 in Indianapolis, even if he doesn't get goal-line work ahead of the very reliable Robert Turbin. His ability out of the backfield would unlock a different side of this Colts offence, and it will happen sooner rather than later.
Jacksonville Jaguars- Where to align Calais Campbell?
The Jaguars have the most talented defence in the NFL on paper as they have good players at every level of the defence, and they have two of the best pressure generators in the NFL in Malik Jackson and Calais Campbell up front. The interesting question surrounding Calais Campbell, comes with his usage, as the Jaguars may want to move him to the edge in obvious passing situations. Dante Fowler has been nothing but a disappointment on the edge thus far, and Jacksonville ironically will struggle on the edges in 2017, as the majority of their difference makers play as an interior pass rushers. Campbell doesn't look to be an obvious edge player, but Jacksonville may want to try him there, as his pure power could cause a problem for offensive tackles.
Kansas City Chiefs- Who emerges as the WR1?
Tyreek Hill is a player who is getting a lot of coverage due to a promising rookie season, but it is questionable at this point whether he will be WR1 throughout his career. As a raw talent he is great, he moves well in the open field and his speed is a real weapon because he often ends up against safeties and linebackers as he lines up behind the line of scrimmage. Hill has the potential to be great, but a WR1 needs to be a player who doesn't rely on being used out of the back field, so while Hill will be a big part of the offence, he cannot be considered the lead wide receiver at this point. DeMarcus Robinson has been excellent in pre-season, and both Albert Wilson and Chris Conley have shown promise in their short time in the NFL. Andy Reid needs one of these players to emerge as the open field receiver, otherwise the Chiefs offence will become largely reliant on a gadget player.
---