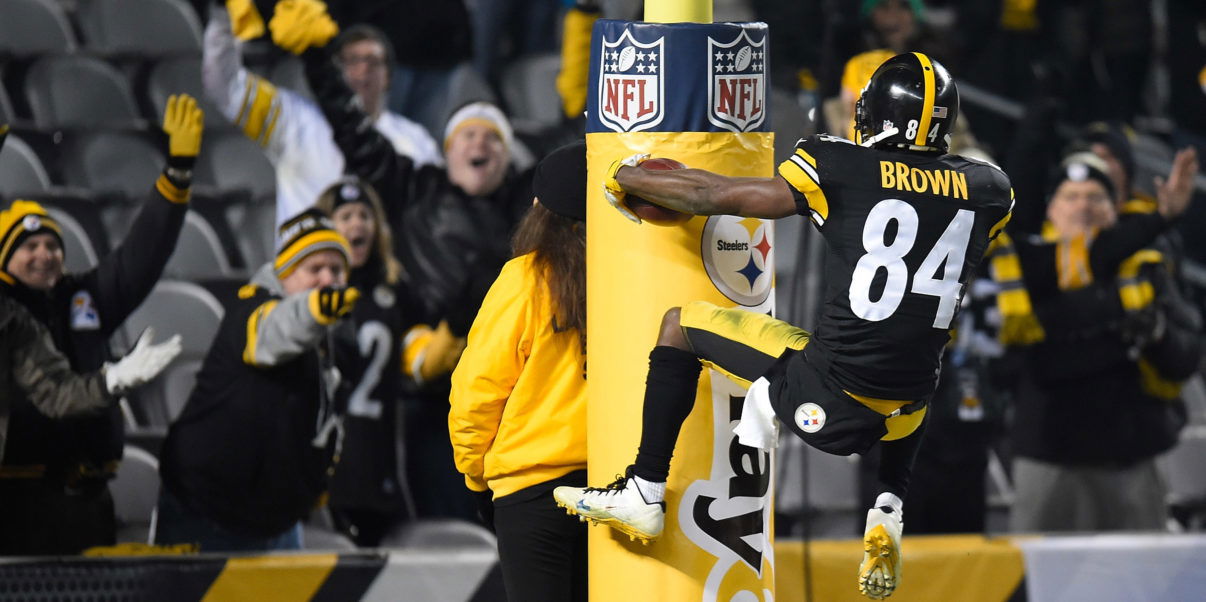 2017 Fantasy Preview: Top Ten Wide Receivers
Today's NFL is a passing league. Every single team – all 32 of them! – passed more often than they ran last year, and receivers are much more reliable on a season-long basis than running backs. No wonder they've become increasingly highly coveted in fantasy leagues, to the point that last year they made up the top three off the board in many a draft. That isn't going to be the case this year, but you'll need to know about the fantasy prospects of the highly-prized wide receivers anyway, because they still won't come cheap and they still won't come with certainty.
In this preview, the top ten WRs based on their Average Draft Position (ADP) in 12-team mock drafts hosted by Fantasy Football Calculator between 28 and 31 July are evaluated with the case for taking them – and the case for leaving them. There's no such thing as certainty in fantasy football, but while it can be a guessing game, you want to make those guesses as educated as possible. Here's your pre-draft WR swatting. Good luck!
Antonio Brown
Team: Pittsburgh Steelers
Bye week: 9
ADP: Round 1, Pick 4
The case for taking him: Last year was a relative downer for him. He "only" managed 1,284 yards in 15 games, with the one he missed being an irrelevant Week 17 game. (This, folks, is why friends don't let friends run fantasy leagues with Week 17 championships.)
That total ranked fifth in the NFL. It also happened to be a four-year low for Brown, as was his reception count – a "mere" 106.
This gave him a "down" year of 13.42 fantasy points per game in standard leagues, more than Mike Evans managed in his "breakout" 2016 or Julio Jones did as the main target in the NFL's best offense. Some "down" year.
The case for leaving him: Besides the ability to get more reliablity at WR than RB only getting stronger through the middle rounds of the draft, about the only question mark is how Brown's ludicrous production is tied to his amazing connection with a brittle Ben Roethlisberger. Big Ben has taken so much of a beating in recent years that he's openly considered retirement, and Brown isn't nearly as productive when catching passes from his motley crew of replacements. He wins almost entirely through being the best route-runner in the league, and there's only so much you can benefit from that when you've got a less-than-savvy signal-caller.
Then again, Ben's missed time the last two years and AB's fantasy numbers have come out big when all was said and done anyway.
Should you draft him?: If it's between him and fellow Steeler Le'Veon Bell – which is what it should be if you have the #2 pick this year – that's a tough call. It depends on how much you trust your ability to get RBs later on and how much you trust the respective health of Bell and Ben. I might be inclined towards Bell because I'm not keen on the RB options in the late second/early third round this year, but you could always go zero RB and take Brown as the first of back-to-back-to-back WRs – maybe throw Gronk or Aaron Rodgers into the mix if either fall to you – and I'd have no complaints.
Brown shouldn't be allowed out of the top four under any circumstances. He's the WR to own in fantasy yet again, as he simply has the highest season-long floor of any skill position player in the game.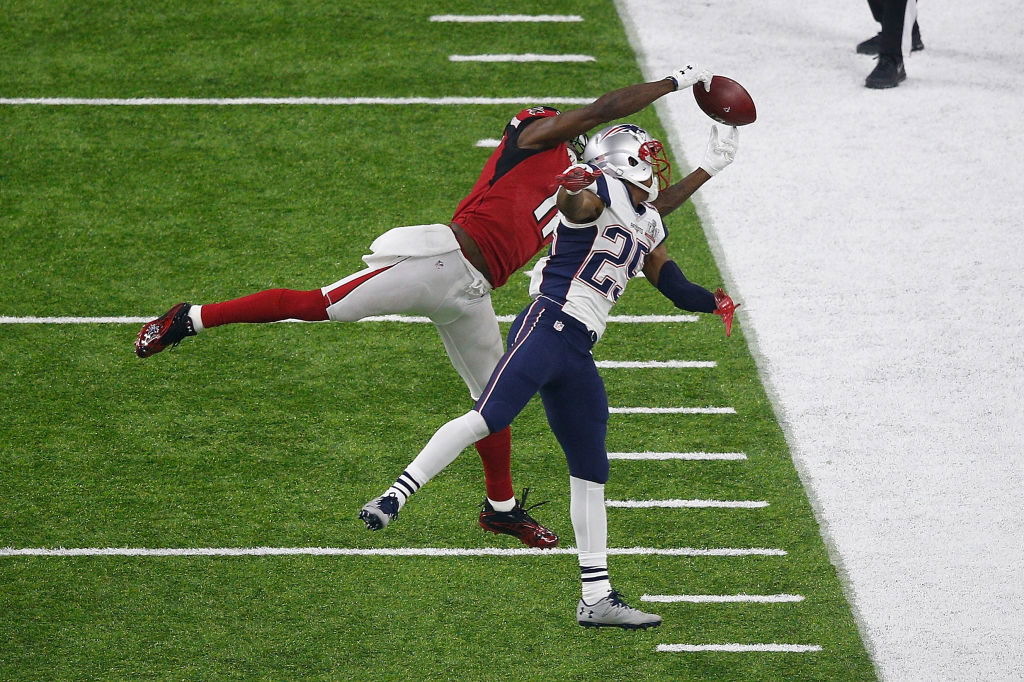 Julio Jones
Team: Atlanta Falcons
Bye week: 5
ADP: Round 1, Pick 6
The case for taking him: The man's a monster and he's catching passes from 2016 NFL MVP Matt Ryan. Enough said.
Want some number fries with that not-actually-hot take? Here you go: Jones was the only player in the NFL to average 100 receiving yards per game, and his 1,409-yard 2016 was actually a three-year low for the poster child of trading up (the Falcons gave up numerous premium picks to the Cleveland Browns in 2011 for Jones, and the NFL's greatest running joke turned them into five players, all of whom are now out of the league) in both yardage and fantasy points per game.
The case for leaving him: Julio's inexplicable lack of touchdowns has gone past natural variance and into obvious weakness. The Falcons have multiple options in the red zone, and don't seem to want to force-feed it to the best of them if teams are going to give him blanket coverage around the painted area. That's smart playcalling, but it will make Julio's fantasy owners tear their hair out.
The Falcons might be less offensively prolific this year anyway, both because they could hardly not be and because of the Super Bowl hangover/new stadium/new playcaller combo. Matt Ryan's 2016 was an anomaly and a half in the context of his career, let's not forget.
Should you draft him?: I'm a bit shaky, because I'm a seller on the 2017 Falcons more generally. But I'm even shakier on the alternatives in this part of the draft, so if you have even slightly more faith than me in the Falcons, he's absolutely worth a pick in the middle of the first round. He could be the top WR in fantasy this year and I wouldn't be at all shocked.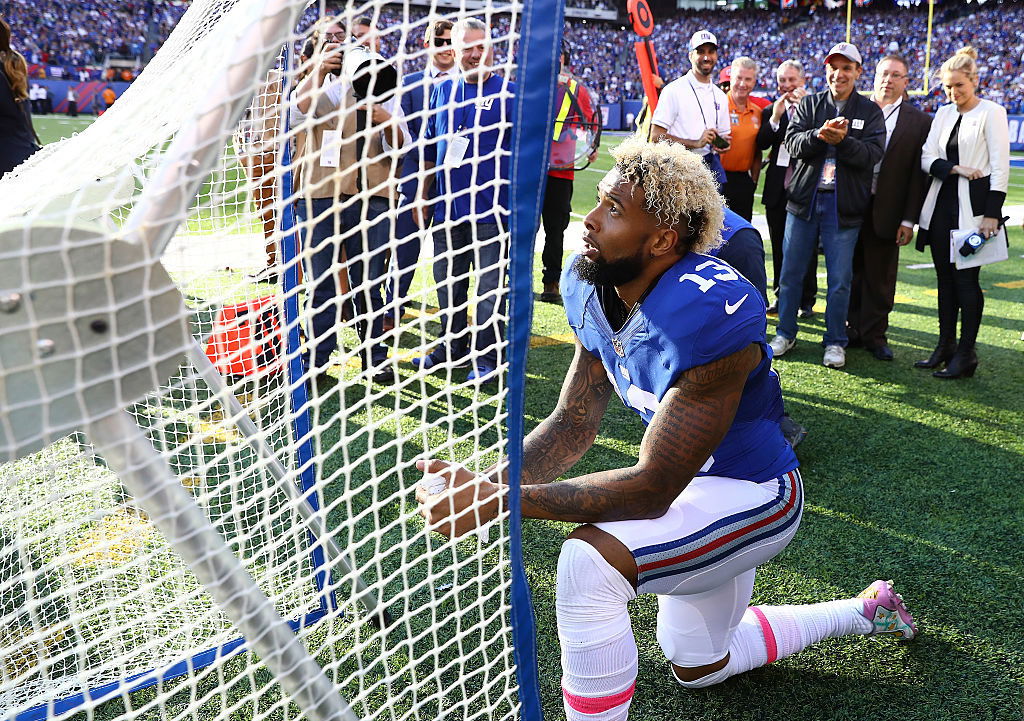 Odell Beckham Jr.
Team: New York Giants
Bye week: 8
ADP: Round 1, Pick 7
The case for taking him: This is a man who scored more PPR fantasy points per game than any other WR in the league… as a rookie coming off an injury.
Beckham is probably the best skill-position talent in the game. He has three consecutive 1,300-yard seasons to start his career (!), has ten or more receiving touchdowns in each of those three years… and he's just getting started. He turns 25 this November, so in theory he still has room for development. That is mildly terrifying considering that's "room for development" from "literally good enough to inspire a new Madden gameplay mechanic."
The case for leaving him: Odell Beckham Jr. is catching passes from Zombie Manning Jr.
Eli looked completely done for much of last year, not helped by abysmal blocking in front of him. He might only get worse, and perhaps Beckham's short fuse could be lit by the collapse that would presumably come from that. (And if there wasn't one, it would be because of a defensive miracle that would render the passing game less relevant anyway. Lose-lose for fantasy owners.)
There's also the theoretical possibility that new wide receivers Brandon Marshall and Evan Engram – Engram is a WR in TE clothing – will leech targets. I'm more worried about Marshall destroying the locker room than destroying Beckham's target share, but the two are certainly bigger targets than the 5'11" OBJ and could reduce his red-zone usage.
Should you draft him?: Like with Jones, my apprehension is entirely linked to the team around him. I'm even more of a seller on the Giants than the Falcons though – they're my sleeper pick for a potential crash into the NFL cellar – and with such a scenario likely to threaten actions that would lead to a suspension, I'm a full-on seller on Beckham. I don't want to be, and it might make me look completely foolish, but I am.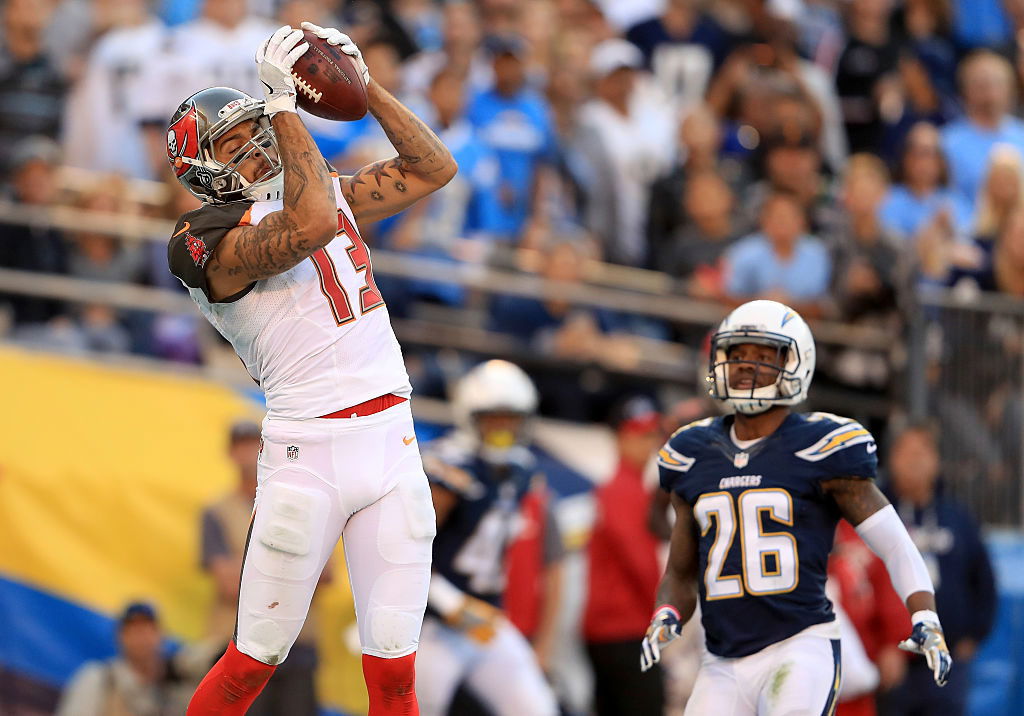 Mike Evans
Team: Tampa Bay Buccaneers
Bye week: 11
ADP: Round 1, Pick 9
The case for taking him: He's a target monster with the arrow pointing upwards. He's had three 1,000-yard seasons, with 12 TDs in two of those three, to start his career – the last of them, 2016, seeing him lead the NFL in targets with over 170 – and he doesn't even turn 24 until later this month.
DeSean Jackson has been added to the team, but his contributions come as much from the mere threat of him getting the ball as from him actually doing so; he's never had more than 63 catches in a season except in the 2013 Chip Kelly offense. Evans will still be the volume man, but now with extra room to operate!
The case for leaving him: Evans was a destroyer of fantasy playoff dreams last year, with consecutive games from Week 13 to Week 15 bringing fewer than six fantasy points in standard leagues. Despite ranking fourth in receiving yards in the NFL, he had just 169 yards after the catch. That put him in a tie with Jeremy Hill.
Let that sink in for a second.
He got an absurd number of targets in the front end of last season and wasn't a great fantasy own at all down the back stretch. Is that late-2016 Evans the real Evans?
Should you draft him?: Arguable either way. I'm not going to argue with anyone who thinks he's an overrated commodity who can't get as many targets again this year, and isn't efficient enough with the ones he gets (he's never had a season where he's caught more than 55.5% of his targets, whereas Antonio Brown has had four straight seasons over 66%). But his yards-per-reception figure was significantly higher in 2014 and 2015, so is arguably primed for positive regression. His crabsnatching QB should still be moving forwards rather than sideways at this stage in his career too.
In a vacuum, I'm not sold on Evans this high – but the players going around him are Beckham, Devonta Freeman, and Melvin Gordon. I'd rather have Evans than any of those.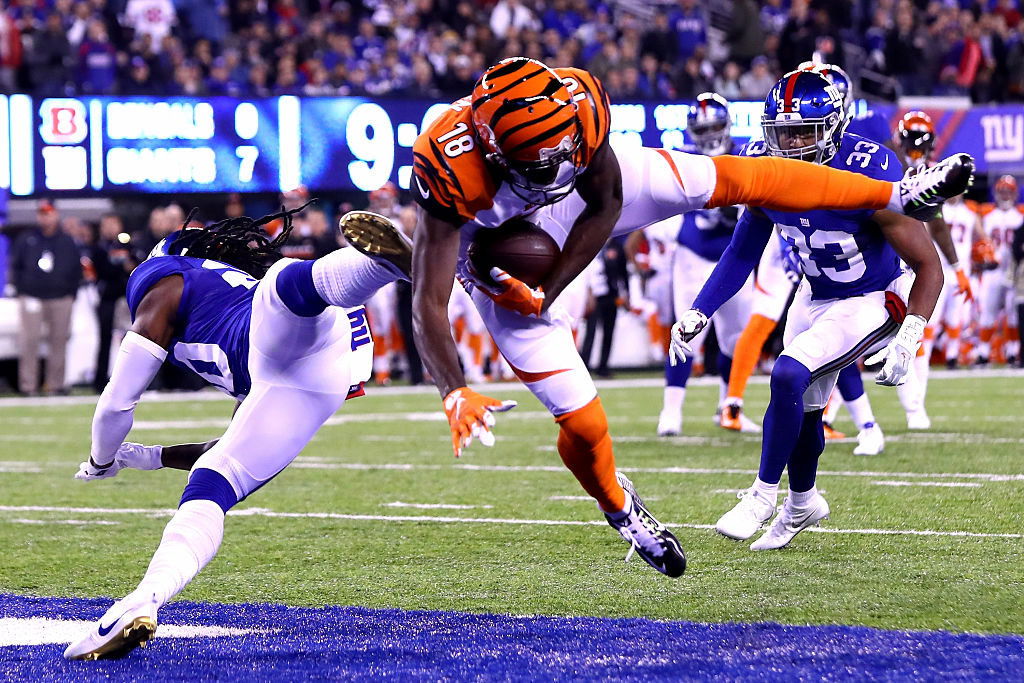 A.J. Green
Team: Cincinnati Bengals
Bye week: 6
ADP: Round 1, Pick 11
The case for taking him: People forget just how hot a streak he was on in 2016 because his team sucked and he got hurt at the start of Week 11. He entered that week as the NFL leader in receiving yards with 964, and he's hit the 1,000-yard mark in every other year of his career. If the Bengals didn't suck, they'd have had something to play for at the end of the season, and Green would have been thrown in and cleared that milestone yet again.
The Bengals have also drafted their very own DeSean Jackson Jr. in the form of John "4.22" Ross, who is either going to do nothing because of still recovering from post-Combine shoulder surgery, or be a lid-lifter that opens up space for Green. The end result is the same: a bunch more yardage for one of the two most explosive AJs in sport.
The case for leaving him: Green's hamstring injury was a knockout blow in 2016, and it's the sort of injury that can recur or linger. No sign of that just yet, but it's a minor red flag.
A bigger one is the Bengals losing two veteran offensive linemen in free agency and not replacing them, instead trusting in the two they picked up in 2015 – Cedric Ogbuehi and Jake Fisher – as their long-term future. All evidence to date suggests the two are busts, and that would imply that Green is going to have less time to get open. Plus, the Bengals also used their second-round pick on an objectionable human being who plays running back really well.
Should you draft him?: At this price? With some of the players going ahead of him? Yes.
The blocking situation gives me pause, but Dalton already took 41 sacks last year. That's joint-second in the NFL with Andrew Luck and Russell Wilson! In many ways, you can argue things can't get much worse, and the Ogbuehi/Fisher combo could get better. One of the lost linemen was the right guard, anyway.
The concerns over Green feel like they've been priced in a lot more than the concerns over, say, Beckham. Consider him a definite top-ten pick – and if you use a late-round pick on Andy Dalton, you've got a QB/WR "stack" that could win you your league if the Bengals bounce back.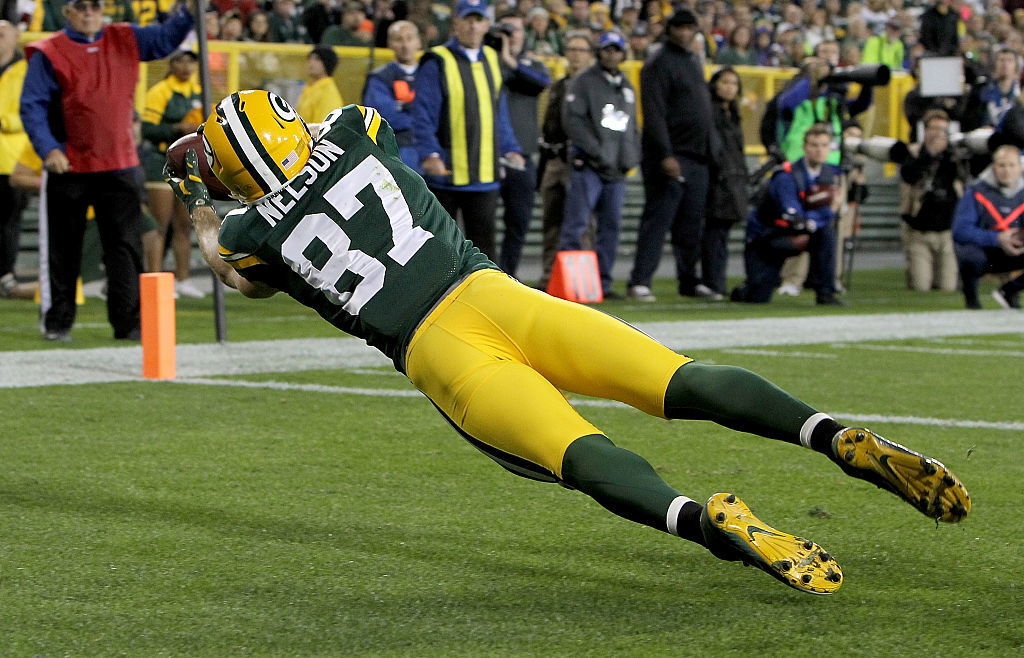 Jordy Nelson
Team: Green Bay Packers
Bye week: 8
ADP: Round 2, Pick 1
The case for taking him: He catches passes from Aaron Rodgers. His lead competition for catching passes from Aaron Rodgers was useless for the first two years of his career. He spent 2015 not catching passes from Aaron Rodgers because he had an ACL to repair, and generally players are better in their second year back from that injury even now. (Heck, Nelson improved during the season, catching only 52% of his targets in the first half of the season but 75% in the second half.)
Did I mention he catches passes from Aaron Rodgers?
The case for leaving him: He's 32. And free agent signing (yes, the Packers made one, they're not the Bengals) Martellus Bennett should be very good at catching passes from Aaron Rodgers as well.
His massive 2016 production was also a bit over-dependent on touchdowns (a league-high 14) rather than yardage, which is a worry because yardage is a far more predictable number.
Should you draft him?: You can certainly do far worse at this point.
My biggest concern would be that, after a career-high 610 attempts last year, there won't be quite as many passes this year from Aaron Rodgers. Then again, a converted WR is still the starting running back, the defense is still bad enough to force some shootouts, and there have been 39 seasons in NFL history where a QB has made more than 610 passing attempts – and four of them came last year!
Nelson should still get plenty of high-quality targets, should be capable of making good use of them, and probably should be a first-round fantasy pick this year.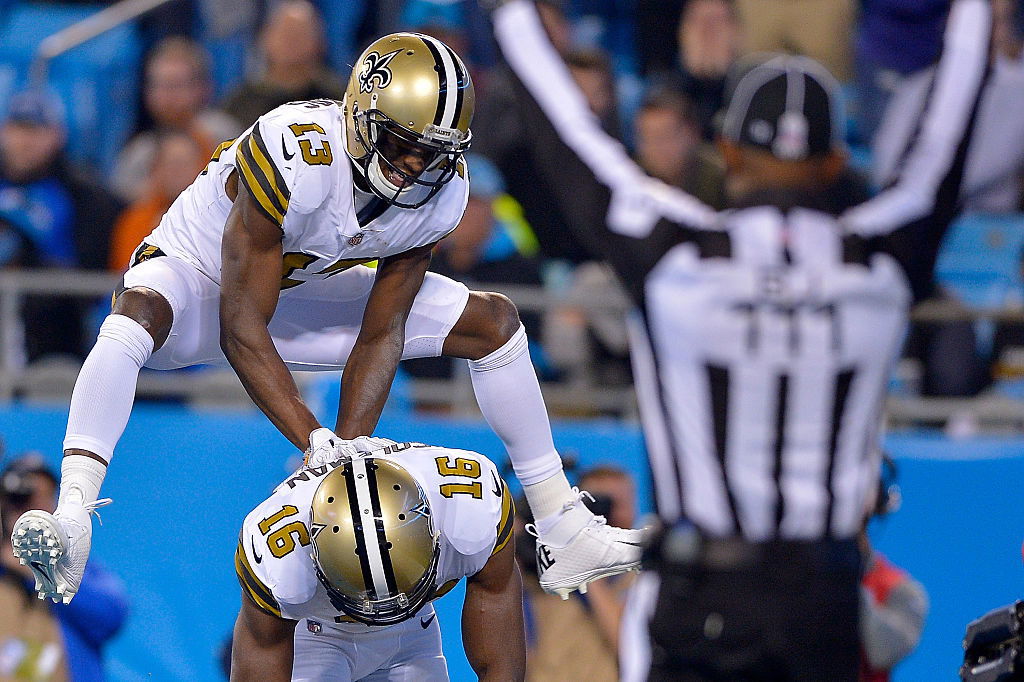 Michael Thomas
Team: New Orleans Saints
Bye week: 5
ADP: Round 2, Pick 4
The case for taking him: Remember when I said there have been 39 seasons in NFL history with over 610 passes thrown by one QB?
Nine of those belong to Drew Brees. He's only had one season this decade with fewer than 650 attempts – and that was 2015 where he missed a game! He has four 5,000-yard seasons in the last six, thanks in no small part to being forced to keep up with a comically bad D that might somehow be even worse in 2017 with Nick Fairley out of the picture.
Someone has to catch those zillion passes, and that someone is Michael Thomas. As a 22-year-old second-round rookie, he led the Saints in targets (121), red-zone targets (19), catches (92), and touchdowns (nine) in 2016. The front office responded to his emergence by trading Brandin Cooks for a first-round pick and using that pick on a right tackle instead of a defensive back because the Saints front office think defense is something that's handled in Arlington, Virginia.
The case for leaving him: Sophomore slumps can and do happen. Last year's hot second-year fantasy WR was Amari Cooper, who underperformed his draft spot in a maddeningly inconsistent season. Thomas has also put on weight this offseason to add tackle-breaking muscle power, which might slow him down some – although it's only a modest concern because he's only 23.
A far bigger concern is that Brees very much isn't 23. In fact, he's 39 in January. Severe arm regression is coming, and the Zombie Manning Experience suggests we won't have much warning of it. Such a scenario would lead to a greater reliance on the run game and/or dump-off passes to backfield receiver Alvin Kamara (whom the Saints gave up a 2018 second-round pick to acquire). Brees tends to spread his targets around, too, so perhaps the real Saints steal is Willie Snead (who inexplicably has a seventh-round ADP).
Should you draft him?: Do you trust that Brees' arm won't fall off?
That's also your answer on whether or not to use a second-rounder on Michael Thomas. I'm not convinced, but frankly I'm still very tempted to recommend him purely because he might get 180 targets.
I'd probably rather have Snead in the sixth though.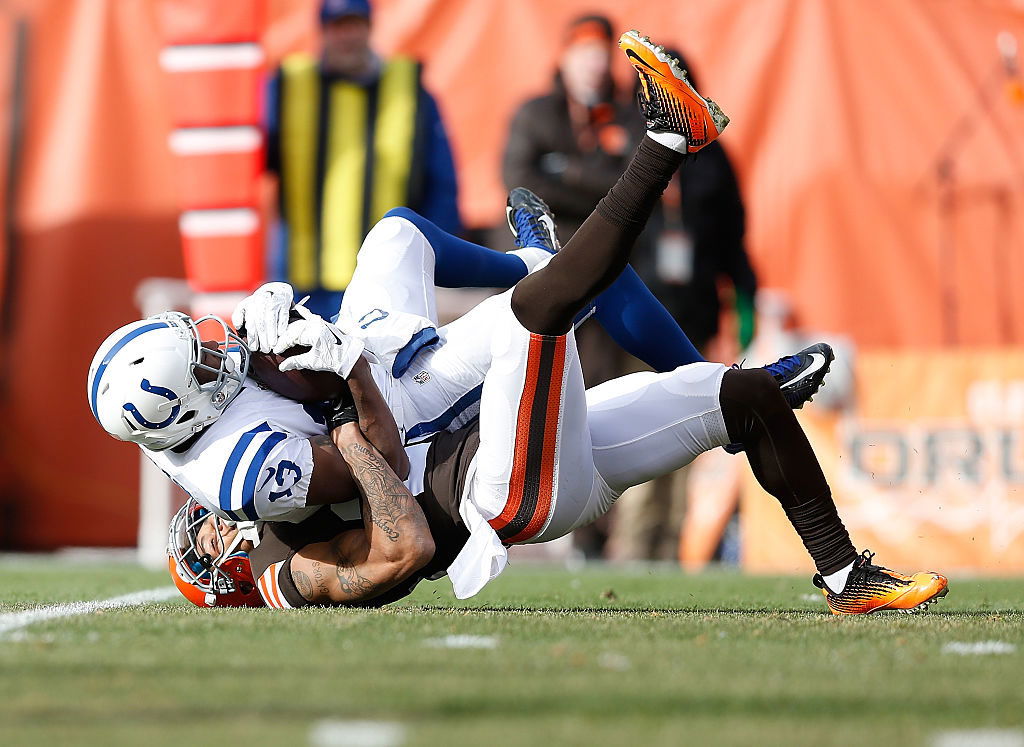 T.Y. Hilton
Team: Indianapolis Colts
Bye week: 11
ADP: Round 2, Pick 7
The case for taking him: Unfathomably, Hilton was the NFL leader in receiving yards last year. Not Brown, not Jones (though he'd have got there if he played every game), not Beckham, not Evans. T.Y. Hilton.
Hilton has had four consecutive 1,000-yard seasons now, which makes him probably the least-known elite receiver in the NFL. With that relative anonymity comes relative ability to slide in fantasy drafts. How does the previous year's receiving yards leader end up as the eighth WR off the board, for crying out loud?
The case for leaving him: When his QB has a dodgy shoulder, that's how.
Andrew Luck is not even a lock to be ready for the start of the regular season thanks to that injury – one report went as far as to suggest he could miss the first six games! – and he's a neon-lit target for opposing edge rushers even if he is, what with that vulnerability and his non-existent blocking.
He faces the Rams (Aaron Donald) in the first game of the season, the Cardinals (Markus Golden and Chandler Jones, who combined for 23.5 sacks last year) in the second, and the Browns (Myles Garrett) in the third. By the end of that run, I'd almost be surprised if Luck wasn't on IR.
Still, there's a nice easy game immediately afterwards. Not a difficult one. Just the Seahawks on the road.
In case you're a relative newcomer to the NFL, that last bit was sarcasm.
Luck has already missed ten games in the last two seasons. Hilton's production in those games: 630 yards, two TDs. That's 7.9 standard-league fantasy points per game.
Should you draft him?: No. Absolutely not.
He's a deep threat on a team with an injured QB behind maybe the worst offensive line in the league. How is that worth a second-round pick?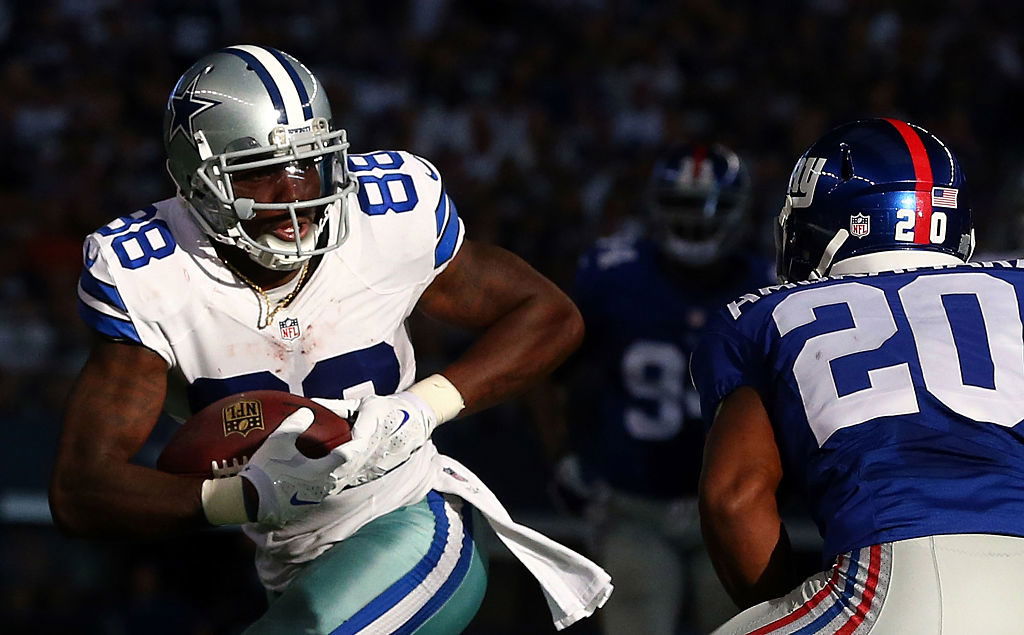 Dez Bryant
Team: Dallas Cowboys
Bye week: 6
ADP: Round 2, Pick 8
The case for taking him: Dez Bryant gets touchdowns. Defying the rule that touchdowns are fluky on an individual year-to-year basis, Bryant has been an end-zone machine for almost his entire career. His three 16-game seasons from 2012 to 2014 all earned him at least 12 touchdowns – 16 in 2014! – as well as over 1,200 yards in each of those years. That's the form he returned to late in 2016, with seven touchdowns in his last eight games, and he's now had a proper offseason with Dak Prescott. That can't hurt his touchdown upside or target volume one little bit. The Ezekiel Elliott suspension to start the season also bumps up Bryant's usage.
The case for leaving him: Those three seasons mentioned are the only ones of his pro career where Bryant hasn't missed at least one game. He missed a whole chunk of 2015 with a Jones fracture – not named after his team's owner, honest – and had a knee issue early in 2016. He's certainly not got the best of durability records, which is a problem when that's one of the prime reasons to take a WR early.
Should you draft him?: If you're prepared to take a bit of a risk, yes. If he plays 16 games, Bryant is in all likelihood going to outperform his draft spot.
It's a worryingly big "if" to have for a second-round WR, though. Make your own call on whether it's worth it.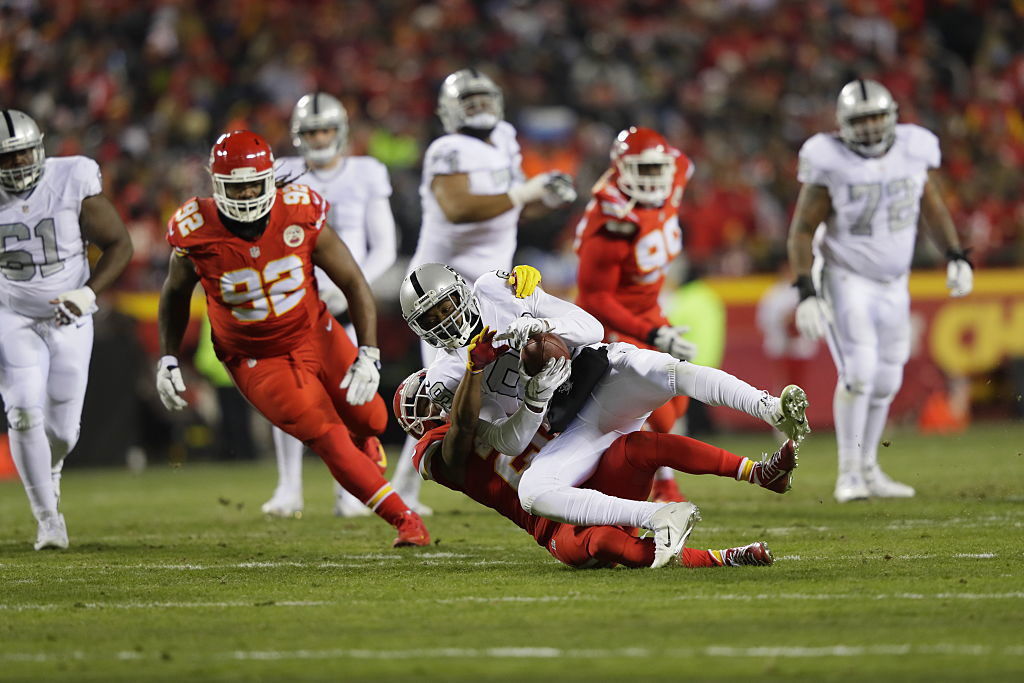 Amari Cooper
Team: Oakland Raiders
Bye week: 10
ADP: Round 2, Pick 10
The case for taking him: Cooper has piled up more yardage in his first two seasons than just about anyone. He's now heading into his third year, where WRs often take a big step up, and he has all the physical tools to do just that. Newly-minted QB Derek Carr also has his arrow pointing up, especially behind a top-tier line.
The case for leaving him: Michael Crabtree has been more productive than Cooper for much of those two years, including the second half of last year. He usually goes two rounds later than his team-mate, purely because he's a less "sexy" pick.
Should you draft him?: Not convinced. Crabtree is far better value at his ADP (Round 5, Pick 2).
That said, a third-year leap to take him into top-tier WR territory wouldn't be a great shock. And I'd still far rather have him than fellow Raider Marshawn Lynch, who is also going in this range despite taking last year off and the year before falling apart.
---