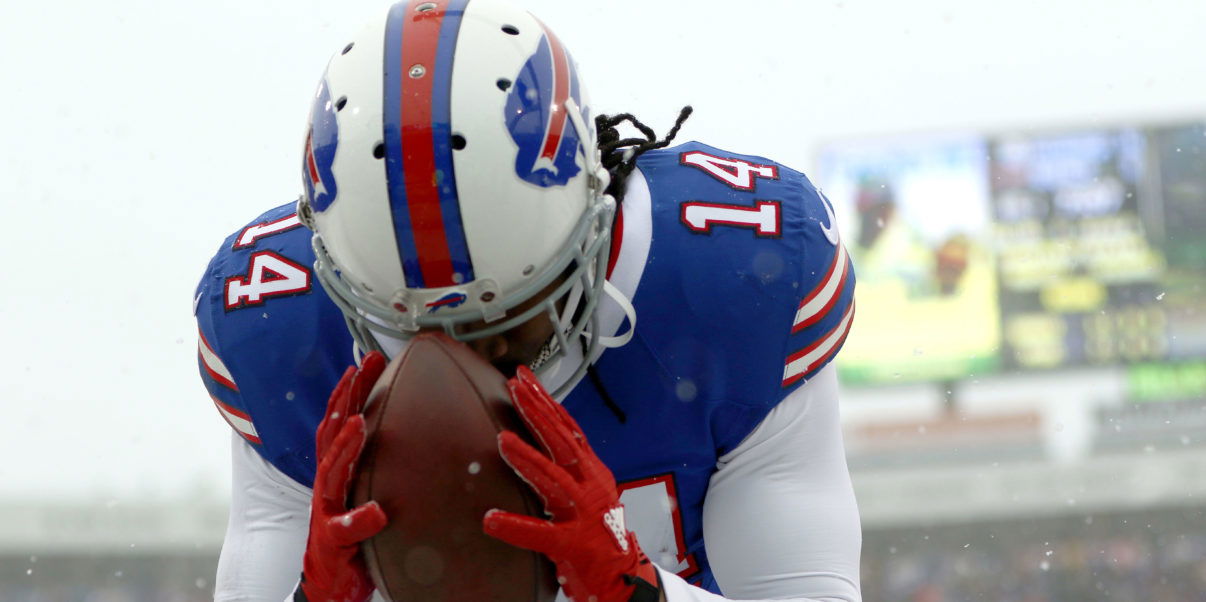 Frantic Friday: Fantasy Fallout
Big NFL news often comes out on Friday afternoons, particularly suspensions – as if they're being hidden – so it's unsurprising that it this was the timing of the announcement that Ezekiel Elliott would face a six-game ban to start the 2017 season for violation of the league's personal conduct policy, arguing there was "substantial and persuasive evidence" supporting domestic violence accusations against him dating back to last July.
This Friday bombshell was quickly followed by two more from the Buffalo Bills, as the NFL newswires went nuclear in what can only be hoped to not be a piece of geopolitical foreshadowing. The career of Sammy Watkins has been filled with excellent play in between injuries, but the Bills made it clear they didn't trust in his durability when they declined the fifth-year option on his rookie contract, and now he has been traded to the Los Angeles Rams. The Rams send back corner E.J. Gaines – himself affected by a major injury in 2015 – along with a 2018 second-round pick, with the Bills throwing in their sixth-rounder.
The Bills then announced another trade with the Philadelphia Eagles – acquiring Jordan Matthews and a 2018 third-round pick for rising young corner Ronald Darby. Effectively, the Bills have made swaps at two positions and gained draft capital in the process.
All of these developments have torn apart fantasy draft boards. How should you react? Here's the fantasy fallout from this frantic Friday…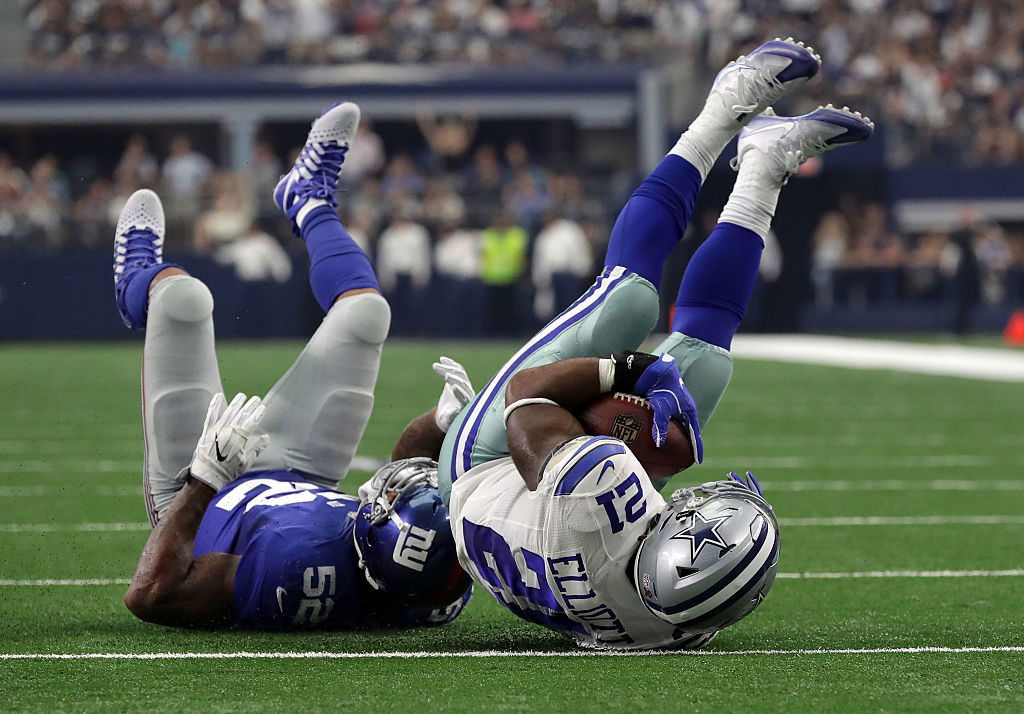 When should you take Zeke?
Clearly, Elliott is not the top-four pick he was absolutely certain to be before suspension rumblings started to grow.
However, he will be available for at least half of the fantasy regular season, and will be a truly elite option in that time – especially as he'll be coming in fresher than most having not taken six weeks of on-field poundings.
Additionally, don't rule out this sorry saga not being nearly done yet. He had three days to file an appeal, and his agents announced their intention to do so within three hours. Then, the NFL would have ten days to schedule an appeal hearing – but there's no guarantee when that would be. Remember how long Deflategate ended up dragging out for? We might be there again.
And if we really do full-on repeat Deflategate and the appeal process lasts the entire season – and you can't rule out such incompetence from the NFL these days – you're looking at a nailed-on first-rounder going way, way later. However, that's unlikely, and with Elliott also judged to have committed a second violation of the personal conduct policy exposing a woman's breast at a St. Patrick's Day party (cited in the ban decision but not contributing directly to it), don't bet on a shortened ban either.
He's worth a third-round pick at the moment – I want to say lower, but in a world where Isaiah Crowell is going in that range and the ghost of Marshawn Lynch is going higher, can I really do that? Having Zeke on your roster could let you get a fast finish – or a fast start, or maybe even both – depending on the timing of the ruling on the appeal.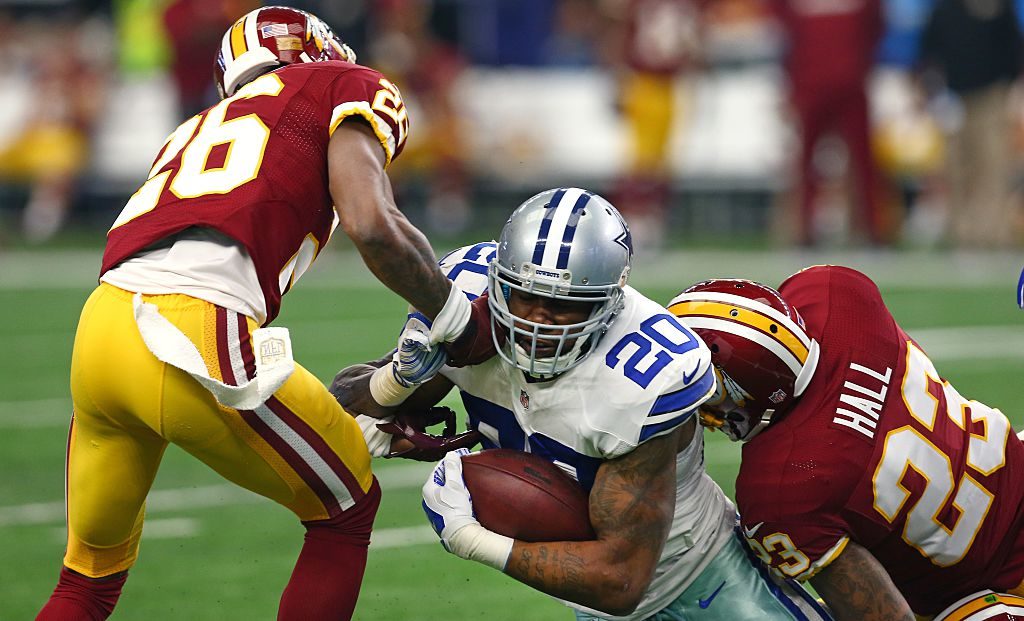 Return of D-Mac?
Darren McFadden is the poster child for the importance of blocking. On a 2015 Cowboys team whose general weakness without Tony Romo let them get into position to draft Elliott fourth overall last year in the first place, D-Mac rushed for 1,089 yards at a very reasonable 4.6 YPC, adding 40 catches for 328 yards. Both of those were the second-highest totals of his often injury-strewn career.
Unfortunately, he missed most of 2016 with a mysterious elbow injury that at one point looked career-threatening after a suggestion he might not ever be able to straighten his arm completely ever again. He turned up for the last three weeks of the regular season though, and is the presumptive incumbent to be the lead back during any Elliott absence.
However, Alfred Morris made good use of a run in the preseason-opening Hall of Fame game with a solid performance on a night where D-Mac ran for negative yardage in admittedly highly limited action. He'd be a tough sell as a real lead back because he's a complete zero in the passing game, making it much easier for everyone on the defensive front to zero in on him when he takes the field – but he could easily be a touchdown vulture at least.
Add in the sheer uncertainty over the Zeke appeal process, and McFadden has the potential to be overdrafted. Then again, that uncertainty also means that taking both Cowboys back holds some appeal so that, whatever happens, you have the Cowboys' lead back. If you're paying a third and a seventh for that, you're paying less than the asking price for the DeMarco Murray/Derrick Henry or Devonta Freeman/Tevin Coleman combinations, and you're certain of getting a must-start lead back each week, with no risk of an infuriating committee.
Also, when Jacquizz Rodgers can be an eighth-round pick based purely on being a suspension fill-in for three weeks and vague coach threats to the suspended Doug Martin he's filling in for, maybe D-Mac does warrant a pick in the first six rounds after all. I'm not personally a buyer at that price – give me Bilal Powell, Danny Woodhead, and Kareem Hunt at a similar or lower price every day of the week – but I can see the logic for it. Certainly when paired with a newly-discounted Zeke.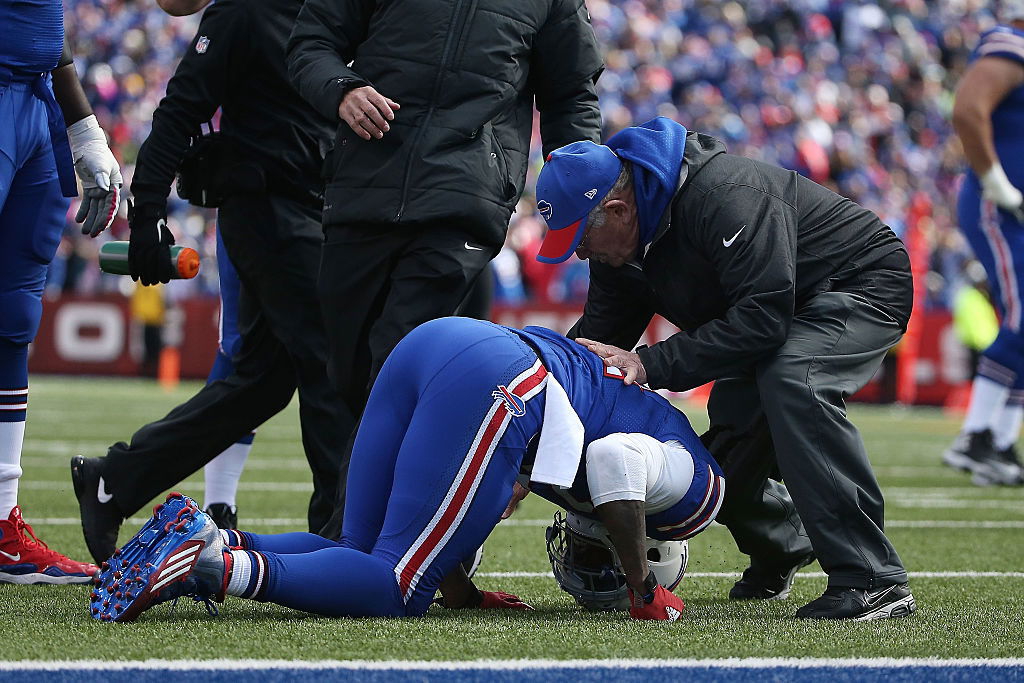 What to do with Watkins?
Watkins was a second-tier fantasy receiver going into this year, with a Fantasy Football Calculator ADP of Round 3, Pick 9 in 12-team leagues. (That translates to the early fourth round in 10-team leagues.) He was keeping company with Demaryius Thomas and DeAndre Hopkins – both top-end receiving talents with question marks around who's throwing to them.
That's what Watkins was, and it's still what Watkins is. He'll be catching passes from Jared Goff, which is ominous, but it's not like Tyrod Taylor is particularly great as a pure passer either, his danger largely tied to his ability and willingness to make plays with his legs. (Though he does at least have a deep ball.) Sean McVay will also at least operate a playbook fit for purpose, and Watkins was surely acquired to help that by adding someone who can actually win on deep routes.
I had Watkins down as someone I wouldn't want to take at his current ADP, but I feel similarly about basically every other option in his price range. His situation arguably hasn't really changed in any way except location (though just that is helpful; no more home snow games!), so his value hasn't either. If you're a McVay believer, you can definitely take him in the third round; if you're not, let someone else do so and hope they regret it.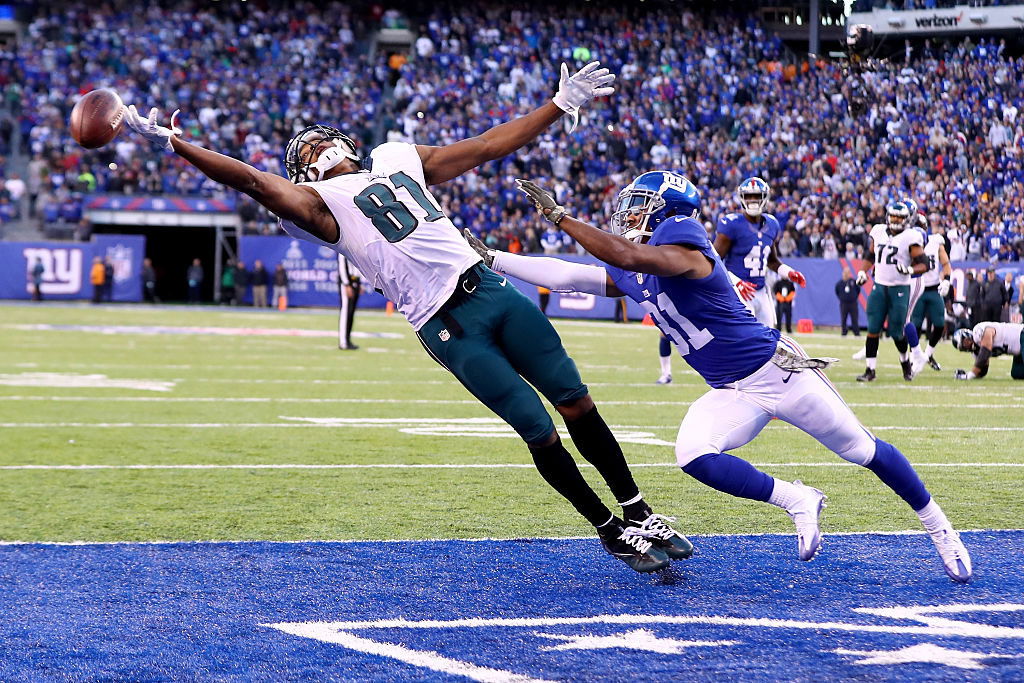 Can Jordan get his kicks in Buffalo?
With Watkins gone, Matthews is likely going to have to be the top receiver in Buffalo.
He's been trending downwards in some respects since his rookie season, struggling with drops, but while it's easy to knock his first two seasons for having Chip Kelly stat inflation, he still compiled over 800 yards in 2016 with Kelly being humiliated in San Francisco. His touchdown count collapsed to three, from eight in each Kelly season, but that figure can be almost random at times. It could bounce back up, and at 6'3″ he has the height to be a nice target in the painted area, but unfortunately the Bills just don't get that many passing touchdowns; Taylor only threw 17 in 15 games last year.
Still, the other options are Zay Jones and Anquan Boldin, who could be too young and too old (respectively) to be big contributors, making Matthews the clear Bills WR1 if that's the case. His current ADP (Round 11, Pick 11 in 12-team leagues) certainly ought to rise; I think he's probably worth a seventh- or eighth-round pick as a high-floor, low-ceiling option you can at least feel fine rolling with as a flex/WR3 in bye weeks. His Week 9 and 10 opponents (Jets and Saints) look particularly inviting when it comes to compiling fantasy points, so I like his value more if you used an early pick on a WR with a bye that week. (That probably means Antonio Brown, Amari Cooper, or Brandin Cooks.)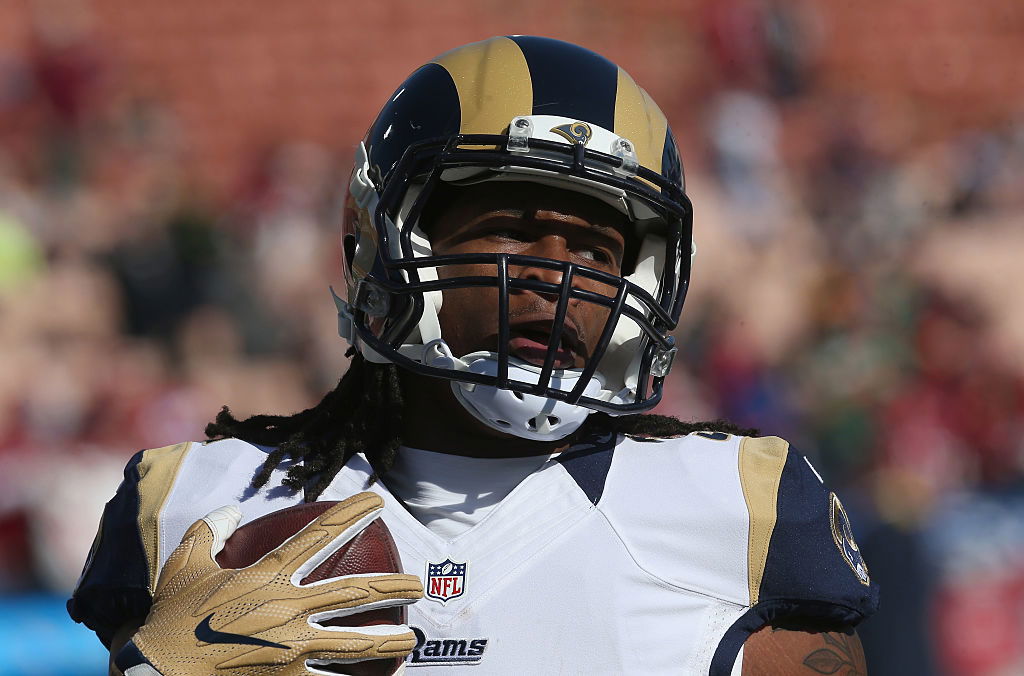 Other affected players
With Watkins now in LA, fellow Bill-turned-Ram Robert Woods is now undraftable in all leagues, as is Tavon Austin if he ever wasn't. On the flip side, Watkins providing even a theoretical deep threat will help give Todd Gurley some kind of running room, and that makes his current ADP in the middle of the second round look less egregious than it did on Thursday. I'd still far rather have Leonard Fournette in the same range, though.
Also going in that range and also affected by Frantic Friday is Dez Bryant. He might stand to get more volume if the Cowboys air it out more without Zeke, but the offense might move the ball less effectively, which hurts Dez because his fantasy stock is more TD-driven than other elite receivers. He's possibly a slightly riskier fantasy commodity now, but probably not a worse one. Ditto his quarterback Dak Prescott, although he on balance gets a bit better because a less effective Cowboys team is one more likely to be behind on the scoreboard and hence facing more obvious passing situations; he was a nice late-round QB target at his tenth-round ADP anyway. Maybe Cole Beasley and Jason Witten get some extra checkdowns, but I'd rather use my late picks on someone with more upside.
Like Nelson Agholor, a presumed first-round bust from 2015 who might now be primed to take over Matthews' slot duties and could easily be an Alshon Jeffrey injury away from being the Eagles' lead wideout (the only obstacle there being Torrey Smith). Few things in the NFL are as assured as a Jeffrey injury, so Agholor has got to be worth a late-round flier – his 13th-round ADP should rise now, and I'd consider him as early as the tenth. Jeffrey, for his part, remains the risk-reward fourth-rounder he was before, while Zach Ertz should have some targets freed up by the Matthews departure and is also badly underpriced at his current ADP at the top of the 11th round. There could even be some added value for LeGarrette Blount, because he's heavily dependent on positive game script and Darby should make a big difference to the Eagles D. Still not convinced I'd take him at his ADP (Round 5, Pick 4), but he'd be fine value if you can get him in the sixth.
Finally, to the Bills. Zay Jones might have more chance of becoming a true WR1 but also doesn't have the likelihood of becoming a default one for several games of Watkins absence; he remains no more or less than a late high-upside punt play. Tyrod Taylor loses his deep threat, but his fantasy value was always tied to his legs more than his arm, and he could now be even better value than he already was in the double-digit rounds.
The big deal, though, is that Elliott's suspension makes LeSean McCoy – hidden in plain sight in today's stories – the presumptive overall RB3 behind David Johnson and Le'Veon Bell and a likely candidate to be taken fourth overall behind those two and Antonio Brown. I don't want to take Shady that high, but I'd be tempted anyway given how down I am on Julio Jones and especially Odell Beckham Jr. this year.
---