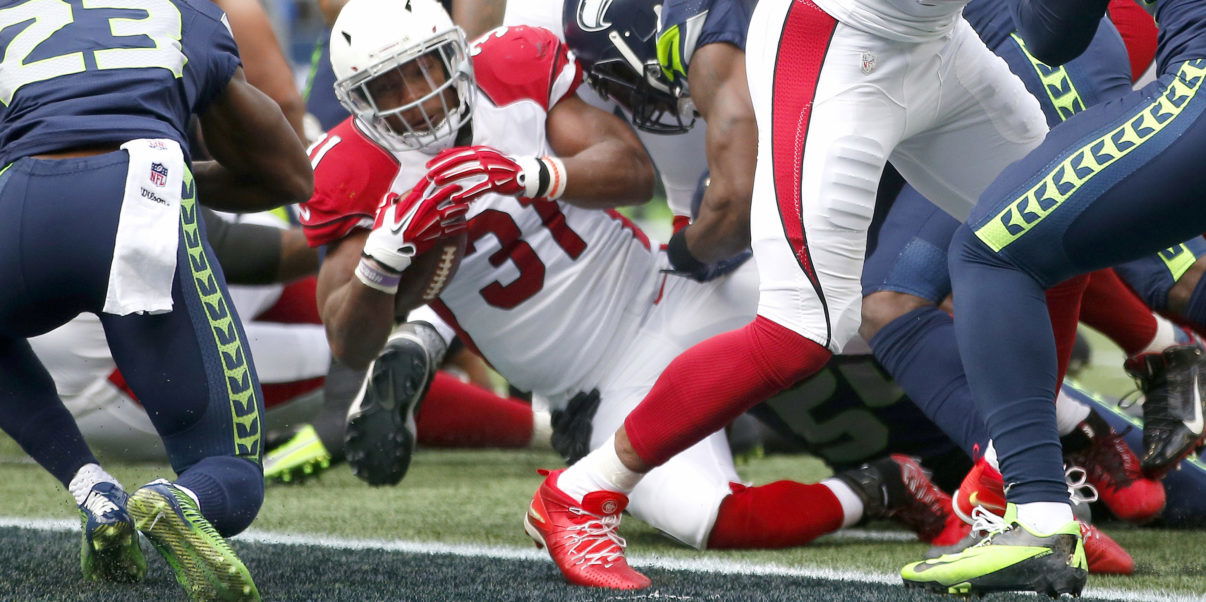 2017 Fantasy Preview: Top Ten Running Backs
Fantasy football has traditionally been all about the running backs. While the "Zero RB" strategy of loading up on pass-catchers early and taking multiple mid-round pot shots on ball-carriers has gained in popularity and is an entirely valid approach, last year saw some serious scoring from the studs at the RB position, so the top ten RBs in fantasy drafts are all going to be expensive propositions this year.
In this preview, the top ten RBs based on their Average Draft Position (ADP) in 12-team mock drafts hosted by Fantasy Football Calculator in the week up to 28 July are evaluated with the case for taking them – and the case for leaving them. There's no such thing as certainty in fantasy football, but while it can be a guessing game, you want to make those guesses as educated as possible, so consider this your pre-draft RB swatting, and good luck!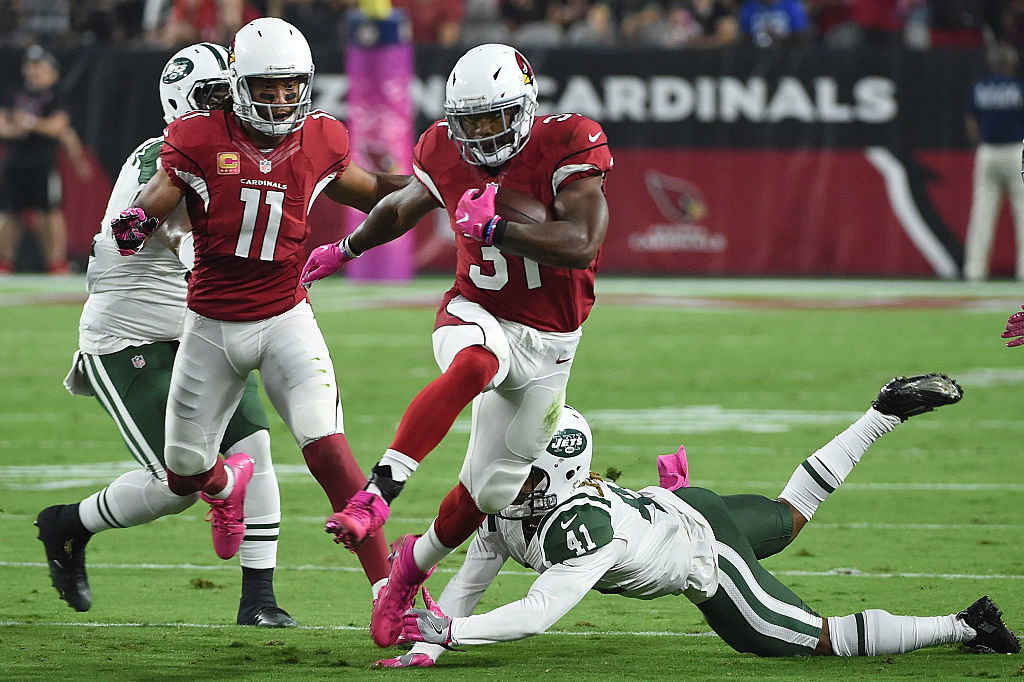 David Johnson
Team: Arizona Cardinals
Bye week: 8
ADP: Round 1, Pick 2
The case for taking him: Nobody in years has had as hot a fantasy streak as him to begin a career. The third-year third-rounder out of unheralded Northern Iowa has been a do-it-all monster. His receiving line from 2016 – 80 catches for 879 yards and four touchdowns – would make him fantasy-relevant on its own, as only 34 WRs and three TEs in the entire league exceeded his 879 receiving yards. Add his 1,239 yards and a huge 16 touchdowns on the ground, and you have the most valuable player in fantasy for years.
Because of his receiving skills, the state of the game doesn't matter with Johnson. He even gets carries when the Cardinals are way behind (12 of them in 2016 in games where they trailed by more than 16 points!), so unlike almost every other top RB, it doesn't matter what the scoreboard looks like when it comes to fantasy opportunity.
The case for leaving him: That bulk yardage total conceals that he only managed 4.2 yards per carry over the season, and that was just 3.9 in the second half of the Cardinals' disappointing campaign – maybe the huge workload got him? Teams will sell out to stop him if Larry Fitzgerald and/or Carson Palmer crumble with age, and maybe even if they don't.
Injury is always a risk when it comes to players taking that many hits, too. Johnson is young and has a long record of good health, not missing a game as a professional and playing almost every game in a four-year college career as well, but he did tear his MCL in Week 17 last year and he might just be overdue a bad break.
Should you draft him?: Yes! Yes! Yes!
There's nobody in the NFL in whom you can place more confidence to put up big points week after week after week. That's enough reason to take him at #1 in all leagues.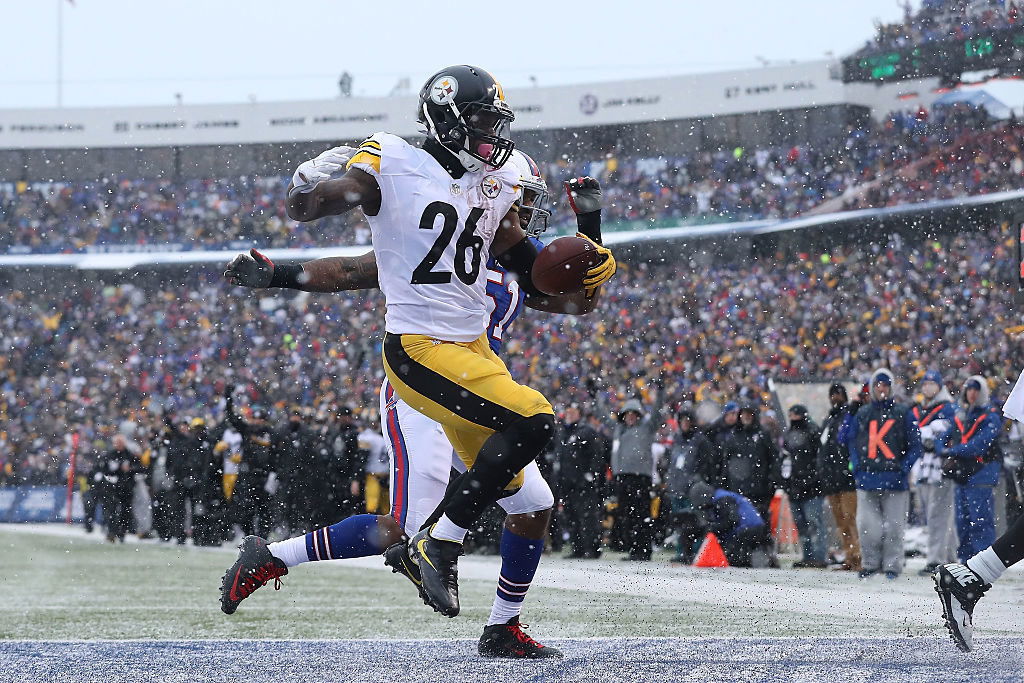 Le'Veon Bell
Team: Pittsburgh Steelers
Bye week: 9
ADP: Round 1, Pick 2
The case for taking him: No running back in football has been this productive for this long. He racked up 1,884 yards from scrimmage – third in the NFL – in 2016. He did this in literally three-quarters of a season, having missed the first three games due to suspension and the last game because the Steelers had nothing at stake except the opportunity to deny the Browns the #1 draft pick. (A timely Isaiah Crowell fumble allowed the Browns to lose the game and win Myles Garrett.) Bell has averaged at least 4.7 yards from scrimmage in each of his last three seasons, and if you extrapolate his 2016 campaign to a full 16 games, you get exactly 100 catches – which would be joint-third in NFL history. No wonder he's insisted in his contract talks that he should get paid like a combination of a running back and a secondary wide receiver.
With that contract up in the air and Bell playing under the franchise tag as a result, he'll be packing contract-year motivation as he looks to reset the market for pay at a position that has become devalued by most general managers. And he'll do so on an all-round elite offense that won't need to abandon the run very often, not that a receiving back like Bell would be missing out on fantasy production even then.
The case for leaving him: This is the first year since 2014 that Bell didn't have a drug-related suspension to start the year, and he'd be facing a long ban if caught again. Couple that with his history of knee injuries – including a multi-ligament tear that ended his 2015 season – and it's very difficult to trust him to be present every week. It doesn't matter what ability you have if you're lacking in availability.
Should you draft him?: Not over Johnson.
If you're picking at 2 and the person with the top pick did the right thing with it, though, you have a horrible choice between Bell and the top WRs. It probably boils down to one simple question: do you trust him to play almost every week? If you do, you have to take him. If you don't, go WR instead.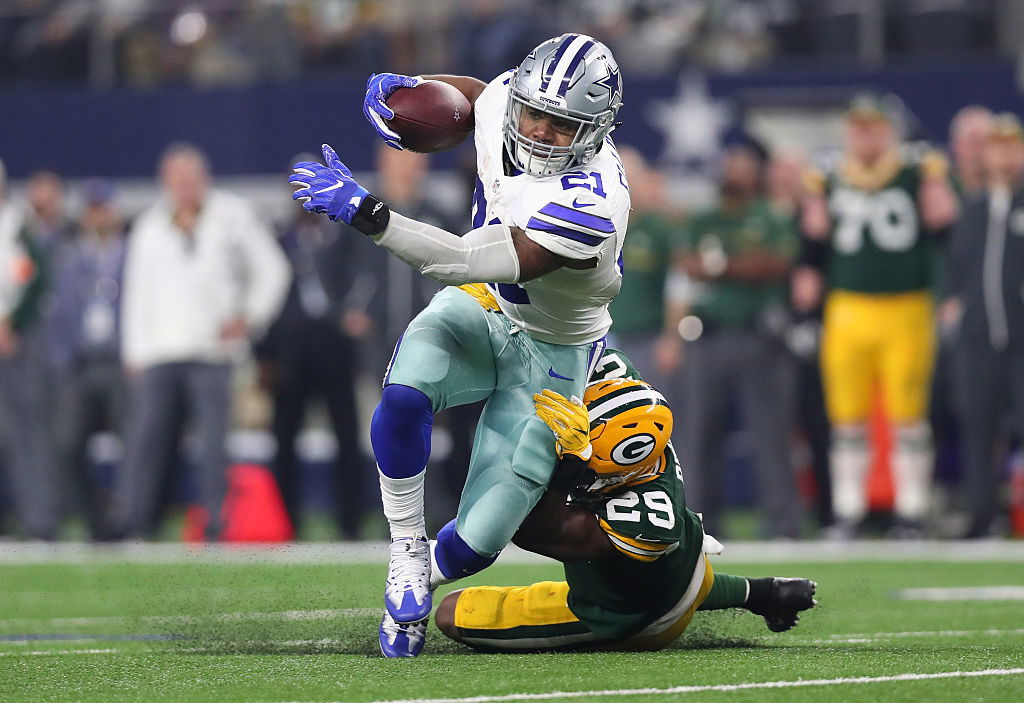 Ezekiel Elliott
Team: Dallas Cowboys
Bye week: 6
ADP: Round 1, Pick 4
The case for taking him: He's got great blocking. He's a young and highly-skilled back. Counting college, he's handled three consecutive high-workload years without any major injuries. He led the league with 1,631 rushing yards last year, combining workload (322 carries) with efficiency (5.1 YPC). He's sure to handle a sizable workload as the Cowboys try to hide their still-dubious D. Dak Prescott is young enough to benefit greatly from this approach, and good enough to stop opponents from selling out to stop the run. Did I mention he's got great blocking?
The case for leaving him: He's got off-the-field issues hanging over his head, and they'll probably cost him the start of the season. The NFL is investigating two separate accusations – one of domestic violence, another a nightclub brawl that led to a broken nose – and at the time of writing, nobody knows when or for how long Zeke will be suspended. His ADP seems to be based on the assumption he won't be (though a few weeks ago he was being drafted ahead of Bell more often than not, so there has been at least some reaction) but top ESPN reporter Adam Schefter – who happens to be a fantasy enthusiast himself – has made it clear that from what he knows, he's not touching him at that price. And neither should you.
Oh, and that great blocking might be a bit less great considering the Cowboys no longer have two of last year's fantastic five. Granted, they're the weakest two, and La'el Collins is replacing one of them, but there will be a hole at one spot that might take this line from amazing to merely very good.
Should you draft him?: Good question. Horrible question.
If he didn't have the off-field issues clouding his outlook, I'd have him second to Bell, but he's now filling Bell's role of the last two draft seasons, except this time we don't even know what his suspension situation even is!
Wait for the announcement, then reassess. It's anyone's guess how long he'll be suspended for, but right now it's probably worth anticipating a two-game ban if you happen to be drafting before we know what's happened.
Based on that assumption – which could be horribly wrong – you can still probably justify him even in the middle of the first round, because (as you'll see) even the second tier of fantasy RBs this year have some big-time question marks over them. 14 games of Zeke probably tops 16 of almost anyone else, and you can always use a late-round pick on a short-term fill-in.
My pick for that would not be Zeke's handcuff in Darren McFadden, though. Instead, I'd go for Jacquizz Rodgers, the likeliest fill-in for the suspended Doug Martin in Tampa; the Buccaneers have a soft early-season schedule with games against Miami, Chicago, and Minnesota to complete Martin's suspension that began at the end of last season, and Rodgers got a hefty workload in his five 2016 spot starts. His ADP (Round 10, Pick 11) is far too low; in my opinion you can easily justify a top-100 pick on him, especially if you've taken Zeke earlier.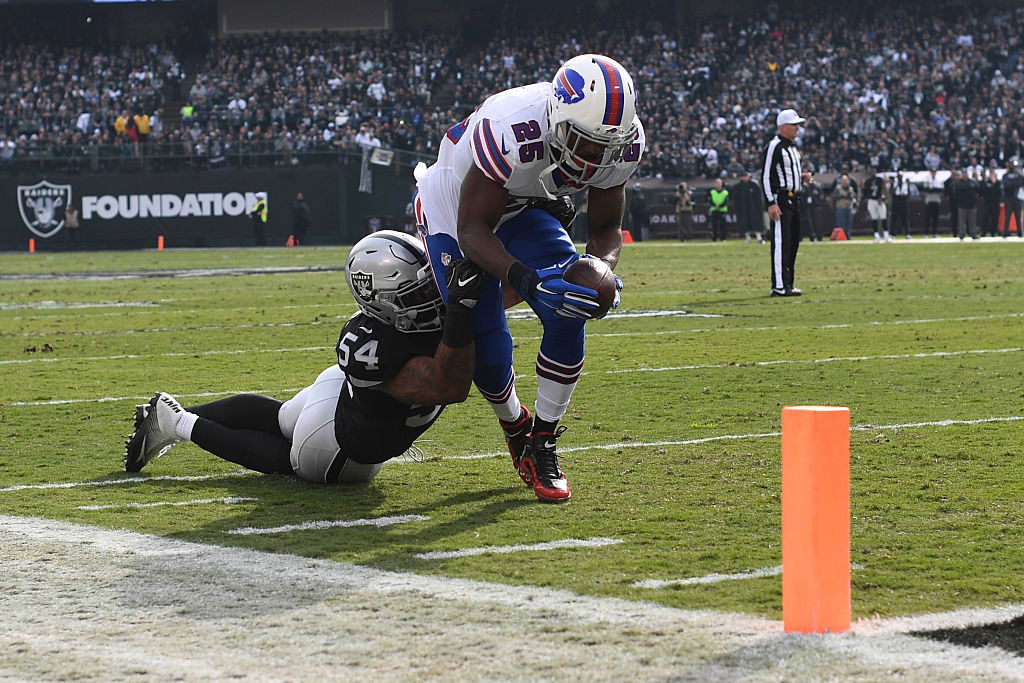 LeSean McCoy
Team: Buffalo Bills
Bye week: 6
ADP: Round 1, Pick 7
The case for taking him: The Bills love to run the football. Last year, they ranked second in the NFL in rushing attempts, and were first in yardage with only the Cowboys anywhere near them. 48.6% of their plays were runs, again second to the Cowboys. McCoy doesn't seem to have as much quality behind him on the depth chart this year with Mike Gilleslee in New England, so he should get a higher share of those carries.
He was rather efficient with the 234 he got last year, with a career-high 5.4 YPC guiding him to a 1,267-yard season – a total he actually exceeded in each of the last three seasons where he played at least 15 games. It's very easy to see him putting up yet another 1,250-yard season this year, and for that to make him one of the most valuable players in fantasy.
The case for leaving him: While he also racked up 13 touchdowns in those 15 games, that's a number that's bound to regress. He had 17 in 2011, and 19 in the following four seasons combined – and he played two of those in the warp-speed Chip Kelly offense for a total of 626 carries across those two seasons! Touchdowns are pivotal to fantasy, but on the individual player level touchdown counts are wildly unpredictable.
Shady also has a history of soft-tissue injuries which can sap his effectiveness and/or take him off the field, as happened in his dubious first season in Buffalo. Entering his ninth year as a pro at the age of 29, and set to receive his 2,000th regular-season carry some time during October, he's got far more wear and tear than the other first-round backs, none of whom have more than four seasons of NFL experience.
Also, the Bills aren't very good. Expect them to be trailing more often than not, forcing them to throw even they'd rather not. They happen to have had some coaching (and GM!) upheaval in the offseason, too, so it's hard to know how run-heavy they'll be in 2017.
Should you draft him?: No. I thought he was tremendous buy-low value last year, but now it's time to sell high on a player who has significant bust potential at this price.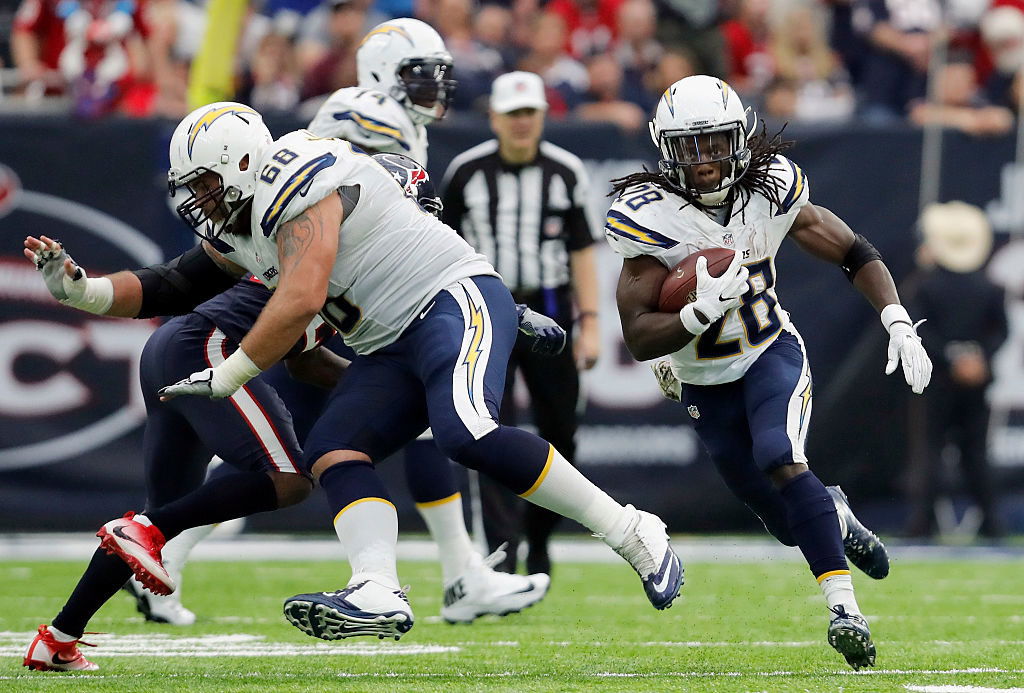 Melvin Gordon
Team: Los Angeles Chargers
Bye week: 9
ADP: Round 1, Pick 8
The case for taking him: Remember that comment about the Bills changing their coaching staff? Well, their offensive coordinator for most of 2016 – Anthony Lynn, a former NFL running back – is now the Chargers head coach. Expect a ground-and-pound philosophy even though the team used their top-10 draft pick on a wide receiver – Mike Williams, a pick I disliked even at the time, is probably going to do very little this year thanks to a back injury. Not least because the next two picks were used on guards who should never have fallen as far as they did, and at least one – likely both – will be plug-and-play upgrades.
Plus, when you're in the AFC West, you're facing a devastating pass rusher six times a season. Von Miller, Khalil Mack, and Justin Houston all have the potential to destroy Philip Rivers on every single snap, and establishing the run is a great way to slow them down. And do the Chargers have an alternative running back? No, no they don't. (Well, they have Brandon Oliver, but he's a replacement-level utility back with a 3.6 YPC career average coming off a 2016 preseason Achilles tear so brutal the video went viral.) That also means Gordon gets receiving work, as he did last year.
The case for leaving him: It's the Chargers. Chargers players get injured.
In fact, the top two Bolts off the board in almost all fantasy drafts last year – Keenan Allen and Danny Woodhead – were on IR with torn ACLs by the end of September, and Gordon himself had microfracture knee surgery at the end of 2015 before another knee injury (albeit a relatively modest PCL strain) ended his 2016 campaign prematurely.
Besides, Gordon averaged just 3.9 YPC last year, and that was actually an improvement on his miserable rookie year. His fantasy value was saved by a combination of 12 all-purpose TDs in 13 games and the volume that comes from the aforementioned injuries, but the former might be luck (he had 217 scoreless touches in 2015) and the latter suggests that the Lynn upside is not as great as advertised unless he can improve efficiency.
Should you draft him?: It's not difficult to see the Chargers carrying Gordon and a group of emerging defensive young guns to a Titans-like resurgence, and one suspects Lynn was hired with a goal of making just that happen. But – dismiss this for my bias as a Chargers fan if you want – it's very difficult to trust anyone on this team for fantasy purposes, given how durable they aren't.
I'd take Gordon above McCoy, but he's a tough sell at this price and an even tougher one if a Zeke suspension bumps his ADP into the top six. The training camp battle for backup duties between Oliver, Kenneth Farrow, and Andre Williams is one to keep a sneaky eye on, because the winner has serious fantasy handcuff value.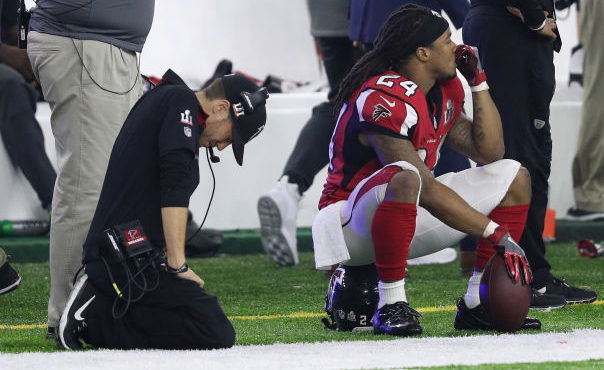 Devonta Freeman
Team: Atlanta Falcons
Bye week: 5

ADP: Round 1, Pick 11
The case for taking him: He's coming off two consecutive 1,000-yard rushing seasons, and (incredibly) there's not one other back in the league who can claim that. The mid-2010s NFL in one stat.
Freeman's big 2015 was driven by volume and touchdowns, but he managed to repeat the latter part of the equation in 2016 – he now has 27 TDs in the last two years – whilst bumping up his YPC big-time, from 4.0 to 4.8. Furthermore, the timeshare with Tevin Coleman is almost certainly not going to stop Freeman getting a bunch of carries; if it was, the Falcons would not be making a big deal out of giving Freeman, erm, a big deal (for a second contract, as his rookie contract ends this year). It also means he stays fresher and reduces his injury risk.
The case for leaving him: The architect of the Falcons' 2016 is now in California, trying to see what he can do with a bunch of spare parts before Kirk Cousins inevitably reunites with him next spring. Do not expect the sort of positive game flow that helped the Freeman-Coleman combo to almost 350 carries last year, especially as this team is primed for the mother and father of all Super Bowl hangovers, all in front of a lousy corporate crowd in their shiny new white elephant.
Also, though the Falcons wanting to commit to Freeman is encouraging for his volume, the NFL is littered with tales of RBs who declined hard after they got paid – fellow NFC South back Doug Martin fit that description last year, maybe it'll be Freeman this. Though it's worth emphasising that as of 30 July, there is no deal done yet.
Should you draft him?: No. With this team bound to get worse this season and Freeman potentially getting paid before the start of it, I'd struggle to value him higher than round three. Maybe pick 28.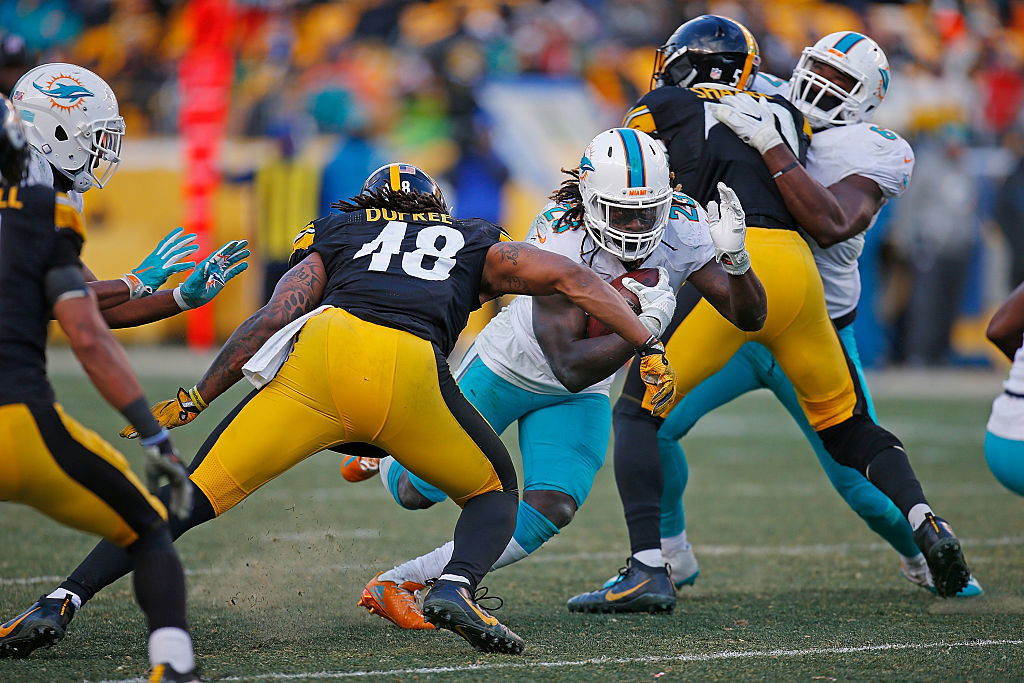 Jay Ajayi
Team: Miami Dolphins
Bye week: 11
ADP: Round 1, Pick 12
The case for taking him: The Dolphins didn't plan on Ajayi to be the feature back, but once it was forced upon them, he responded with back-to-back 200-yard games like he was secretly a creation on Madden career mode with the difficulty on Rookie. He got another one against the Bills in December, to boot.
Now, Adam Gase is looking to build his offense around the British-born back, to the point that Jarvis Landry is being essentially run out of town entering his contract year. Expect a ton of carries.
The case for leaving him: Ajayi fell to the fifth round in the 2015 draft because of concerns about his durability. "Bone on bone" was the turn of phrase used to describe his knee at one point. Ewww.
That 2016 breakout being built on a few huge games (which in turn were based on a few huge runs) raises questions about weekly consistency, especially as the Dolphins are always a perennial threat to dissolve into locker room anarchy.
Should you draft him?: I'd be scared to, but given the alternatives going ahead of him I think this is actually a very reasonable price for him. He certainly has ample potential to fly out of the traps at the start of the fantasy season, with his first four opponents being the Buccaneers (tenth-worst in the NFL in fantasy points allowed to RBs last year), Chargers (fifth-worst), Jets (outright tanking), and Saints (third-worst, and that game's at Wembley too).
He shouldn't be going in the top eight – though in some British fantasy leagues he almost certainly will – but if he's on the board after that, you can justify taking him. I'd suggest you leave yourself open to trading him in late September, though, because of Ajayi's durability issues.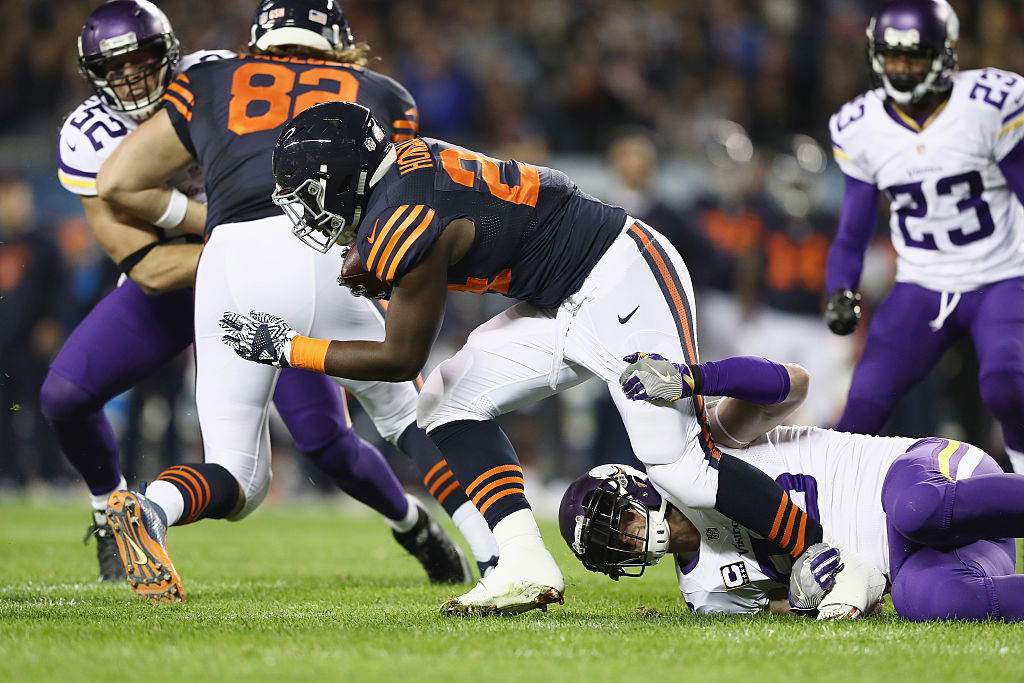 Jordan Howard
Team: Chicago Bears
Bye week: 9
ADP: Round 2, Pick 2
The case for taking him: As pure runners go, few are better. With very little help around him in the passing game, he averaged 5.2 YPC on plentiful volume, something he should continue to get on a team whose offensive line is built for power blocking and whose passing game is a mess of question marks. (Not to mention the small matter of having an outdoor home stadium in a cold city; hello, run-heavy game plans down the stretch!)
He also has fewer durability questions than most, because of his age (23 in November) and size (6'1″ and a quoted 222 pounds).
The case for leaving him: Howard is not great in the passing game – dropping an NFL-high eight passes last year and catching only 24 balls in his entire college career – and the Bears know it, signing one backfield receiver (Benny Cunningham) in free agency and drafting another (Tarik Cohen) in the fourth round.
This is a huge problem for Howard's fantasy stock, because the Bears are probably going to be playing catch-up almost every week, and even when they're not, Howard being on the field is likely to be a WE'RE RUNNING THE BALL siren. Cue opposing defensive coordinators firing up their eight-man fronts, against which Howard averaged 3.4 YPC last year.
Should you draft him?: No! No! No!
I got burned being high on Todd Gurley last year, and I refuse to repeat that mistake with Howard, whose situation feels all too similar. Fool me once, etc.
I want no part of this Bears team in fantasy, except for maybe Cameron Meredith as a probable garbage time hero you can pick up in the late rounds.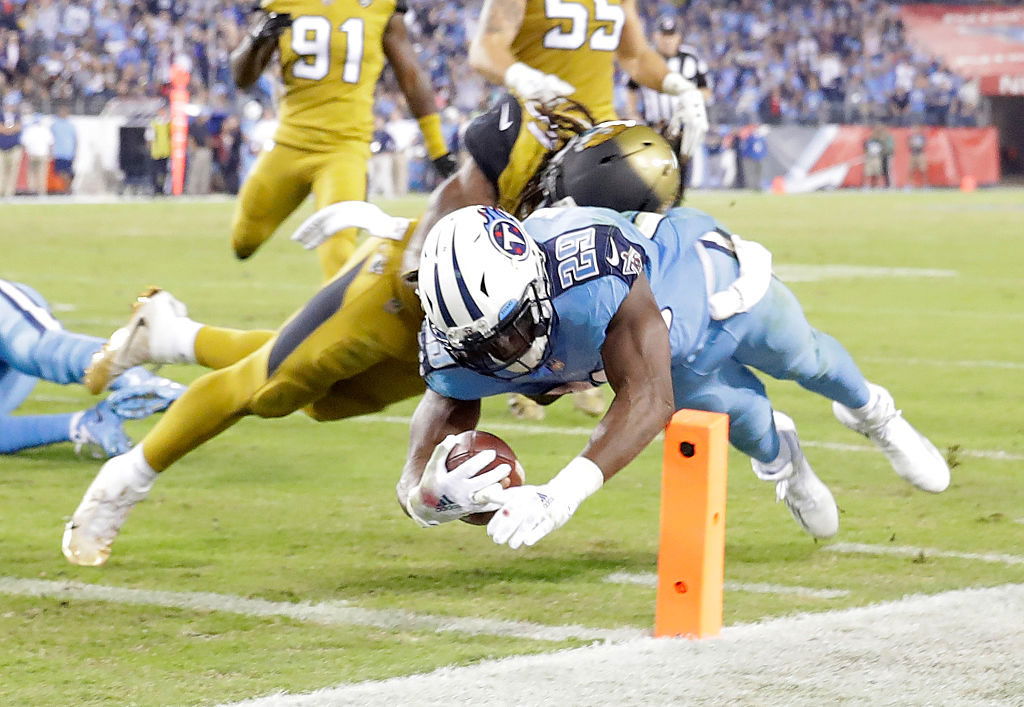 DeMarco Murray
Team: Tennessee Titans
Bye week: 8
ADP: Round 2, Pick 3
The case for taking him: Murray looked revitalised in 2016, notching 12 all-purpose TDs and 1,287 rushing yards whilst handling a massive 293 carries on a Titans team that committed to smashmouth football under head coach Mike Mularkey. It helped that there was a fantastic five up front opening holes in the ground game, a group that are retained in full for 2017 and could easily be better than the vaunted (but changing) Cowboys line as a result.
Murray also has a far more favourable situation than too many of this year's first-rounders from the game flow perspective. The Titans are actually good – they're widely tipped to win their division this year – so will be spending less time chasing games and more time closing them out. Not that Murray will be out of the fantasy picture when they're trailing either, as he happens to have caught at least 53 passes in three of the last four seasons, the missing one being the year he spent in Philadelphia as damaged goods after being ridden into the ground (393 carries!) by the Cowboys in his 2014 banner year.
The case for leaving him: The Titans, like the Falcons, have two really good running backs on the roster. The other here is Derrick Henry, and he's surely going to steal some of the load from Murray, who has cleared 217 carries just twice in his NFL career (and, as mentioned, regressed spectacularly the year after the first of them. Murray has only missed one game in the last three seasons after an injury-riddled start to his career, but he's now 29.
Should you draft him?: Yes. Not only is his bust potential far lower than some of the backs going ahead of him, any bust would likely be tied to a boom for Derrick Henry, who should be available in the sixth round of 12-team drafts and the seventh round of 10-team drafts. There are eight RBs going ahead of him, and that's at least two too many.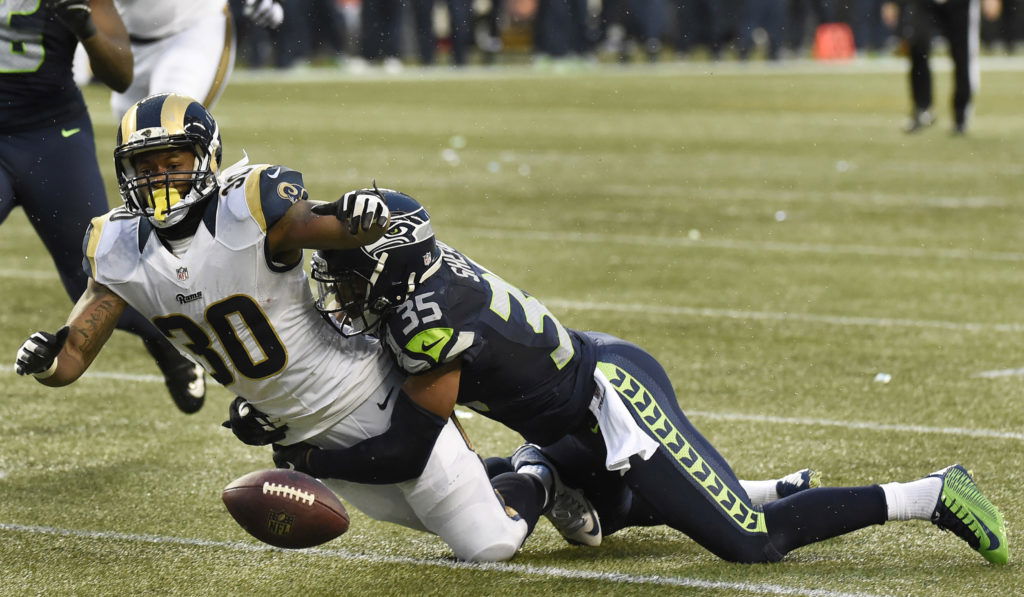 Todd Gurley
Team: Los Angeles Rams
Bye week: 8
ADP: Round 2, Pick 6
The case for taking him: Gurley is too talented to play like he did in 2016. Surely held back by terrible blocking and woefully outdated Jeff Fisher offensive principles, he's now got the NFL's youngest ever head coach in Sean McVay (no lack of modernity there!), along with a colossal on-paper upgrade at left tackle in Andrew Whitworth, a massively underappreciated player in Cincinnati. He's also surely going to get volume; he racked up 278 carries last year despite dismal production and constant negative game flow on a 4-12 team.
The case for leaving him: 3.2 yards per carry last year. A head coach who – from his time in Washington – tends to use specific backfield receivers (Lance Dunbar being picked up for this role in free agency) rather than getting his lead back involved in the passing game, even though Gurley actually has receiving skills (65 catches to only three drops on 84 targets in his pro career) and can be destroyed when his mere presence implies the run is coming. Then again, Jared Goff at quarterback and a WR depth chart "led" by Robert Woods and Tavon Austin isn't exactly going to deter defensive coordinators from selling out to stop the run either.
And Whitworth, who is actually several years older than his head coach (!), has gone to a terrible team in a warm-weather city at the end of his career. Is this a job or a retirement plan for him? The performance of players doing similar in the past suggests the latter.
Should you draft him?: No. Gurley's career is fast resembling that of Trent Richardson. That man was productive as a rookie too, believe it or not.
---