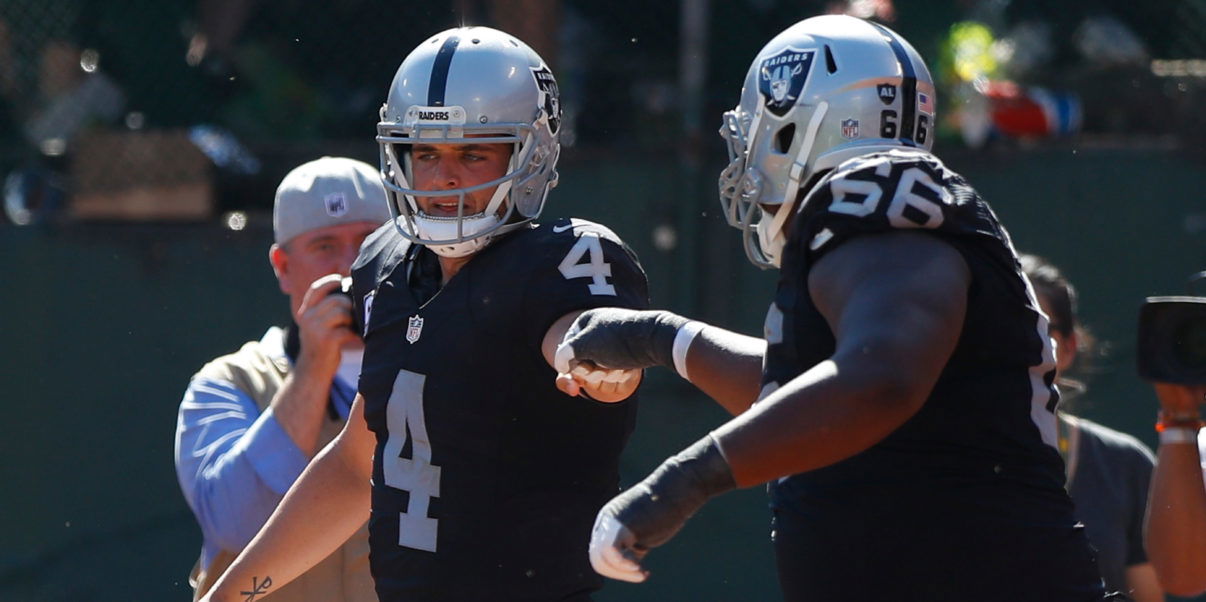 2014 NFL Redraft: An Alternative NFL History
It can take a while to truly know how a draft pick pans out, but usually you get a pretty good idea after three years, so by that measure now is the time to consider a hypothetical 2014 NFL redraft.
The 2014 draft class is likely to go down as one of the better ones in recent history; in particular, a wide receiver group that was already highly-anticipated at the time of the draft amply lived up to the hype, with Odell Beckham Jr. rewriting the record books and the likes of Mike Evans, Sammy Watkins, and Allen Robinson impressing by basically any other standards. This class also had another positional group of immense strength and depth, at guard, plus pass-rushing monsters Khalil Mack and Aaron Donald.
Of course, there was also the usual scattering of busts – notably the Cleveland Browns' two first-round picks being squandered on Justin Gilbert and Johnny Manziel, a double disaster for the ages even by that franchise's standards – but as ever, significant contributors were to be found much lower down the draft and down into the undrafted ranks.
This 2014 NFL redraft starts with the picks that each team owned when the Houston Texans were on the clock with the first pick. However, it does not end there. Instead, it incorporates several trades – based not on the ones that actually took place, but the way this new hypothetical board goes and what teams might have wanted to do in retrospect. Are you ready?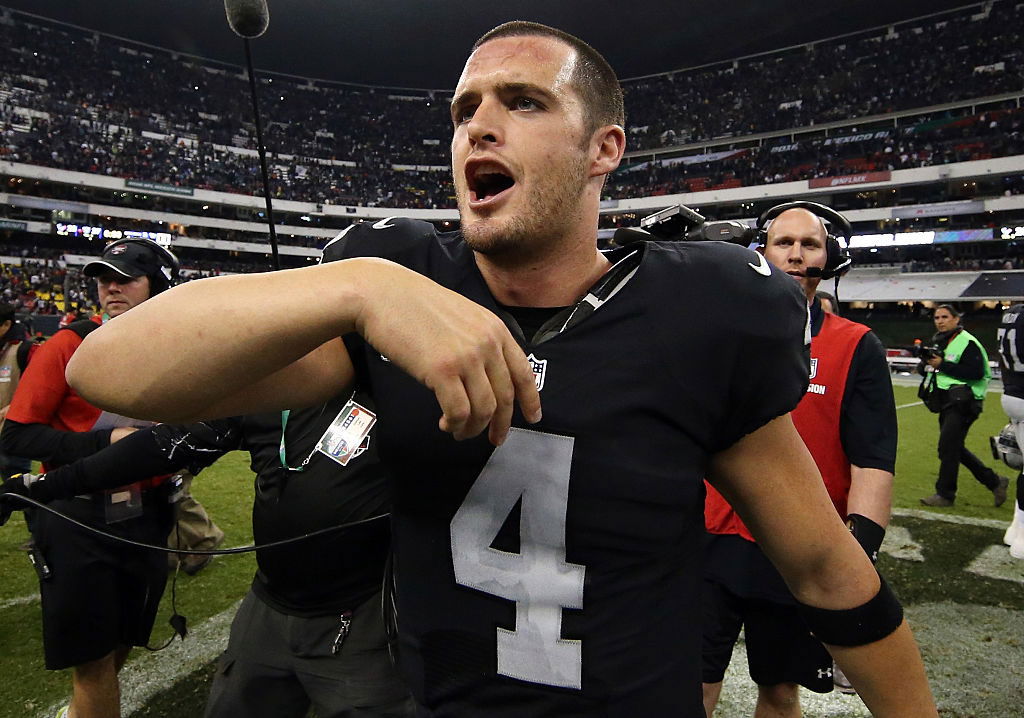 PICK 1, Houston Texans: Derek Carr (QB, Fresno State)
The Texans turning down the quarterback class with the first pick was fair enough; Jadeveon Clowney's physical upside was absurd, and pairing him with J.J. Watt seemed like the perfect way to exploit it and address any lingering lethargy issues. Taking Xavier Su'a-Filo in the second round with Derek Carr on the board was the sort of mistake that gets general managers sacked – and if that wasn't, the Brock Osweiler blunder two years later certainly was. It can only be presumed that the Texans ran scared of taking the brother of their first signal-caller as an expansion team, even though many (most?) of his difficulties in Houston could be traced to one of the worst blocking units in NFL history. (He took 76 sacks in 2002 and 68 in 2005, respectively the highest and third-highest single-season totals ever.)
In this redraft, they bury the hatchet, and are richly rewarded. Combine Carr on one side of the ball with a healthy Watt on the other, and you have possibly the strongest team in the NFL. With neither of these things, the Texans are, well, the team we saw the Patriots beat by 18 playing badly.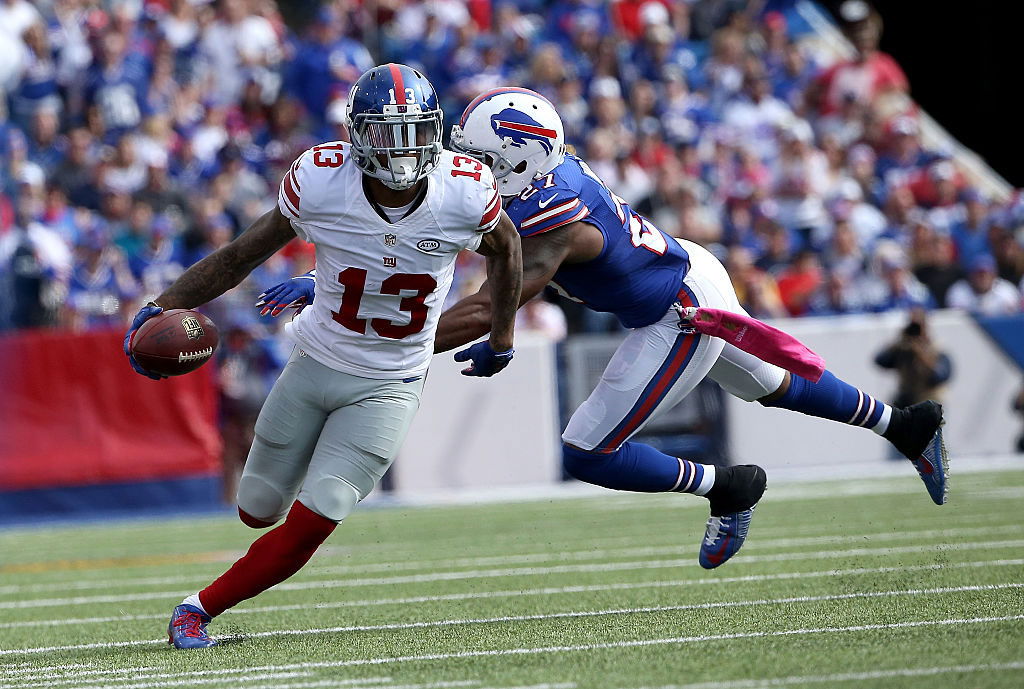 PICK 2, Buffalo Bills (from Washington via St Louis): Odell Beckham Jr. (WR, LSU)
TRADE: St Louis Rams trade pick #2 to Buffalo Bills for pick #9, 2015 first-round pick, and 2015 fourth-round pick
The Bills dealt this exact combination of picks to Cleveland in the real thing for Sammy Watkins. It might have been the right move if he wasn't made of glass and/or in the greatest WR draft class of the century. If it was for the record-breaking Beckham, maybe it would still have been worth it.
The Rams would certainly rather have taken this package than their actual choice of Greg Robinson, and in this alternate history, getting a pair of first-rounders for one more year might've got them in position to fix their quarterback problems with Jameis Winston or Marcus Mariota.
The other option would have been hometown hero Khalil Mack, but the Bills' problems at that point were basically all on the offensive side of the ball.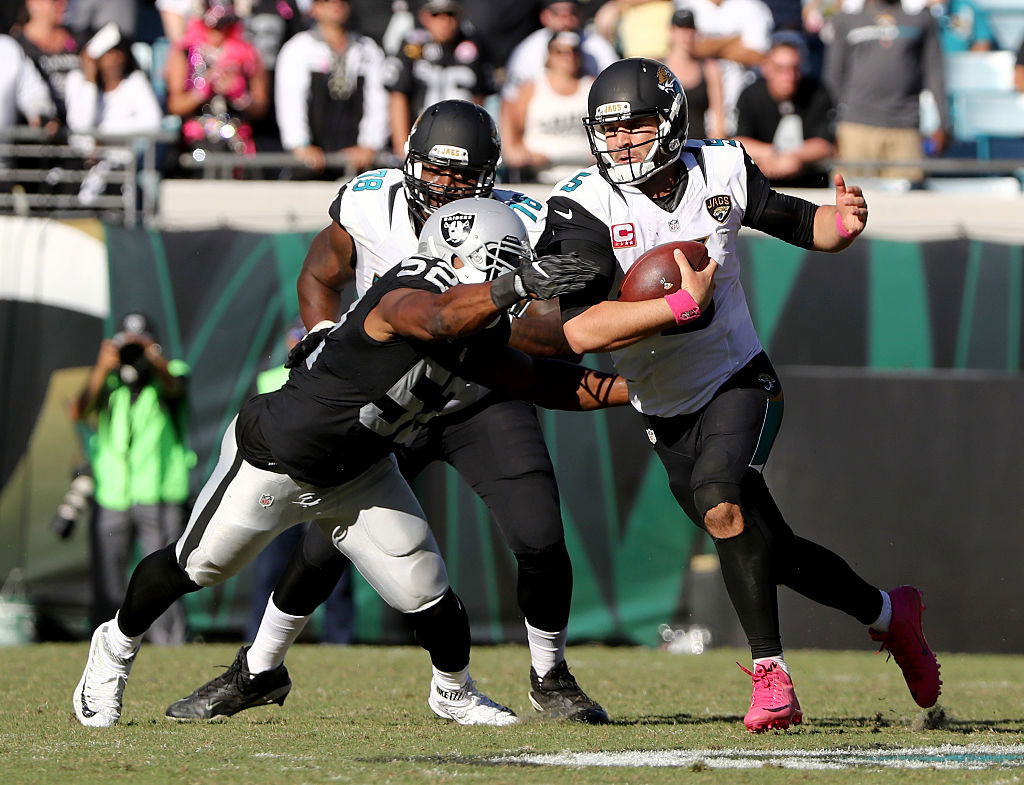 PICK 3, Jacksonville Jaguars: Khalil Mack (EDGE, Buffalo)
The Jaguars didn't do a terrible job with their 2014 picks, and they had a coherent plan – get their QB and then arm him with multiple Class of 2014 wide receivers – that made a lot of sense. A shame that Blake Bortles hasn't consistently returned the favour, as his mechanical regression in 2016 suggests a player not fully focused on becoming the best player he can be. No issues there with Mack, who'd have made an awesome foundation piece for the Jaguars' defensive front.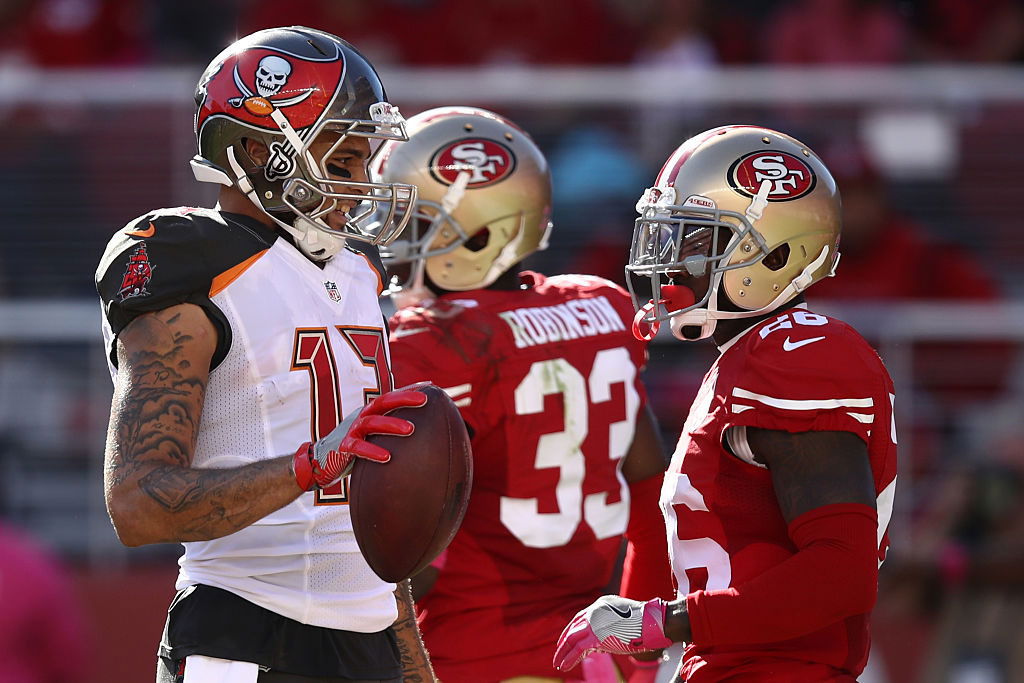 PICK 4, San Francisco 49ers (from Cleveland): Mike Evans (WR, Texas A&M)
TRADE: Cleveland Browns trade pick #4 to San Francisco 49ers for pick #30, pick #56, pick #61, and 2015 second-round pick
Edgy? Not a bit of it: believe it or not, the Niners making an enormous trade up for Mike Evans was legitimately discussed at the time. As absurd as it seems just three years later, the 49ers in 2014 were widely considered to have the deepest roster in the NFL, and happened to have six picks in the top 100, including a bonus second-rounder from trading Alex Smith to the Kansas City Chiefs. They'd also traded up the year before for Eric Reid, and it worked. Evans was argued to be a missing piece who could have put the Niners over the top, and in retrospect he might well have been just that.
Cleveland, meanwhile, traded down in reality and have since committed to a full-on rebuild of NBA or MLB proportions. If anyone was going to trade out of the top five for a flotilla of lesser picks, it'd have to be them; the other alternative partner was a Raiders front office still dealing with the wreckage left by the late Al Davis, and such a deal would probably have been a very difficult sell for both Bay Area fan bases.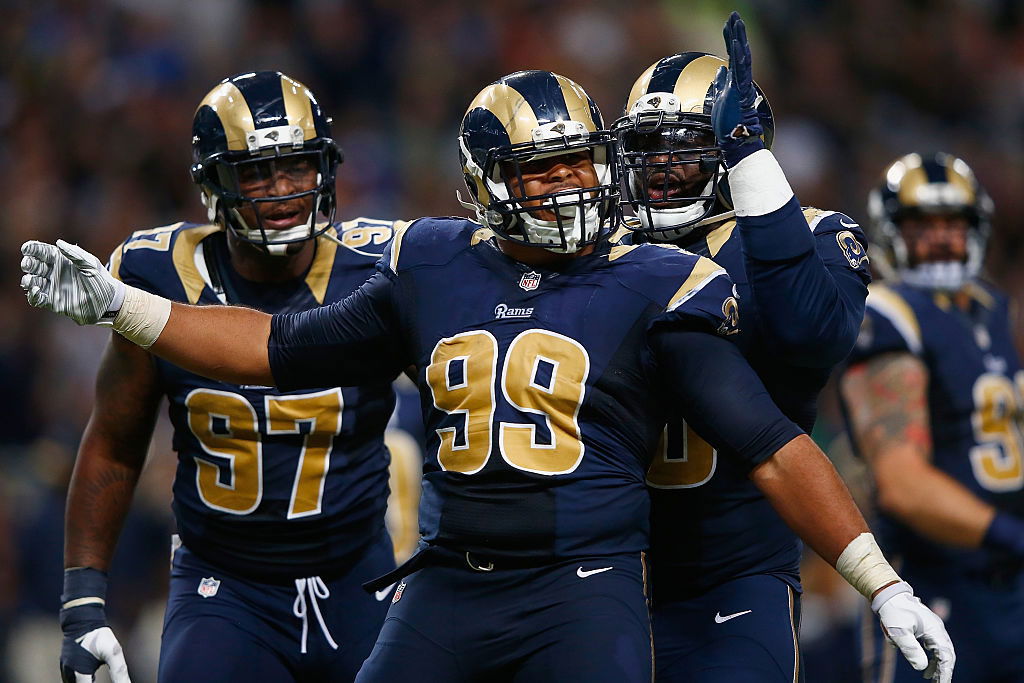 PICK 5, Oakland Raiders: Aaron Donald (DT, Pitt)
Of course, the real Raiders draft class – with two of this redraft's top three – will go down in history as one of the greatest of all time, allowing that rebuild to proceed at frightening pace. The Bay Area teams literally flipped places in three years – now it's the Raiders who are amongst the top championship contenders and the 49ers about to commence a desperate rebuild.
Aaron Donald would have been a heck of a consolation prize though, as he might even be more impactful than Mack; however, that impact is specifically as a one-gap interior penetrator, and the Jaguars in 2014 had Sen'Derrick Marks for that. The Raiders, let's not forget, didn't have much of anything at this point.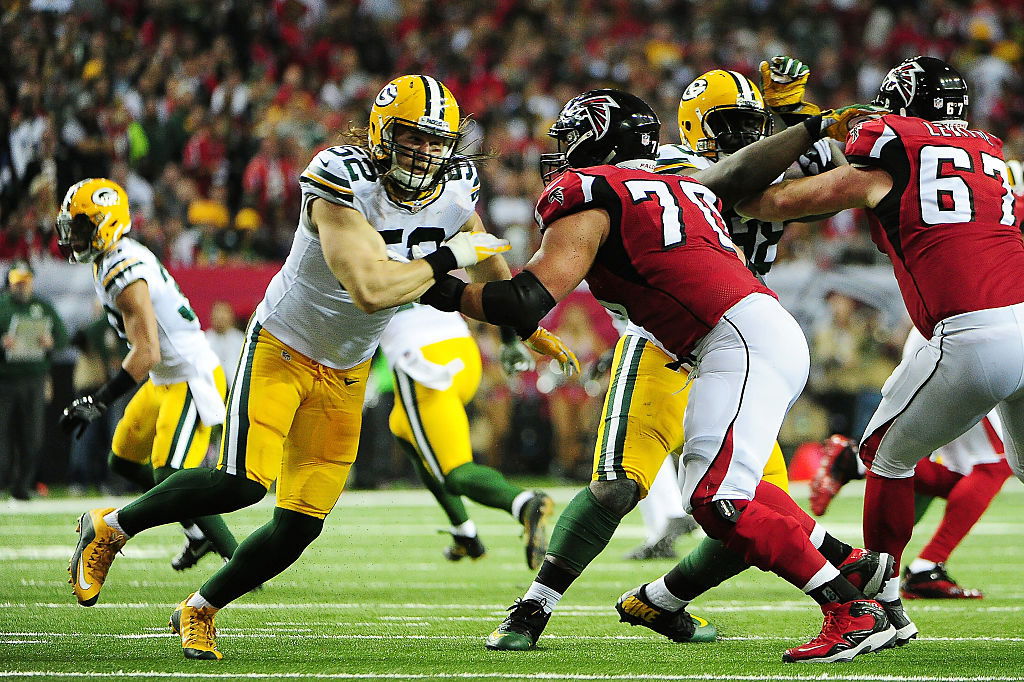 PICK 6, Atlanta Falcons: Jake Matthews (OT, Texas A&M)
Let's not overthink this. This pick worked; the Falcons have become championship contenders thanks to an absurdly good offense with more than a little help from their blocking (even if it took a while for it to all come together), and Matthews is a huge part of that playing at left tackle. I'm prepared to believe they could have done better than this pick, but I'm not entirely sure with whom.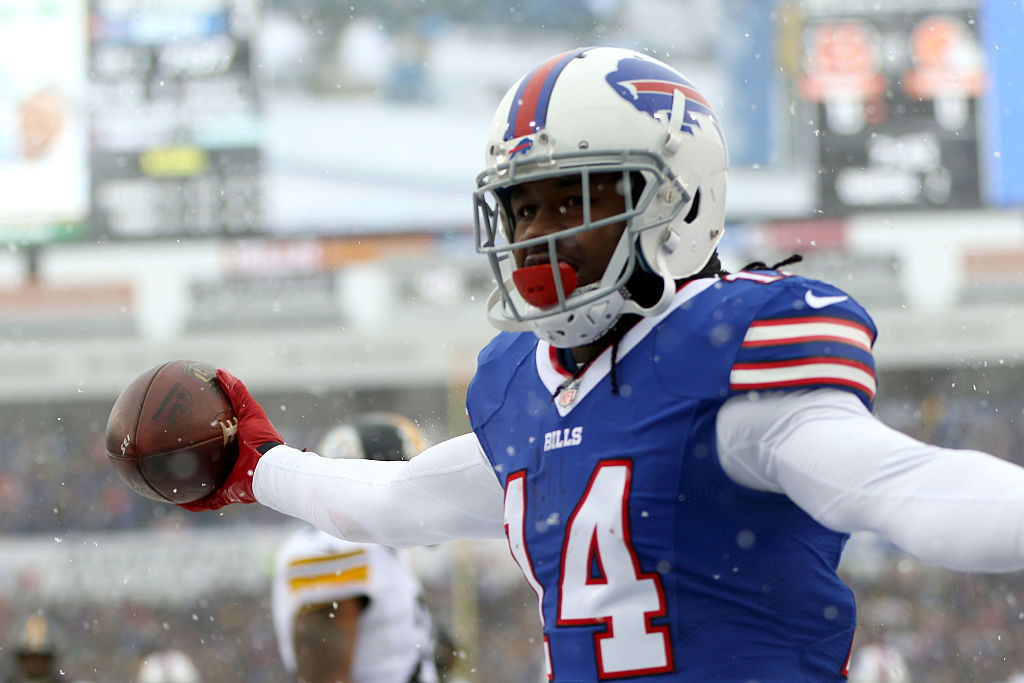 PICK 7, Tampa Bay Buccaneers: Sammy Watkins (WR, Clemson)
Watkins has been an impressive force in between injuries, and the Buccaneers really did need a wide receiver at this point with Vincent Jackson about to decline and no depth beyond him. Not as good as Evans, but if you scrub the durability concerns it'd be legitimately close.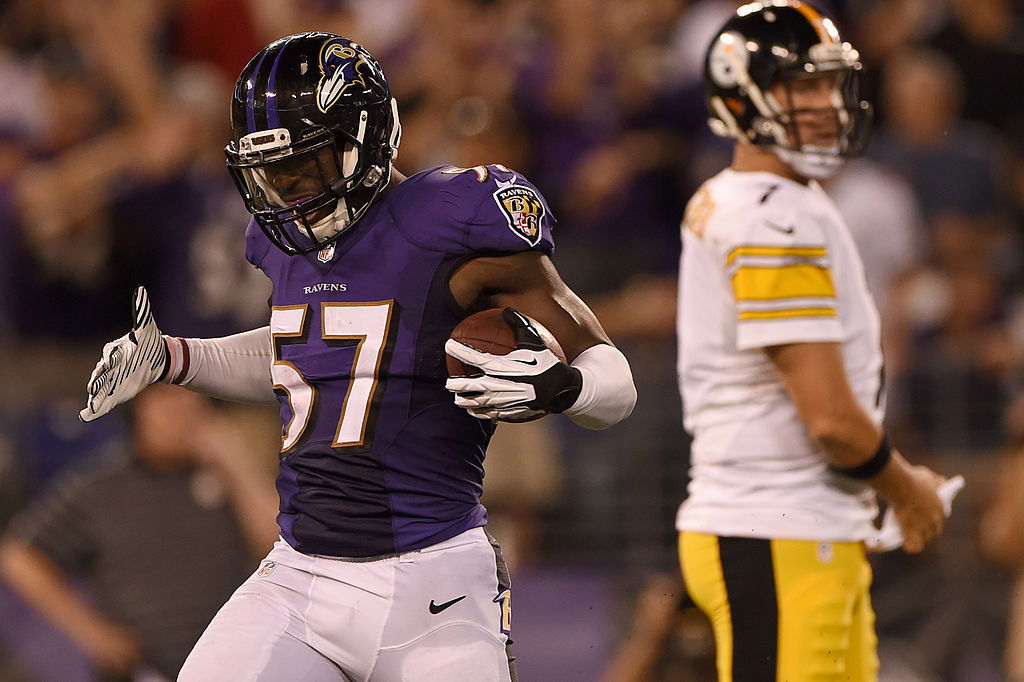 PICK 8, Minnesota Vikings: C.J. Mosley (LB, Alabama)
The Vikings may have shown some impressive improvement defensively, but Mosley would have been an immense addition at linebacker. Anthony Barr – their actual pick at 9 after a tiny trade down – was excellent in 2015, but regressed in his third year. Mosley has been consistently impressive for the Ravens and makes sense here.
PICK 9, St Louis Rams (from Buffalo): Taylor Lewan (OT, Michigan)
This would have been a quintessentially Rams pick, as the front office have taken chances with players of questionable character in recent years. Lewan – praised for his nasty streak on the field, criticised for his nasty streak off it – has quietly blossomed into a strong left tackle in Tennessee, and would obviously have filled what was and remains a huge need for the Rams.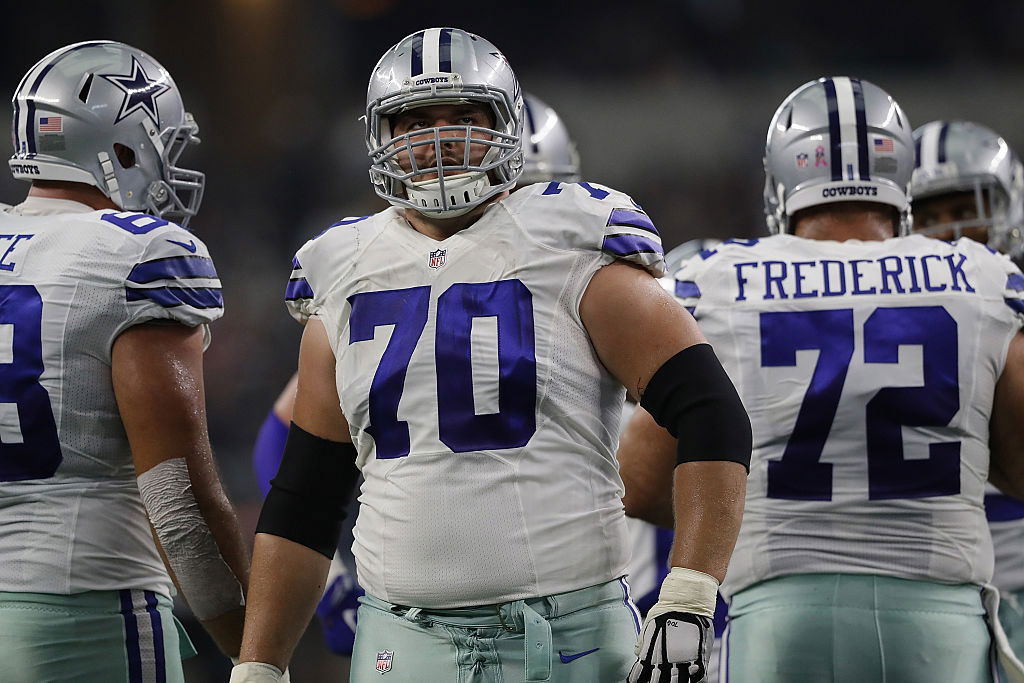 PICK 10, Miami Dolphins (from Detroit): Zack Martin (G, Notre Dame)
TRADE: Detroit Lions trade pick #10 to Miami Dolphins for pick #19 and pick #50
Remember the Richie Incognito scandal? Well, it certainly seemed to be a problem for the Dolphins. The unit that put the "offensive" in "offensive line" allowed Ryan Tannehill to take 58 sacks in 2013, the most any QB had suffered in seven years. They lacked talent outside of Mike Pouncey, and they clearly lacked discipline. Martin – a historic 52-game starter for Notre Dame who was widely praised for his character before the draft – was maybe the most obvious trade-up target in NFL history.
The Dolphins sat back and took Ja'Wuan James at 19 instead.
Their O-line is no longer hideous, but that missed opportunity is; Martin was arguably the best zone-blocking guard in the NFL from day one. The Dolphins would have loved to have him protecting Ryan Tannehill.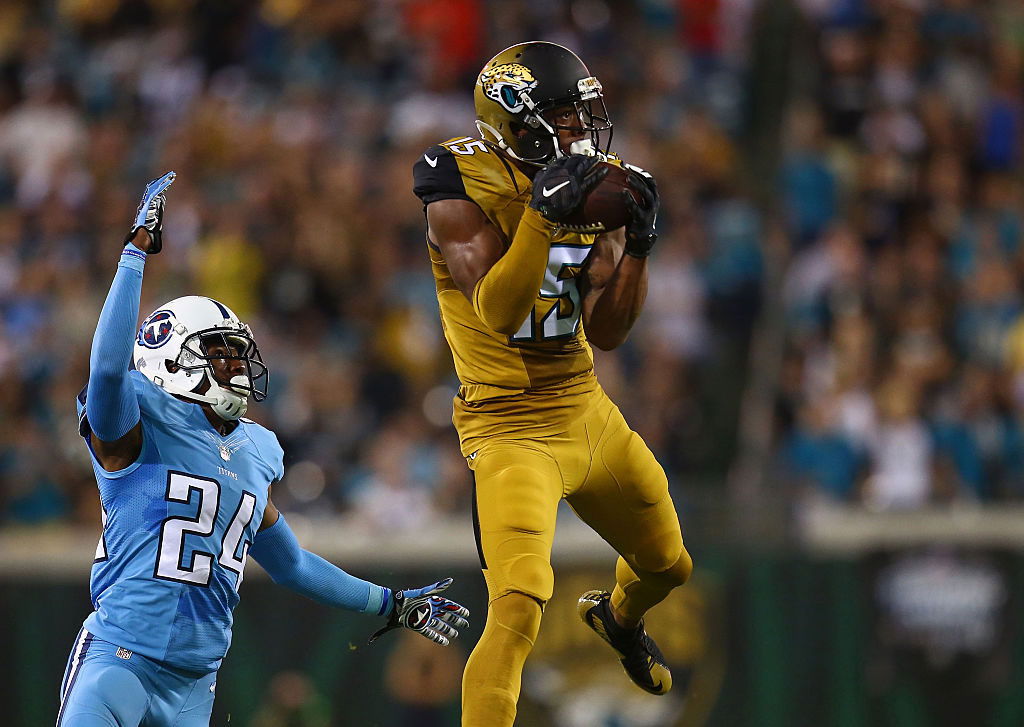 PICK 11, Tennessee Titans: Allen Robinson (WR, Penn State)
The man who was so good he tricked many a 2014 evaluator into thinking his 2013 college QB Christian Hackenberg was a top-of-the-draft talent – spoiler alert, he really wasn't – had a remarkable 2015 season in Jacksonville, and while the two years either side have somewhat underwhelmed in comparison, he'd still have been a genuine improvement for the Titans at the receiver position even on 2014 or 2016 form.
They'd also be pleased he wasn't at a divisional rival.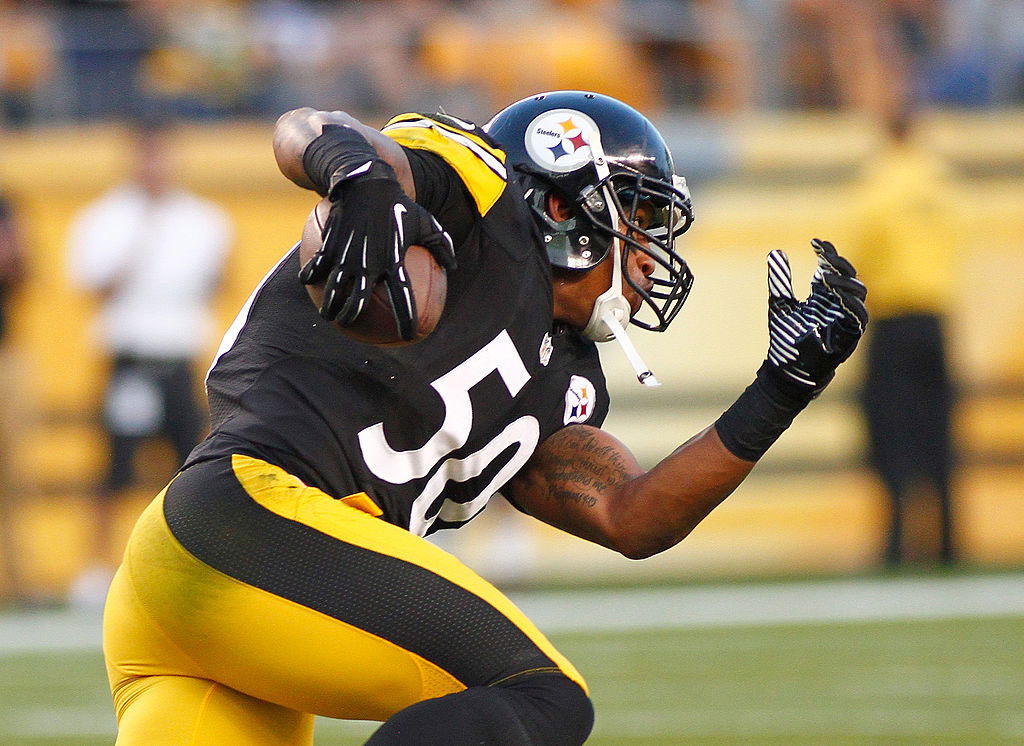 PICK 12, New York Giants: Ryan Shazier (LB, Ohio State)
Historically, the Giants have shown an absurd reluctance to draft middle linebackers early, and have almost inevitably shown an absurd lack of talent at the position for what seems like decades.
Shazier might have fixed that, or he could have been a devastating 4-3 "Will" using his speed to chase down anything that moves, or he could even have been the marauding in-the-box safety the Giants ended up getting with Landon Collins a year later.
The one thing he would assuredly have been was a big defensive contributor for Big Blue.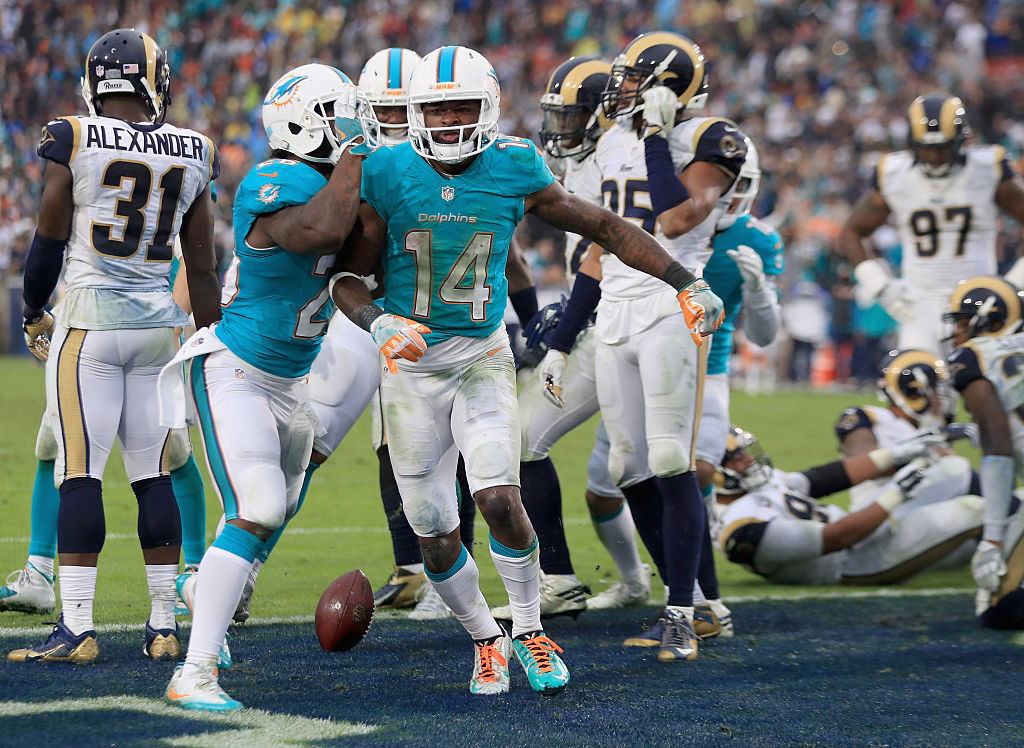 PICK 13, St Louis Rams: Jarvis Landry (WR, LSU)
In case you haven't noticed, the Rams have just finished a season where their offensive centrepiece was Kenny Britt having an inexplicable breakout year. The rest of the receiving depth chart is so shallow that the Rams gave a big-money extension to Tavon Austin, who barely counts as a receiver at all.
Landry would have been a much better addition, as he is one of the best receivers in the business at making plays in the short and intermediate areas of the field. He doesn't do bombs, and for some reason doesn't often do touchdowns either, but what he does do is things that give lesser quarterbacks a much-needed confidence boost. The Rams, of course, have had a few of those lately.
PICK 14, Chicago Bears: Jason Verrett (CB, TCU)
The Bears can't be faulted for taking a corner in 2014, but Kyle Fuller doesn't seem to have panned out at all, his one big contribution being a multi-interception game in the first regular season contest at Levi's Stadium that proved a harbinger of what was to come for the Niners as they entered Santa Clara.
Jason Verrett would have been a far better pick, as he has shown himself to be one of the best corners in the NFL when healthy. Granted, that's nowhere near often enough, but it's hard to penalise a player too harshly for being regularly injured while on Chargers duty, because – Philip Rivers aside – who doesn't?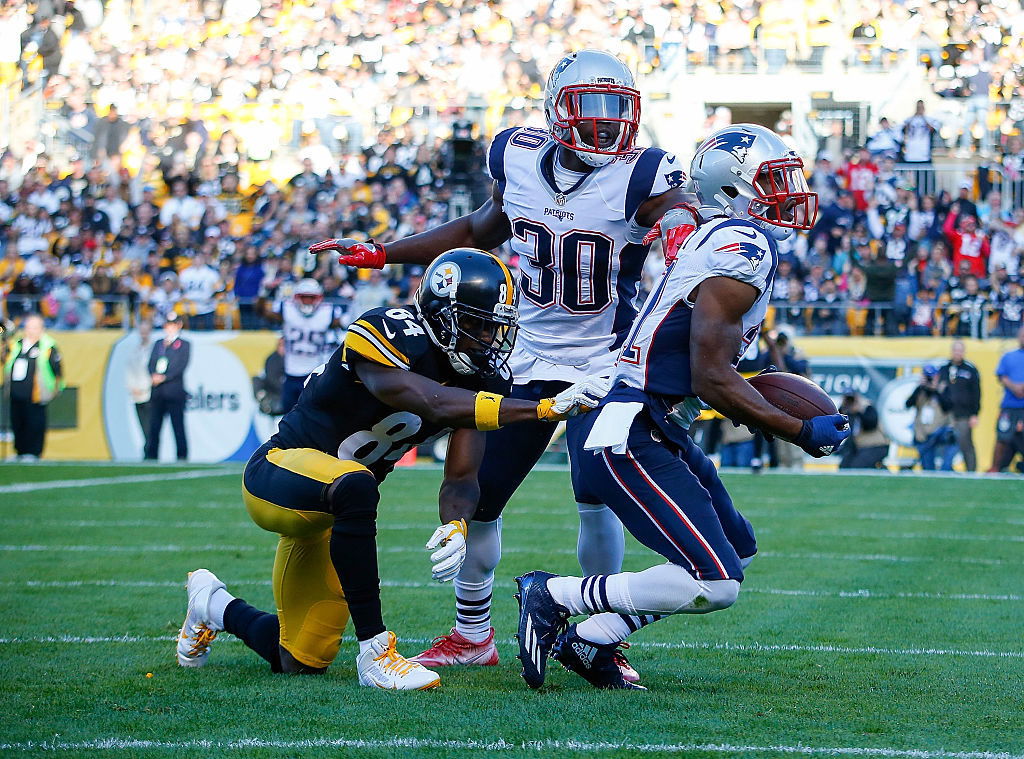 PICK 15, Pittsburgh Steelers: Malcolm Butler (CB, West Alabama)
This man went undrafted in reality. He wasn't even in the discussion for being drafted. He backdoored his way onto the 90-man Patriots roster via an offseason tryout. He then made an interception at the Super Bowl that most people assumed would be all he's ever remembered for.
And then he became a legitimate elite cornerback.
That's probably not happening without the kind of elite coaching that the Patriots offer with Belichick and company… but the Steelers aren't exactly a badly-run organisation themselves, and their defensive backs at this point were positively ancient and not being adequately replaced. Butler learning behind those guys could have impressed just as much as he did in Foxboro.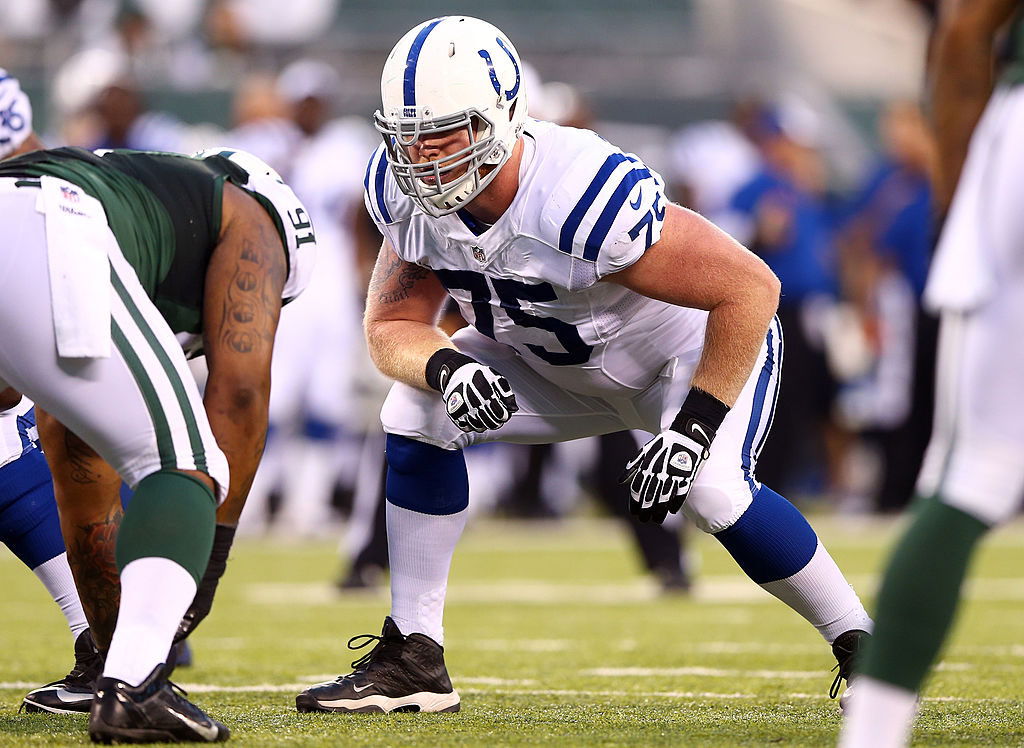 PICK 16, Dallas Cowboys: Jack Mewhort (OT/G, Ohio State)
For the Indianapolis Colts – who took him with their second-round pick in the real draft – Mewhort has been the partial saving grace of a horrible line. For the Dallas Cowboys, he could have become Doug Free's replacement at right tackle or been a more-than-passable substitute for actual pick Zack Martin at guard.
Either way, he would have done what Martin did, albeit to perhaps a lesser extent – taking the blocking unit of America's Team over the top from good to great.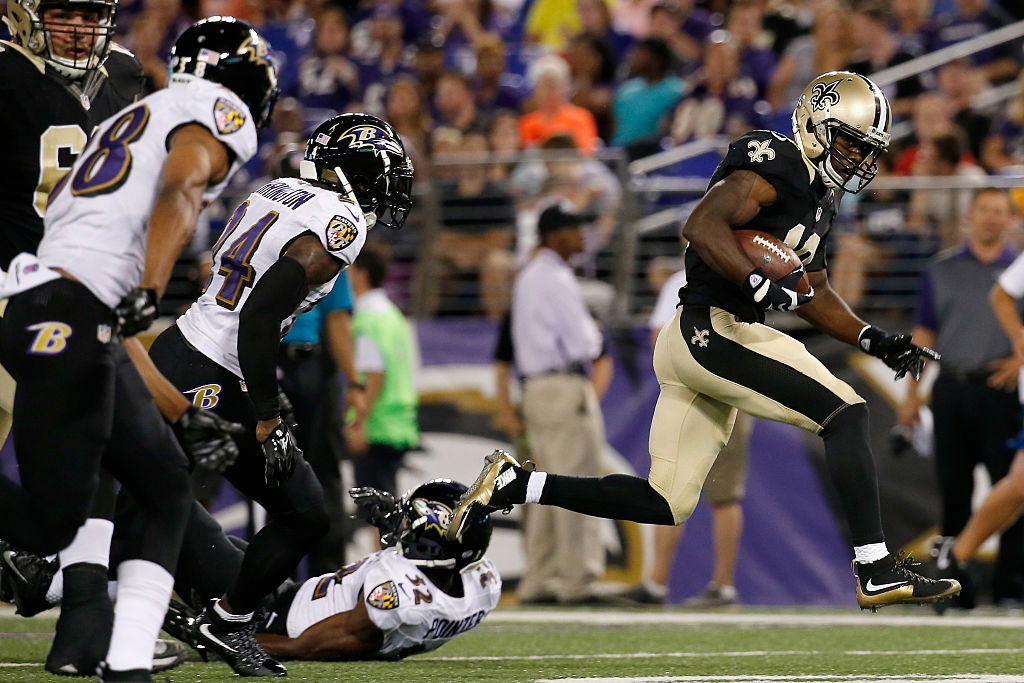 PICK 17, Baltimore Ravens: Brandin Cooks (WR, Oregon State)
Cooks has had a curious career so far, somewhat upstaged by Michael Thomas in 2016 but still providing the added dimension to the New Orleans passing attack that the Saints looked for when they traded up for him. However, they have so many receiving options now that Cooks trade rumours in December made a ton of sense – and a viable destination for him could be Baltimore, who got burned by Breshad Perriman a year later and have Joe Flacco ready to drop some bombs in the general direction of one of the fastest receivers in the NFL.
Frankly, this pick is worth it just to prevent that Perriman one from happening…
PICK 18, New York Jets: Telvin Smith (LB, Florida State)
The Jets took Calvin Pryor with this pick looking for a safety who played like a linebacker. They might have done better with Smith, a linebacker with the build and range of a safety.
He's been busy and effective for the Jaguars, racking up 99 tackles in 2015 and 98 a year later, and could have wrecked even more havoc behind the Jets' fearsome front three.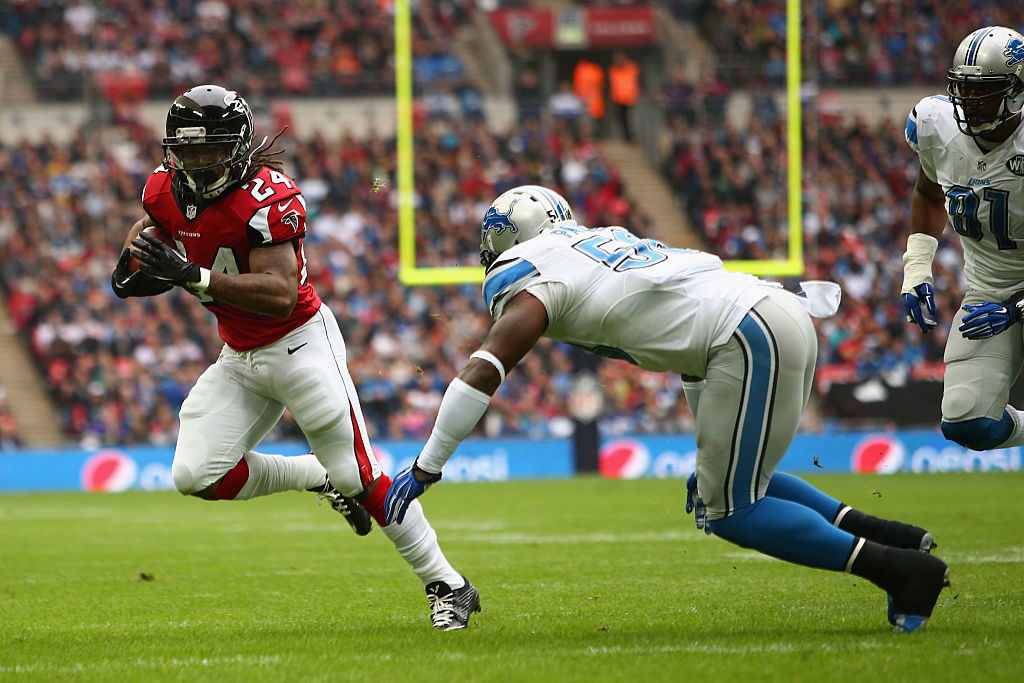 PICK 19, Detroit Lions (from Miami): Devonta Freeman (RB, Florida State)
The Lions have not exactly had a running game worth shouting about in recent years, pretty much improvising a backfield on the fly this year after Ameer Abdullah's injury.
Freeman – a fourth-round pick who ended up being by far the best of a weak class at the running back position – has been electric as the leader of the Falcons' committee for the last two years, and would assuredly have been valuable to the Lions as a central part of a post-Megatron offensive game plan.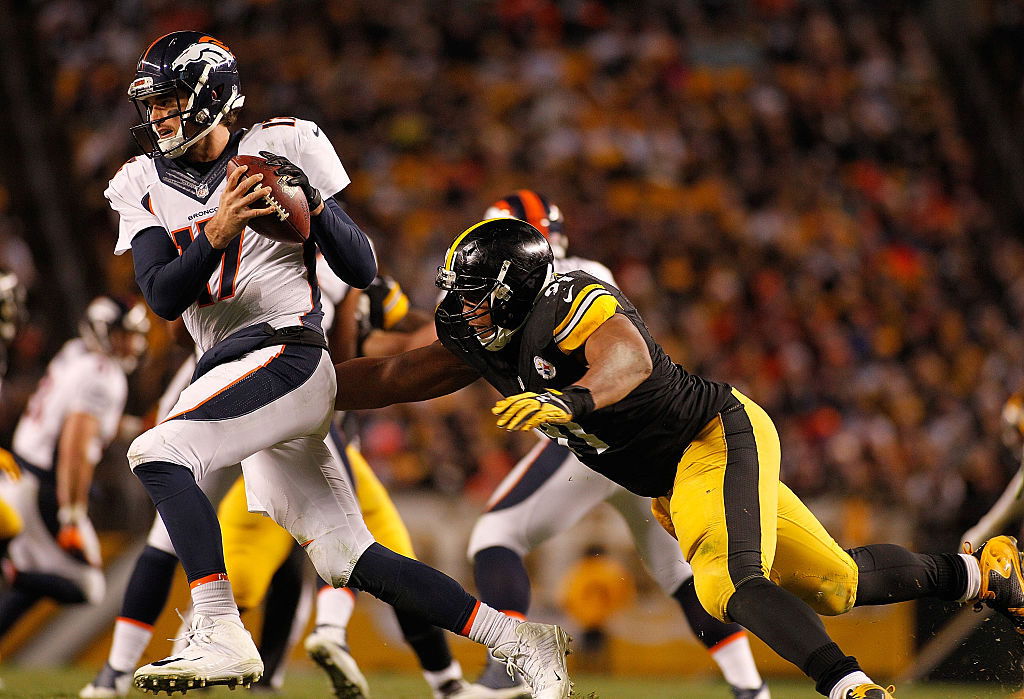 PICK 20, Arizona Cardinals: Stephon Tuitt (DE, Notre Dame)
The Cardinals had a big need on the defensive line going into this draft, but the closest thing they came to addressing it was a third-round pick in Kareem Martin, who was more of a 4-3 edge rusher and ended up as a rotational 3-4 linebacker in the desert by his second year.
Tuitt could have been an excellent odd-front end opposite Calais Campbell, providing the penetration up front to make the Cardinals defense less reliant on constant blitzing.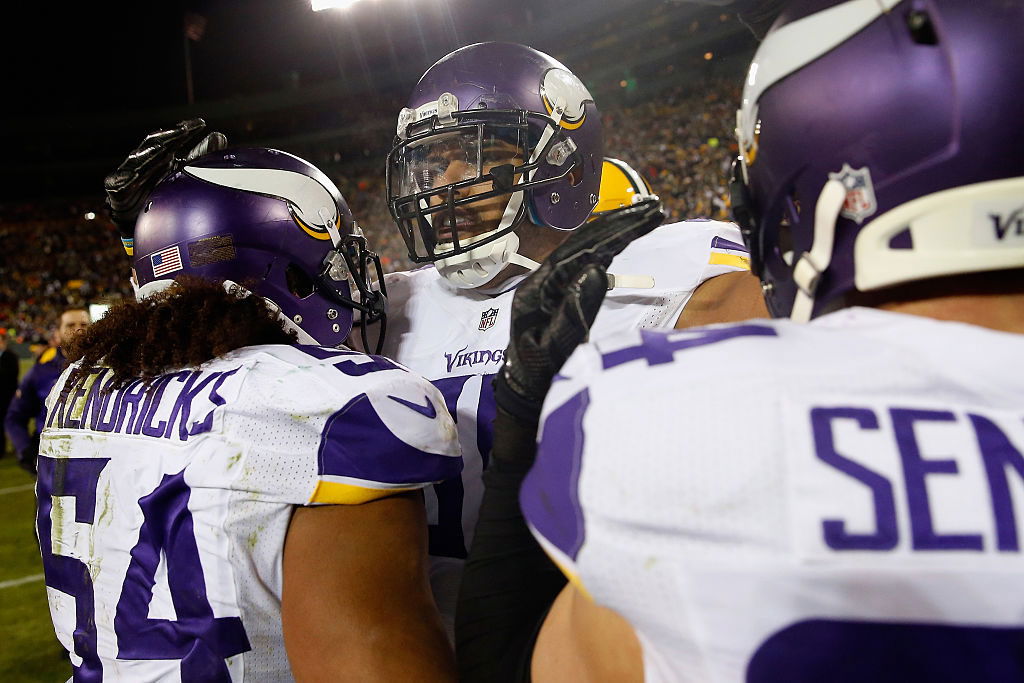 PICK 21, Green Bay Packers: Anthony Barr (LB/EDGE, UCLA)
This could just as easily have been Ha Ha Clinton-Dix, the team's actual pick; he has been the team's least-bad defensive back pretty much throughout his time at Lambeau.
However, the Packers' desperate need for an inside linebacker to let Clay Matthews stick to his edge-rusher duties would have been amply filled by Barr, who could also have played as an edge rusher himself having done so in college. As a player with an odd positional history having been a converted fullback, he was the kind of intriguing project that the Packers have a history of drafting.
Barr and Matthews could have combined in creative ways to cause havoc up front and make that burnable secondary almost a non-issue.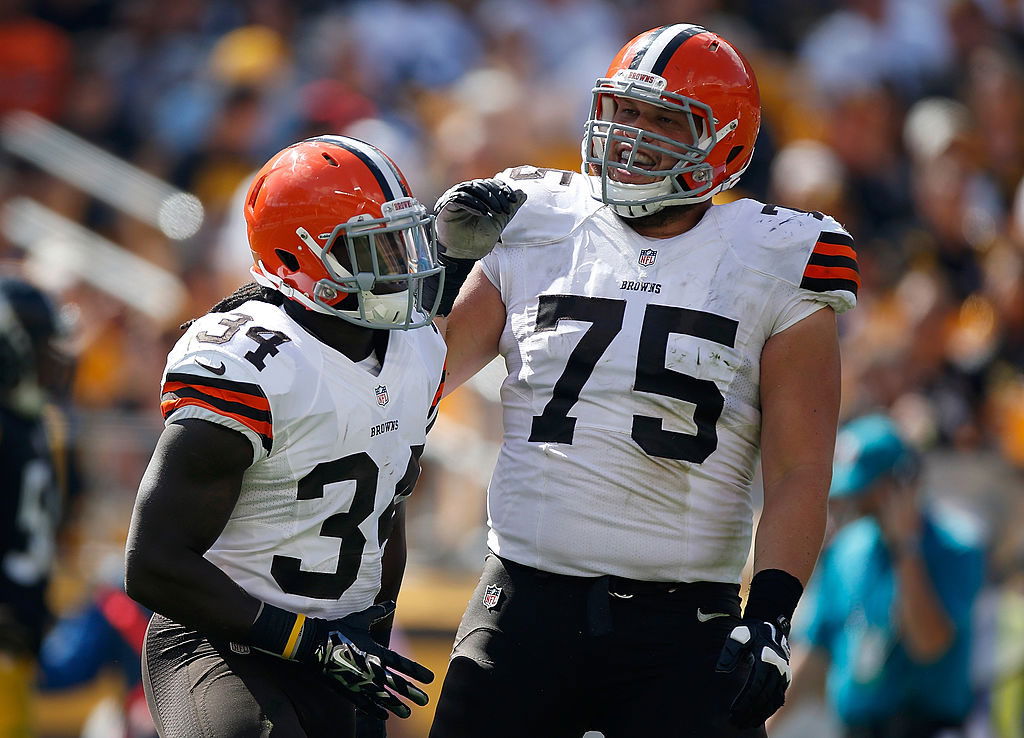 PICK 22, Seattle Seahawks (from Philadelphia): Joel Bitonio (G, Nevada)
TRADE: Philadelphia Eagles trade pick #22 and pick #122 to Seattle Seahawks for pick #32 and pick #64
The Seahawks' motivation for trading up here are obvious; the offensive line was one of the weakest units ever seen on a Super Bowl team, and may even have weakened in the intervening years.
The Eagles didn't have Chip Kelly operating as a de facto GM at this point, but they were still more than happy to work the draft; indeed, they did trade out of this pick in the real draft. The Browns got it, and promptly used it on Johnny Manziel, but their second-round pick Bitonio was a far better move, as he played on a Pro Bowl level at guard right away. The value of that to Seattle is obvious.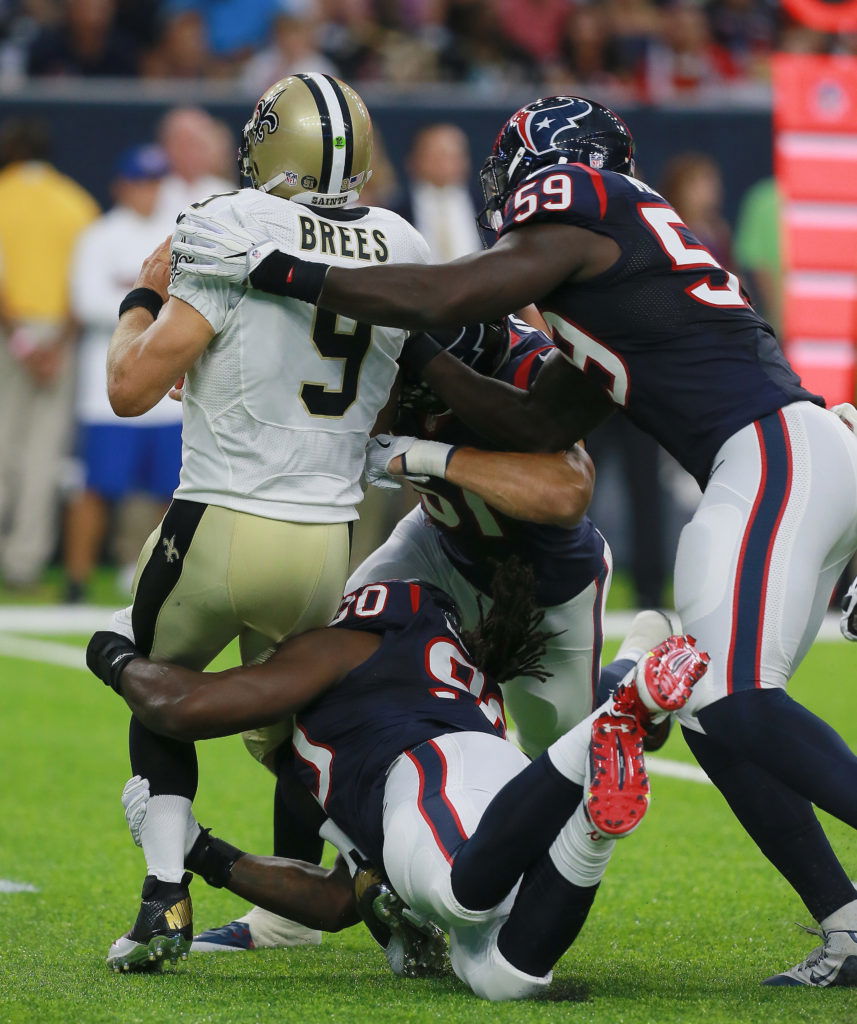 PICK 23, New Orleans Saints (from Kansas City): Jadeveon Clowney (EDGE, South Carolina)
TRADE: Kansas City Chiefs trade pick #23 to New Orleans Saints for pick #28 and pick #126
Clowney looked like a historic bust as a top pick after he hardly played in his rookie year and needed microfracture knee surgery. While still fragile as a second-year pro, he emerged as a quality run defender, and was arguably an elite one in 2016 as he combined with Whitney Mercilus and other defensive studs to carry a team with no Watt and no quarterback all the way to the AFC divisional round.
He absolutely isn't a top-of-the-draft pick in a redraft, but he's gone more than far enough in this scenario for the defensively inept Saints to justify a trade up for him. They also happen to be an even-front team, which is a good fit for Clowney at his size.
The Chiefs were without their second-round pick because of the Alex Smith trade, so they were definitely in the trade-down business. In fact, they ran the clock almost down to zero on their pick, and seemingly chose Dee Ford because he was the only name they could get on the card in time once they had to give up on working the phones. (That's harsh on Ford, who took a huge leap forward stepping up as injury cover for Justin Houston in 2016, but they could have done much better.)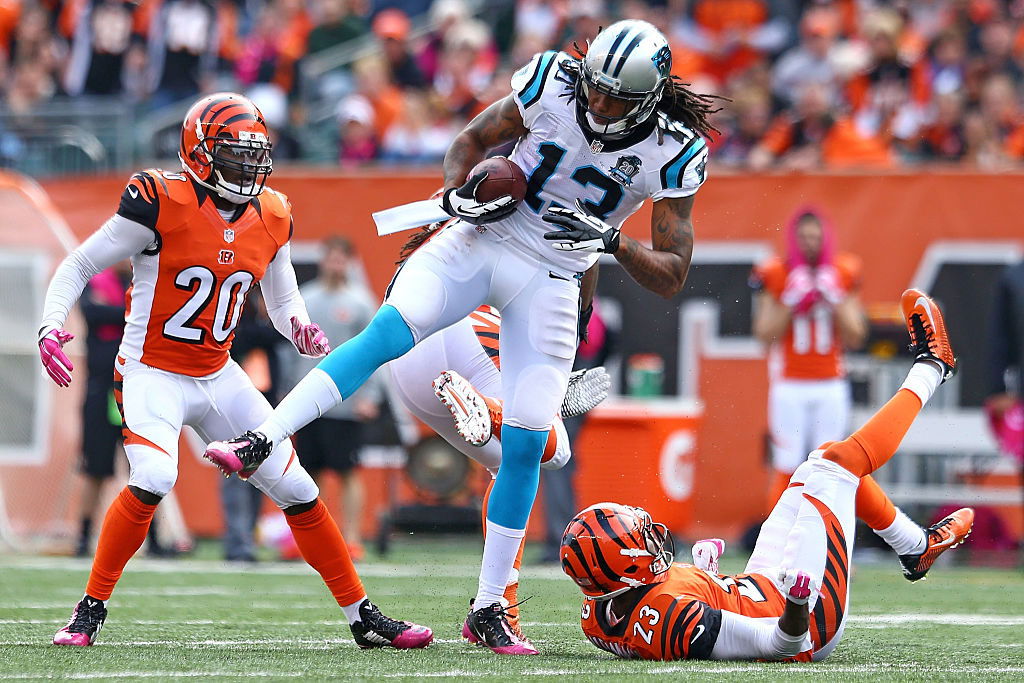 PICK 24, Cincinnati Bengals: Kelvin Benjamin (WR, Florida State)
The Bengals in 2016 had basically no starting-worthy wide receivers not named A.J. Green. The Bengals of 2014 and 2015 had Mohammed Sanu and Marvin Lewis, but neither played especially well, and were widely considered to be massively overpaid in a horrid 2016 free agency class at the position. (Sanu proved the doubters wrong; Lewis did so for just long enough to fool fantasy players into thinking he was the main man in Detroit before falling apart again.) They also didn't have Tyler Eifert for most of 2014, and at Benjamin's size he might have filled a similar role.
Or perhaps this pick could have set up a Green-Benjamin-Eifert receiving trio (with Sanu and Lewis temporarily as fourth and fifth options!) that would have caused defensive backs nightmares. That sort of obvious strength is the sort of thing that carries a good team over the top into championship contenders.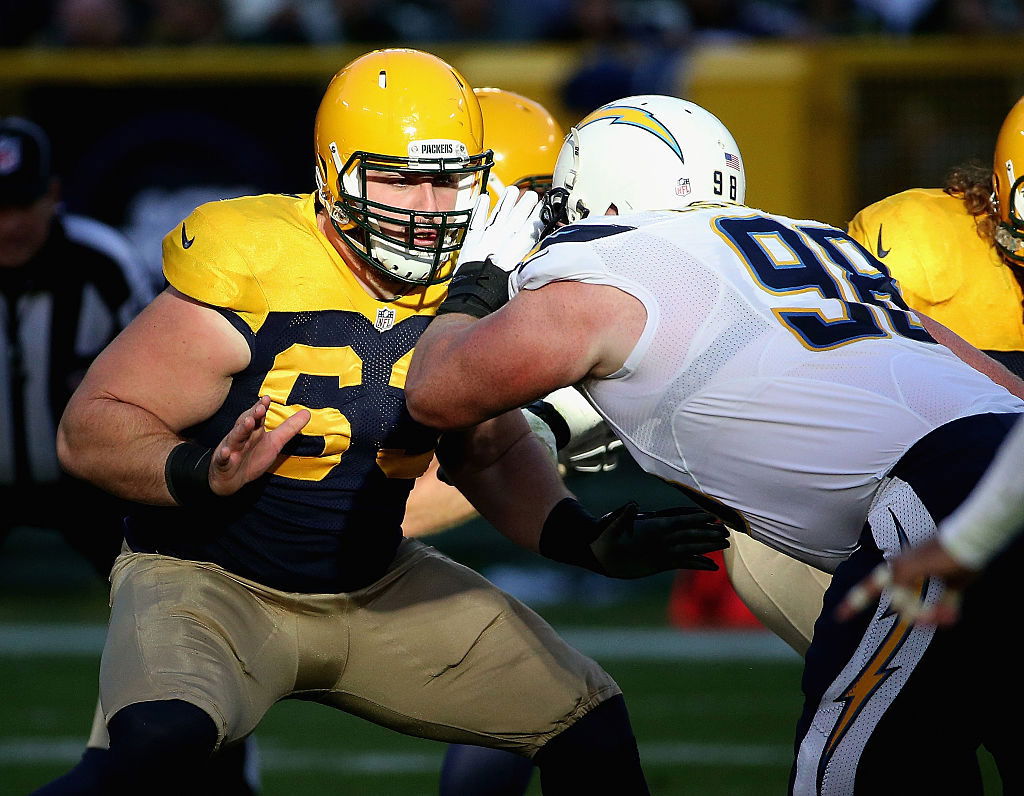 PICK 25, San Diego Chargers: Corey Linsley (C, Ohio State)
Nick Hardwick was mulling retirement already in the 2014 offseason, and locked in that decision after a severe neck injury in the season-opening loss in Arizona.
The Chargers, whose attempt to deal with that problem amounted to using a third-round pick to reach for guard Chris Watt, would surely have benefitted from the presence of Linsley, who fell all the way to the fifth round but became an instant starter for the Packers.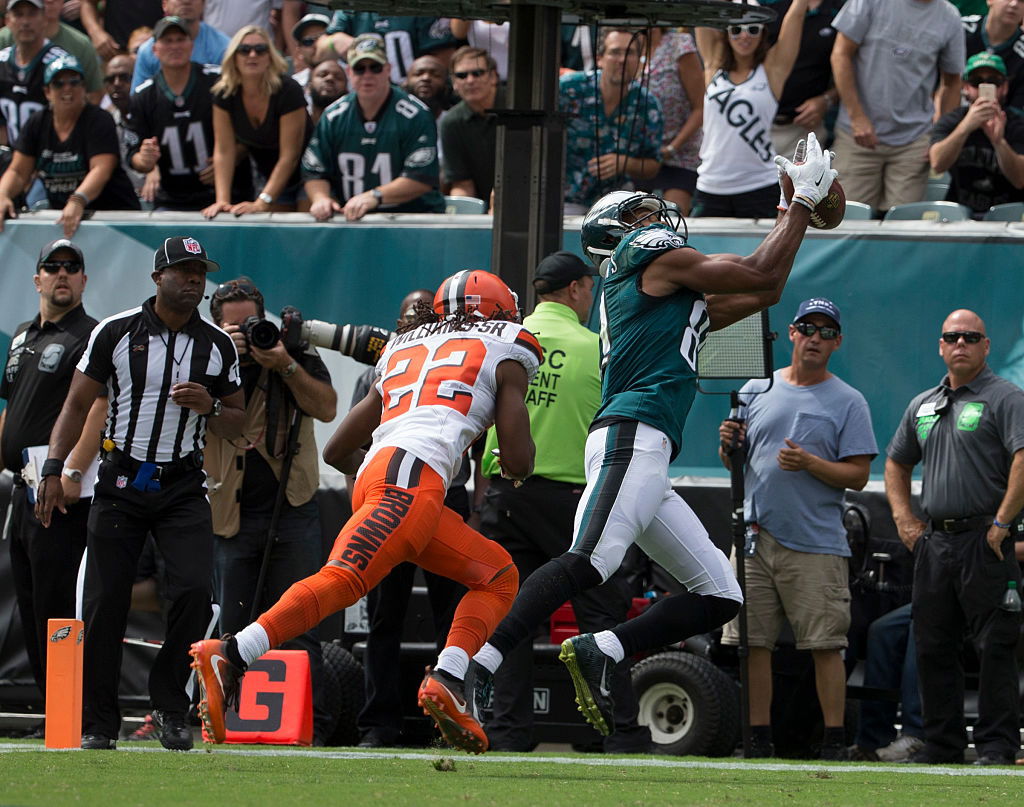 PICK 26, Cleveland Browns: Jordan Matthews (WR, Vanderbilt)
It's easy to forget that Jordan Matthews has had three consecutive 800-yard seasons to begin his career. He hasn't progressed as much as would've been hoped, but he stepped right in as a useful wide receiver.
The Browns in 2014 really, really needed one of those after losing Josh Gordon to a suspension that was announced during draft weekend; they had absolutely zero excuse for not taking a receiver in the entire draft, and they correct that error here.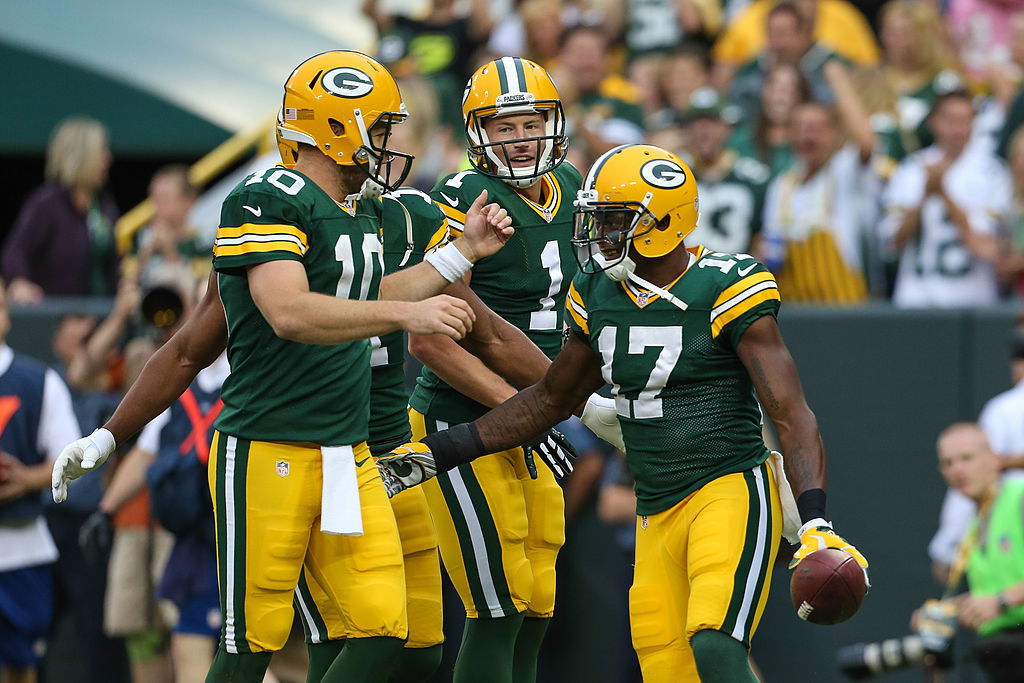 PICK 27, Kansas City Chiefs (from New Orleans): Davante Adams (WR, Fresno State)
The Chiefs – who went on to spend the entire 2014 season without completing a touchdown pass to a wide receiver, the first time an NFL team had done that since before the AFL-NFL merger of 1970 – also really should have taken a receiver from this historic class at the position.
Adams burned many a fantasy owner in 2015 by doing nothing much after the Jordy Nelson injury, but took a classic third-year leap in 2016 even with Nelson bouncing right back into his old form and gaining Comeback Player of the Year for it.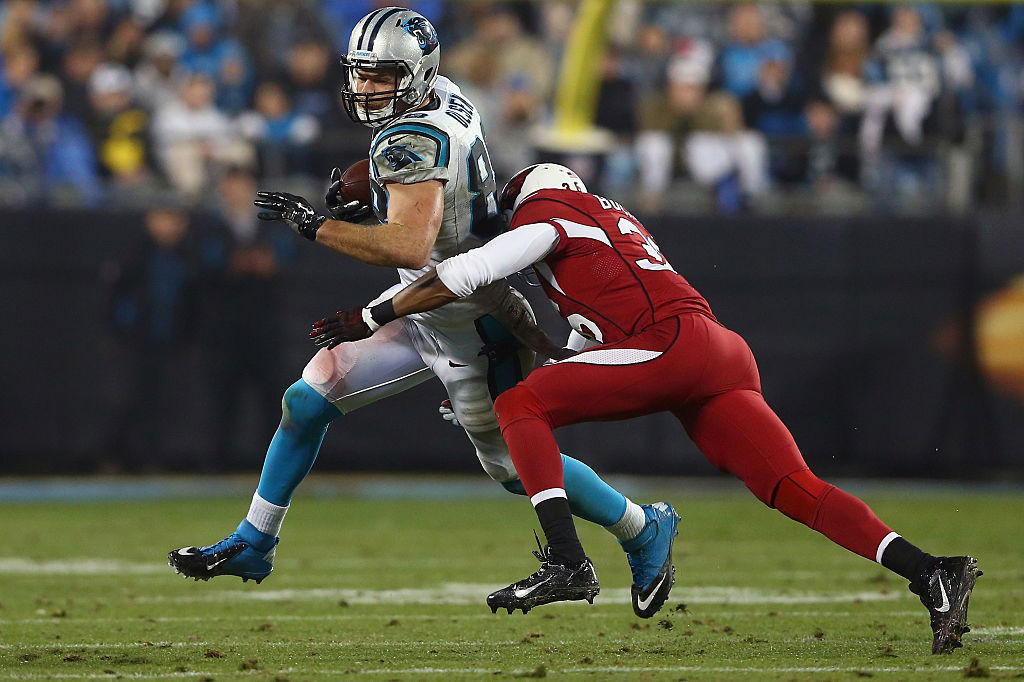 PICK 28, Carolina Panthers: Deone Bucannon (S/LB, Washington State)
The Panthers' plan these last few years has been to see if they can apply so much pressure up front that they don't need expensive corners. Obviously, this only got them anywhere because Josh Norman played out of his skin in 2015 in particular – GM Dave Gettleman may regret how he decided he'd rather mercilessly dispose of him than deal with his contract demands – but the speed of their linebacker trio was the other part of why it could even begin to work.
In reality, the Panthers bolstered this unit a year later by pairing Luke Kuechly and Thomas Davis with safety/linebacker hybrid Shaq Thompson. In this redraft, they get a player who instantly became a player comparison for the likes of Thompson. Bucannon was an instant-impact defender for the Arizona Cardinals, and while he disappointed in 2016, his previous two years of tape were good enough to make this pick look a relative redraft steal.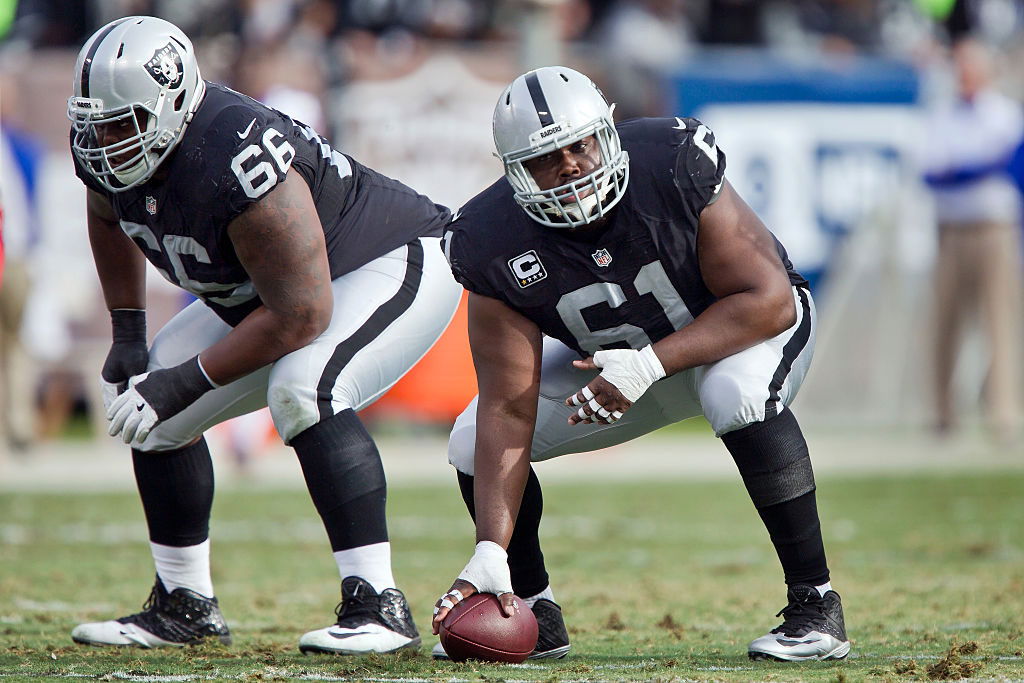 PICK 29, New England Patriots: Gabe Jackson (G, Mississippi State)
The soon-to-be-legendary 2014 Raiders draft class started with Mack and Carr. The quality didn't stop there, though, as third-round pick Jackson became an instant starter at guard – and a good one at that.
In fact, Pro Football Focus analysis didn't peg a single sack in 2016 on him despite playing over 1,000 snaps. The only other guard who matched that? Kelechi Osemele, his team-mate and the highest-paid guard in the league!
Protection like that on the interior couldn't possibly hurt Tom Brady, and anyone on the Belichick backfield merry-go-round could have benefitted from the power that the 336-pound former Bulldog bought in the ground game.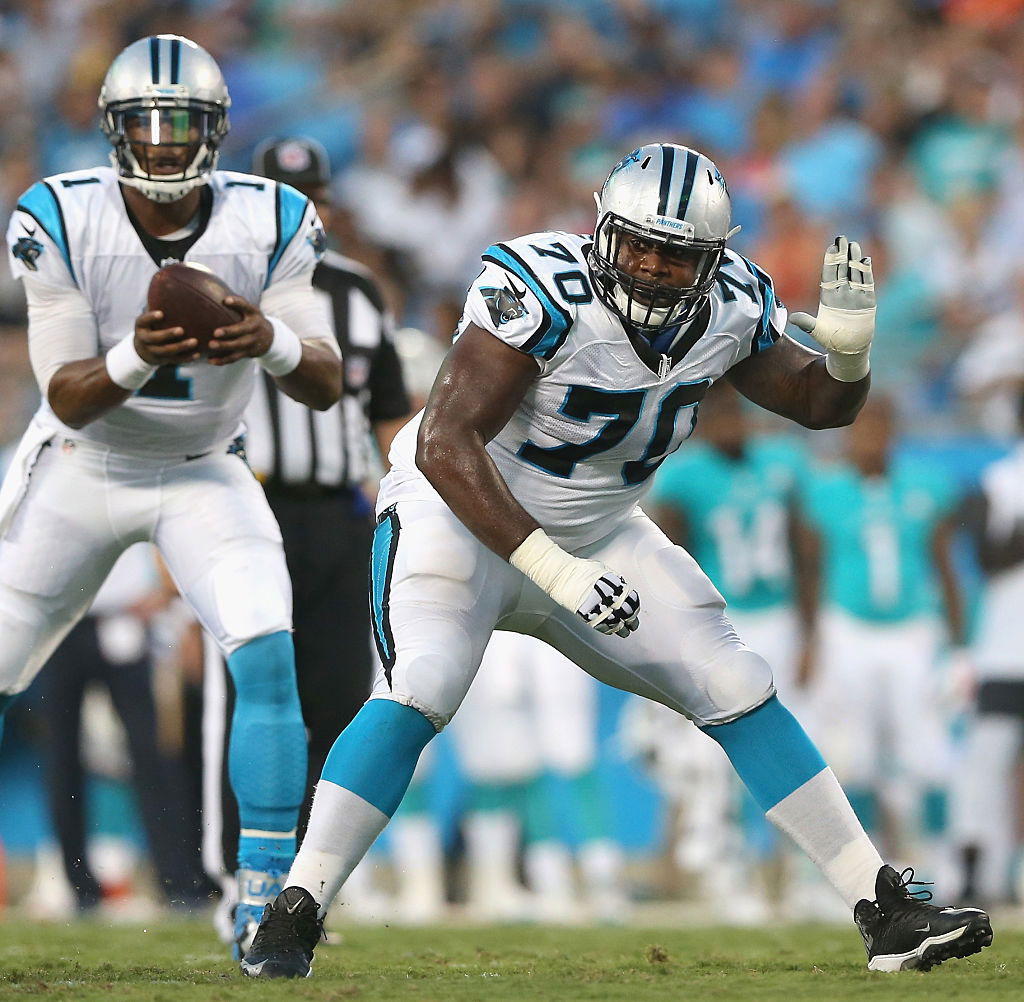 PICK 30, Cleveland Browns (from San Francisco): Trai Turner (G, LSU)
Another standout guard taken in the third round in reality, Turner's interior blocking did a great job for the Panthers from the moment he stepped in to protect Cam Newton. He even pancaked J.J. Watt to the turf in one game in 2015, which was merely the most obvious highlight of a year in which he paved the way for a combination of Newton and his running backs to put up well over 2,000 rushing yards in a 15-1 season.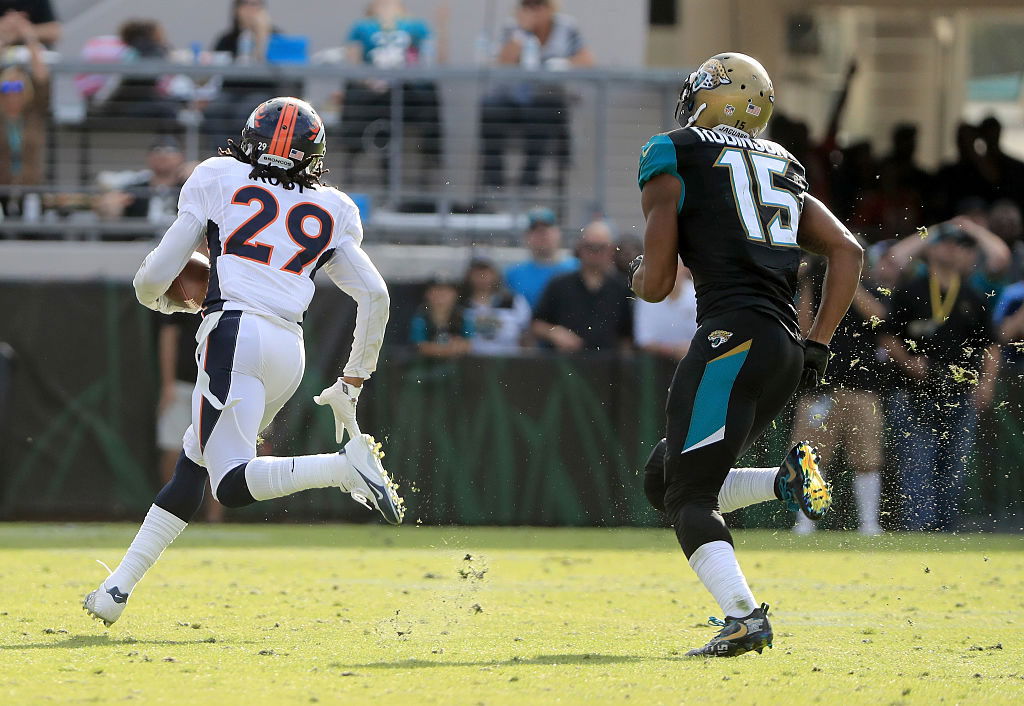 PICK 31, Denver Broncos: Bradley Roby (CB, Ohio State)
Only the second pick of this redraft that matches the real one, and it somehow comes right near the end of the round.
Again, this isn't one to overthink; Roby stepped right in as a high-end nickel corner and has been one ever since, making him a huge part of why the Broncos have been historically effective at grounding opposing aerial attacks in the last two years.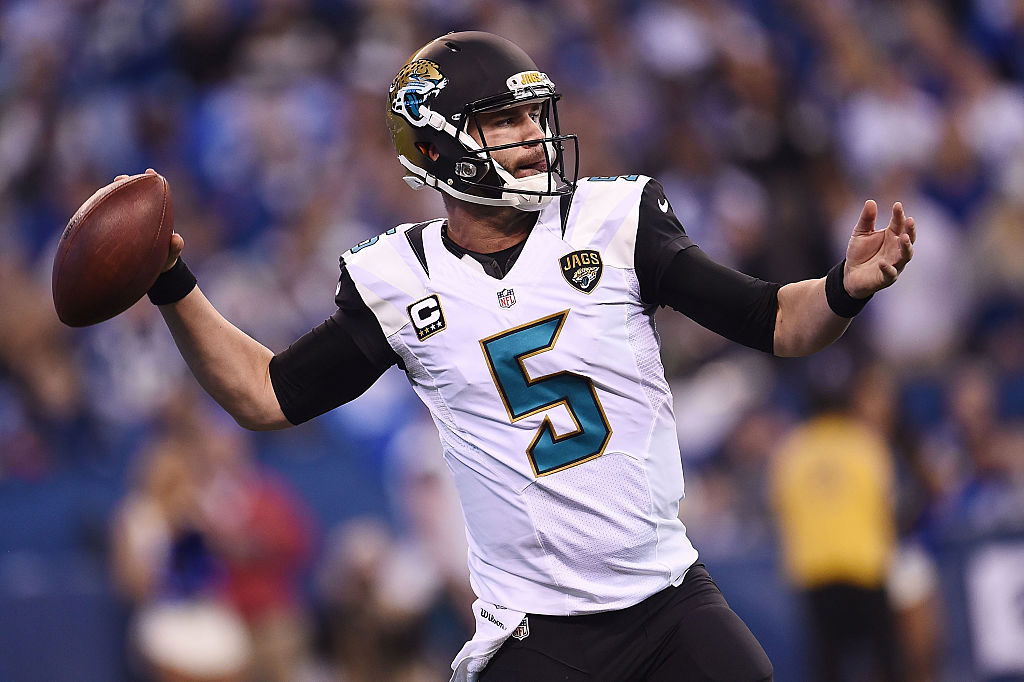 PICK 32, Philadelphia Eagles (from Seattle): Blake Bortles (QB, Central Florida)
This one may need some explanation. Firstly, remember that Chip Kelly was in the house at this point, and had just watched Nick Foles fluke his way to a 27-touchdown, two-interception, zero-repeat-potential 2013. Foles predictably regressed spectacularly thereafter, to the point of being yoinked to the Rams a year later. Both teams involved went on to squander unfathomable draft resources on signal-callers utterly unworthy of such attention in 2016, so giving the Eagles a QB here is worth doing just to stop that from happening.
Teddy Bridgewater, the real #32 pick, would have been long gone in this redraft if he had two fully functional knees. He doesn't, it's horribly plausible he never does again, and if this redraft ignored such things, Chris Borland (one awesome year for the 49ers before shocking the sporting world by retiring) might have gone in the top ten.
Still, Bortles would have been a fascinating addition here – maybe more than Teddy – because of the situation he'd have gone in. With Foles holding the fort temporarily, Bortles would have been given the time most observers (and even the Jaguars who drafted him) felt he needed for bench seasoning. When eventually thrown into the fire, he'd have done so in essentially a college offense – all the better for easing the transition to the NFL – that utilised his rushing skills.
It could have worked. Let's face it, he showed enough for at least some of his time to date as a Jaguar that you could believe he'd have impressed on a team with offensive linemen who could actually block. Certainly enough to take a shot on him at this point in the draft knowing that if he did, the fifth-year option could have made him a true steal at the game's most important position for an extra season.
---