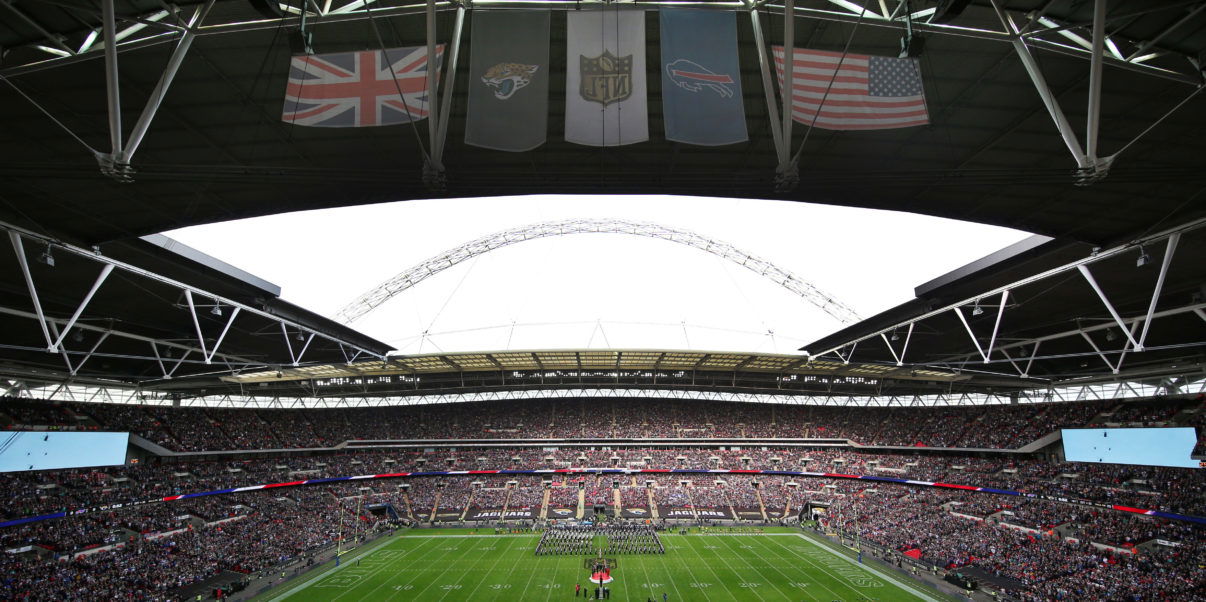 What Next For The NFL International Series?
NFL International Series games at Wembley Stadium have become an established autumnal addition to the British sporting landscape, and two more bookend October 2016, along with a third game at Twickenham. There'll also be a Monday night contest in Mexico City between the Oakland Raiders and (the unfortunately Watt-less) Houston Texans, the second time the NFL has played a game south of the border.
The games have been massively successful from an attendance perspective. The only Wembley game that was not essentially sold out was in 2011, when it wasn't even clear if the season would take place until it had practically begun; even with the resultant shorter ticket sales window, almost 77,000 showed up for a Bears-Buccaneers game that was not exactly a big draw on paper. 75,000 tickets sold for the Mexico City game in under half an hour.
When you compare this with the swathes of empty seats at some established NFL venues – for instance, the San Diego Chargers "packed" 52,165 into Qualcomm Stadium for their home opener this season, leaving close to 20,000 seats empty – it's no wonder why talk of a London franchise continues to rumble on. In fact, Tottenham Hotspur's new stadium appears to be explicitly designed to host one, with its retractable field and NFL-ready locker rooms. Indeed, every step of the process seems to have been made with a long-term goal of a London team in mind – the latest step happening this year as the Indianapolis Colts are the first team to not have a post-Wembley bye, although a home game against the Bears may be difficult to distinguish from one at this point – and the NFL are clearly besotted with the idea of a major presence on another continent and all the revenue streams that flow from that.
However, the logistical issues around travel (and also, less widely discussed, differences in tax and culture that would affect a London team's ability to put a competitive 53-man roster together) are daunting, and realistically it seems unlikely that this will happen. That doesn't mean that a huge slate of international games cannot, though; there's clearly the demand, and that means money.
The best solution to this is an expansion of the regular season to 17 games. That would remove the current need for a team to give up a precious home game in a league with only eight per team, not to mention a sport where home advantage is a significant factor due to the crowd's ability to interfere with on-field communication. Unfortunately, such a change is far from easy, thanks to the opposition to an expanded season from the NFLPA, the players' union, who are less powerful than in other US sports but have still organised multiple strikes – the most recent being responsible for the aforementioned threat to the 2011 season, as players and owners thrashed out a revised "Collective Bargaining Agreement" (CBA) determining all the factors relevant to the players' terms of employment on NFL teams, from the salary cap and the length of rookie contracts to the length of the season. (Owners' desire for an 18-game regular season were shot down early in those negotiations.)
That CBA is locked in until 2020, which perhaps not coincidentally is also the expiry date for the Jacksonville Jaguars' commitment to an annual London game. While the NFLPA may once again make regular season expansion one of their red lines when negotiations come around again, adding a second bye week to the season might well be a significant enough concession to sweeten the deal – and would open up many other positive changes.
For a start, two bye weeks removes the absurd competitive imbalance created by the current schedule. If a team with a Week 4 bye qualifies for the playoffs but do not get a first-round bye – and both teams in that situation this year, the Philadelphia Eagles and the Green Bay Packers, appear to have a very real chance of doing just that – they would be playing in 14 consecutive weeks, with two more potentially possible if they progressed through the playoffs. Either could theoretically meet an Atlanta Falcons team with a Week 11 bye, which would be a legitimate competitive disadvantage. By adding two byes spread thinly throughout most of the season, that fatigue gap could be closed and play all year might be that bit better, as well as fairer.
Thursday games would be similarly changed for the better. If the byes were organised between, say, Week 3 and Week 15 – remember, this would be a 19-week season, not a 17-week one – it would allow for every team to have a bye prior to playing on Thursday if one accounts for the traditional Thanksgiving triple-header and added just one Thursday night double-header similar to the one that already exists on the opening Monday of the season. Thursday games with added rest would likely be more competitive and higher quality, which would increase the value of their broadcast rights.
The Sunday and Monday games would get a similar value uplift from the new schedule, too, for the simple reason that there would be more weeks of them. Granted, the quality on the schedule would be more thinly spread, but bad NFL beats good everything else when it comes to ratings for US television networks at this point. Those increased TV deals, of course, go into the pockets of the NFL, and some of that – the exact proportion being a CBA negotiation point – winds up with the players. Adding one extra regular season game but gaining two extra weeks of broadcast revenue? That sounds like a recipe for more money per game for the players, smoothing the path to an agreement.
Finally, that 17th game itself would have tremendous money-making potential and solve a perennial problem with the International Series. It's become an ongoing complaint that the teams who play in London aren't very good – the Jaguars being one of them every year doesn't help, but it goes way beyond that – and Cameron DaSilva of FOX Sports has a point when he suggests "fringe NFL fans need to celebrate and cheer on players they know." (Ironically, he lists as an example a certain Andrew Luck, who is at Wembley this very week.) The 17th game would fix that, because it would almost certainly entail interconference games between teams with the same divisional placing. That would have the fringe benefit of improving the prized league parity a little, but it would improve the international slate a lot. Four of those games every year would be between defending divisional champions; many of those games would have the potential to feel like possible Super Bowl previews, and every so often you'd even get a rematch of the last one.
Just to give you an idea of what these games could be, if we assume the divisions matched for the 17th game are the same as for interconference games two years earlier, the 2016 international slate under this system would have been as follows:
AFC East vs NFC North: Patriots-Vikings, Jets-Packers, Bills-Lions, Dolphins-Bears
AFC North vs NFC South: Bengals-Panthers, Steelers-Falcons, Ravens-Saints, Browns-Buccaneers
AFC South vs NFC East: Texans-Redskins, Colts-Eagles, Jaguars-Giants, Titans-Cowboys
AFC West vs NFC West: Broncos-Cardinals, Chiefs-Seahawks, Raiders-Rams, Chargers-49ers
You could allocate each of these four-game clusters to one city or country, meaning that each one would receive a theoretical marquee matchup that would genuinely bring international attention there as well as being a way to bolster the NFL enthusiasm of more casual fans locally. (Imagine the promotional benefit to the city of Berlin if the Olympiastation were hosting a game as eagerly anticipated as, say, Patriots-Vikings would be at this point.)
The new CBA is years away, and there won't be a scheduling change until then. But if the NFL's long-term goal has been to find the best way to leverage international markets for continued revenue growth – and, seeing as it is ultimately a business, it probably should be! – then don't be remotely shocked if they figure that the final answer is actually something like this.
---